LG V20 announcement date revealed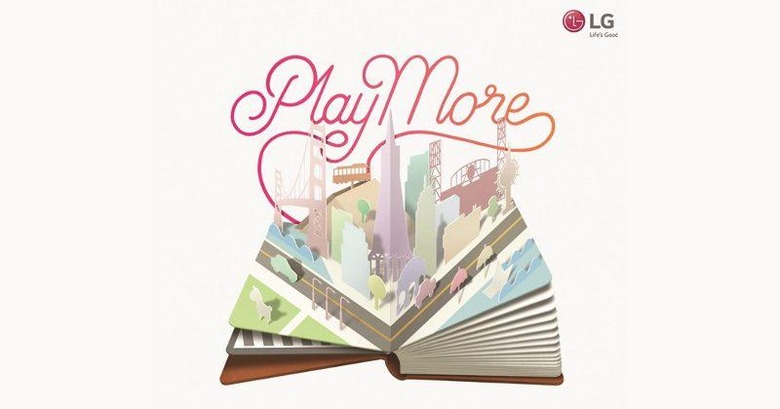 Samsung has just taken to the stage to reveal its somewhat ambiguous flagship for the second half of the year, and though it still has a month to go, LG isn't going to sit silently and let its rival hog the spotlight. It has just sent out invites for a simultaneous event to be held in South Korean and San Francisco where it will debut the LG V20, it's own second 2016 flagship. Curiously, it attached a stylized pop-up book graphic to go along with the invite.
As far as invites go, this is definitely a strange one, which opens the book (puns!) to many interpretations. The pop-up book has a nice "Play More" script above it, which could mean many things. It could be a play (puns!) on the LG V20's multimedia capabilities, which it inherited from the LG V10. As pop-up books are usually 3D, visually and physically, it could also have some association with virtual reality, which does have a certain "play" element to it.
Or it could simply be just because LG is calling the LG V20 the "second chapter", with the V10 being the first, of course. Seems like we're counting by 10's now. At least they're not skipping numbers. At least not yet.
The LG V20 remains mostly a mystery, though not a surprise, at this point. It is expected to practically have the same high-end specs as the LG G5, though at least one leak hints at a disappointing 5.5-inch Full HD screen. If LG is serious about this being a successor to the LG V10, it shouldn't remove the key things that made the V10 a V10, like the second screen and dual front cameras, among other things.
LG plans to unveil the V20 on September 6 in San Fracisco (or September 7 in South Korea and that half of the world). No exact time has been given yet. Judging by LG's behavior in the past, we can expect more tidbits about the V20 to be revealed in the coming days before the event.
SOURCE: LG