LG unveils LA9700 series 4K Ultra HD LED 55-inch and 65-inch TVs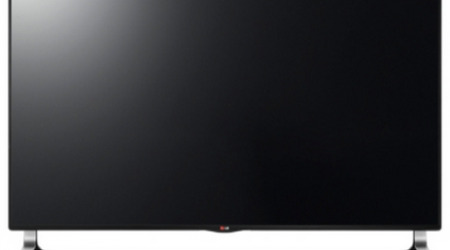 LG has announced an expansion to its ultra high-definition 4K line of TVs, this time with full-backlit LED 55-inch and 65-inch models. In addition, there has also been unveiled an 84-inch UHD model, which is the first to be made available to buyers in the United States. If you're in the market for the 84-inch version, you'll need to shell out a whopping $20,000 and head to LG's Santa Monica retail store.
The 55-inch and 65-inch ultra high-definition TVs feature 4.1-channel 50-watt sound system that includes what LG calls a sliding speaker, which is mounted on a motorized sound bar that automatically surfaces beneath the panel. As for the display itself, LG used its Nano Full LED backlighting along with an IPS display.
The TVs feature a picture resolution of 3840 x 2160, as well as the Tru-Ultra HD engine that upscales content via a four-step process. In addition, the LA9700 utilized an H.265 HEVC (high-efficiency video coding) decoder, which will make the sets compatible with new 4K standards that may be implemented in the future for streaming and broadcast.
LG Electronics' senior vice president Jay Vandenbree said: and head of LG's U.S. home entertainment business. "When we brought the first Ultra HD TV to market last fall, consumer acceptance was surprisingly strong, considering that the 84-inch TV carried a $20,000 pricetag. Now, with a wider range of sizes at more attractive prices, even more consumers can enjoy the amazing picture clarity that Ultra HD TVs provide."
In addition, the 55-inch and 65-inch models feature the Smart TV offering from LG, which provides features like Cinema 3D and Magic Remote for voice control. The smaller model has a suggested retail price of $5,999, says LG, while the 65-inch model has a suggested retail price of $7,999.
SOURCE: PR Newswire