LG Gallery 55EA8800 55-Inch OLED TV Looks Like A Framed Picture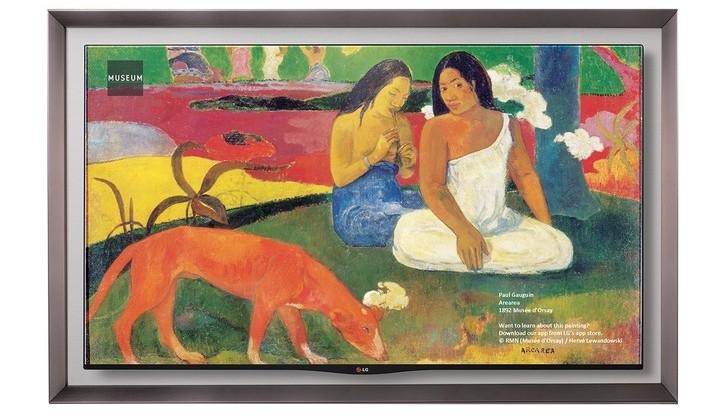 LG has unveiled one of the most interesting looking TVs I've seen a long time at IFA 2013. The TV is a 55-inch OLED set called the Gallery OLED TV 55EA8800. This TV certainly isn't the first OLED set we've seen from LG, but it is the first to have the cool picture frame design. The screen features a very slim bezel and is mounted inside of what appears to be a picture frame.
That picture frame style isn't only for looks, it also hides the Canvas Speaker 2.2 audio system. The slick frame also allows the TV to be wall mounted. Another cool feature to go along with the picture frame style is a special gallery mode that shows images of artwork on the television screen.
The TV comes preloaded with high-resolution images of classic art from famous artists such as Gauguin and van Gogh. Another cool aspect to that gallery mode is that you can put your own images on the screen be displayed. The TV uses a WRGB panel featuring extra white pixel in each cluster to improve image quality.
The TV will be launching Germany later this month, but will come to other markets around the globe. There's no official word on pricing at this time, but as with any other OLED television it won't be cheap. LG's curved screen OLED TV cost almost $9000.
SOURCE: Pocket-lint