LG G4 Review - The hero Android needs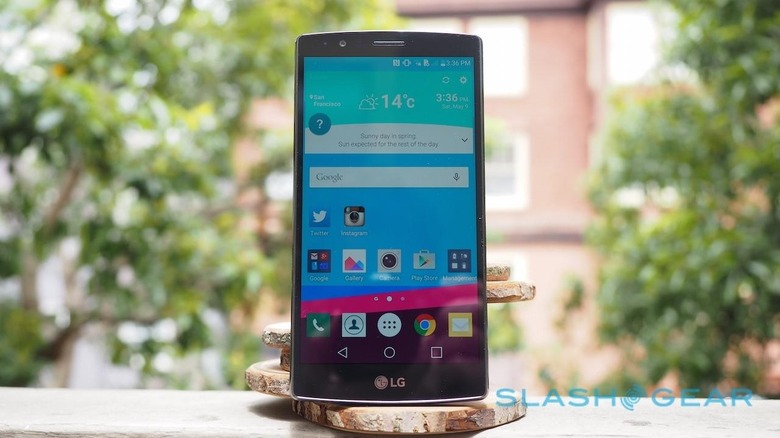 Life's not so good when you're stuck in the shadow of a big rival with deep pockets, but if anything can drag LG into the sunlight, it's the new G4. LG's flagship Android smartphone for 2015, the G4 takes what we loved about the G3 before it – and made it into the Android-to-have among those in the know – and hits the boost button. Screen, camera, performance, all have been in line for an upgrade. Nonetheless, the rest of the mobile world hasn't stood still either, so does the G4 have what it takes to push back against Samsung's excellent Galaxy S6?
Design
When it comes to the style war, LG has actually sent two phones along to compete with the Galaxy S6, HTC One M9, and iPhone 6. The G4 is available with either a real leather back or a plastic back, and the difference between the two – and how the phone ends up feeling in your hand – is considerable.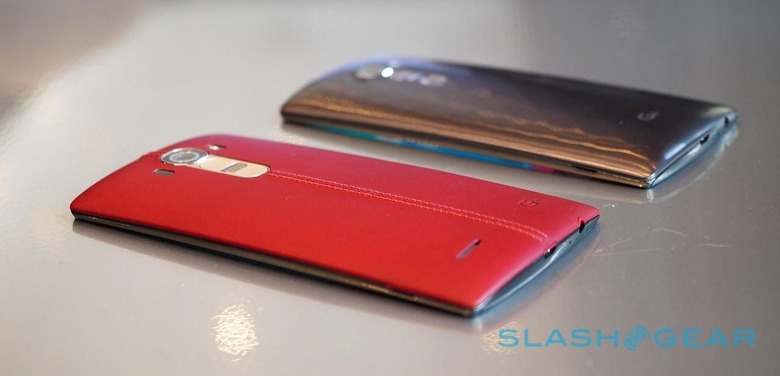 I can't knock LG's craftsmanship with its leather. The company apparently spent years perfecting the eco-friendly vegetable tanning process it uses, finishing the hide with a row of real stitching down the center. It feels great, the slight bow of the back cover nestling into your palm. At 148.9 x 76.1 x 6.3-9.8 mm and 155g it's clearly not a small phone, but neither is it phablet-huge.
It's warmer and more friendly as a material than metal or glass, too. Meanwhile, whereas the leather back on the second-gen Moto X I used for several months quickly picked up scuffs and scrapes, LG claims its leather will be both more resilient to damage and more accommodating to developing the sort of pleasing patina you'd get from traditional luxury goods.
Then there's the plastic. To give the three polycarbonate panels their due, they do at least look vaguely interesting, the textured patterning catching the light and, for a brief moment at least, making you believe that they could be hammered metal or even ceramic.
Any such illusion is shattered when you actually pick the phone up, however. This is just another plastic phone and, when combined with the chrome-effect plastic trim of the edge, and the screen surround bezel that's only vaguely lifted by its iridescent pattern, it pales in comparison to the crisp S6 or the clearly considered One M9.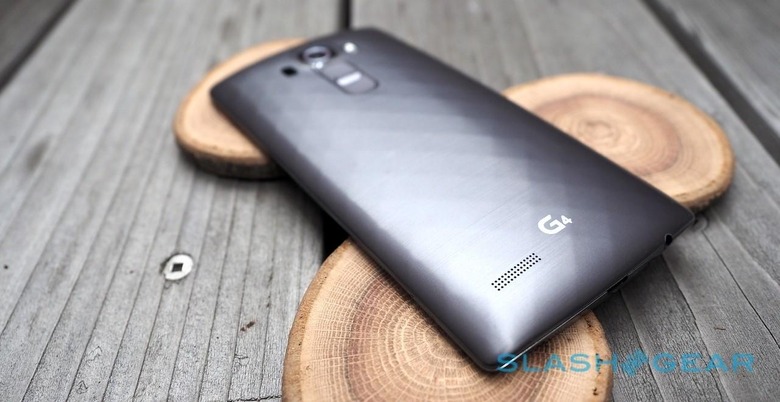 I honestly wish LG had done away with the plastic options altogether. Instead, I fear, they'll be the most commonly offered versions of the G4, the leather a "frippery" people will be reluctant to pay for. Frankly, at flagship level and in 2015, the luxe feel should come as standard.
Hardware and Performance
LG provided me with an unlocked South Korean G4 – the smartphone is on sale there already – to review. We'll update when we have more hands-on time with US devices if there are any significant differences.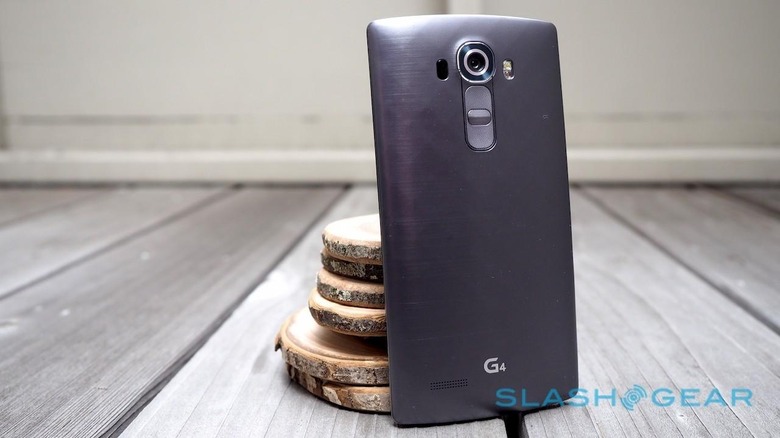 There are no buttons to mar that chrome-effect trim, with all the G4's physical controls clustered on the back, near the camera. It's the same tri-button layout as we've seen on previous G-series devices, with the power button flanked by the volume keys. Takes a little getting used to, true, but after a little exploratory probing with your forefinger it's not too difficult to find the control you're after.
Otherwise, there's a 3.5mm headphone jack and a microUSB power socket. Unlike so many flagship Android phones of the moment, though, you can jab a fingernail under the edge of the back cover and pry it off, revealing two features power users are still clamoring for.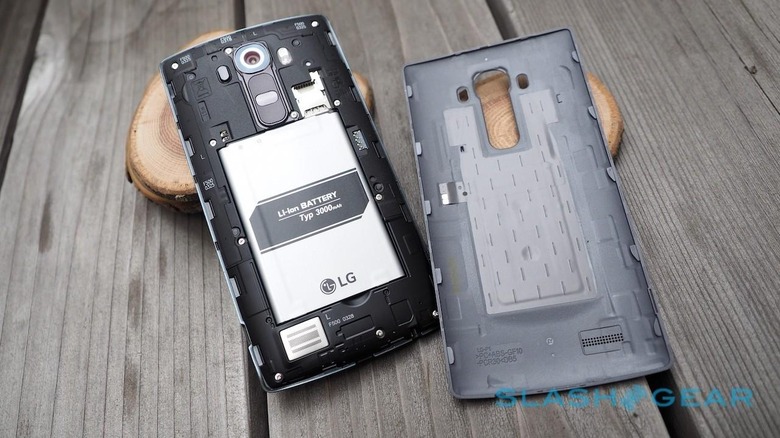 One is a removable Li-Ion battery, now a relative rarity since Samsung and HTC have shifted to inaccessible power packs in the name of reducing bulk. The G4 also has a microSD slot for expanding the 32GB of internal storage.
Where you sit on the removable battery and memory card argument is almost as fierce a war as Android versus iOS. Personally, I'm happy with some combination of local storage and the cloud, as well as occasionally having to plug my phone in for a top-up charge, but I'm also very aware that there are others who feel strongly that they need one or both of those features.
So, I'm pleased to see LG offering an alternative, since that's part of what makes the Android ecosystem so great: different takes from different companies, and you pick your phone to suit. Unfortunately, just as Samsung found there was a downside to compact construction with the S6's occasionally underwhelming longevity, so LG encounters a couple of compromises with its design decision, which I'll return to later.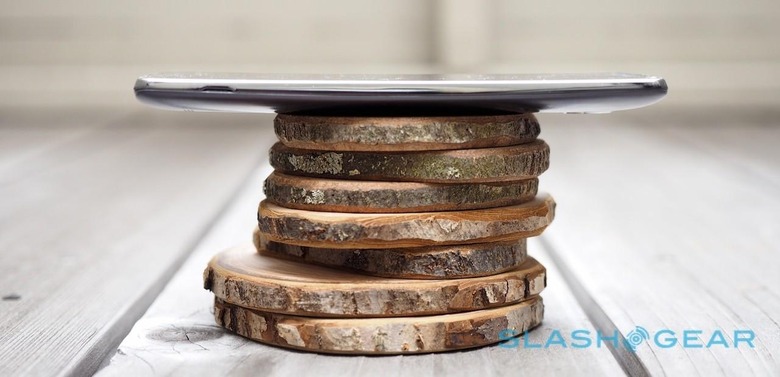 The other well-discussed aspect of the G4 is its chipset. With the G Flex 2 packing Qualcomm's Snapdragon 810, the expectation was that the newer G4 would as well, but in fact LG opted for the Snapdragon 808, newer but less potent.
So, you get two Cortex-A57 cores and four A53 cores, which the 808 flips between depending on load, and slightly less capable graphics from the Adreno 418 GPU. LG has paired it with 3GB of memory, too, just like the G Flex 2.
There's a lot of emphasis – too much, arguably – placed on Android device benchmarking. Personally, though I know some love to see the raw numbers, my curiosity is always around how well selected the processor is: has a manufacturer simply reached for the latest and greatest without giving thought to power consumption or heat output, or are they taking a more measured approach.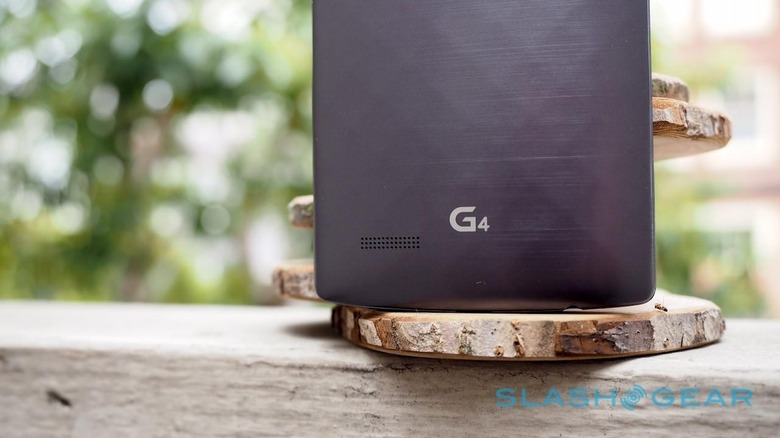 So, I can't accuse LG of under-thinking its choice of Snapdragon. The company worked for two years with Qualcomm to tailor the 808 to the G4 and vice-versa, figuring that the right chip and software combination is going to be better than anything else.
It's a decision that pays off. The G4 never got especially hot in my hand – unlike, say, the 810-powered HTC One M9 – but neither did I struggle to load all of my regular apps. I'll come back to software specifically later, but suffice to say multitasking wasn't a concern, the camera sprang to life quickly, and the gallery was rapidly populated with thumbnails.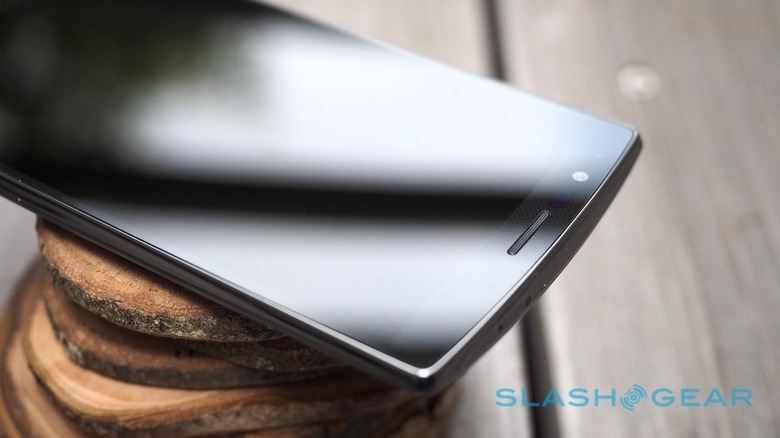 If you're a gamer – and I could well understand you wanting to on the G4, what with its brilliant display which, as I explain in the next section, is a real peach of a panel – then you might run into the limits of the Adreno. Nonetheless, I think this is going to be an issue which affects only a small number of G4 owners.
Sadly, it's not just gamers who'll be disappointed by the G4's mediocre rear speaker; the LG won't be challenging HTC's BoomSound any time soon. Though side-by-side with the S6 it's probably better than Samsung's speaker, when they're both placed on their backs on a desk the positioning leaves LG's sounding more muffled.
The other weird decision on LG's part is a microSIM slot, rather than the now-more-common nanoSIM. Otherwise, inside there's LTE, HSPA+, WiFi a/b/g/n/ac, Bluetooth 4.1, and NFC.
Display
Quantum physics seems a strange place to start when you're talking about a smartphone display, but according to LG it took a trip to the cutting-edge of physics to make the G4's 5.5-inch, 2560 x 1440 panel.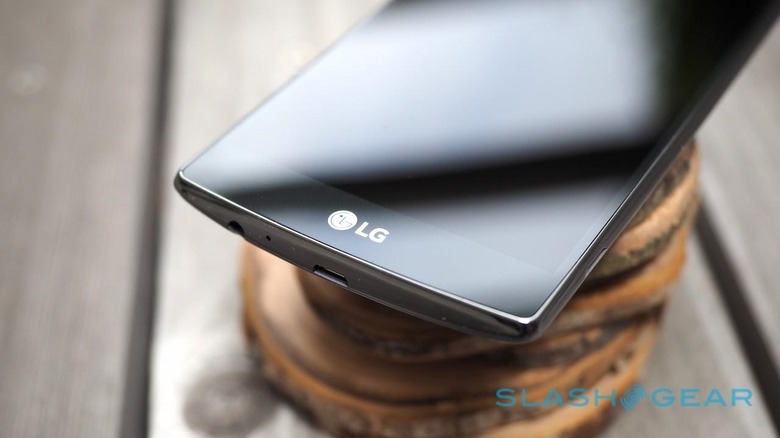 It's complicated stuff – in fact, listening to LG execs themselves hop from buzzword to buzzword, I couldn't help but think they didn't really understand it either – but it basically boils down to a new type of backlighting, along with a different chemical make-up to the LCD panel itself.
The upshots are more accurate colors and a cut in power consumption, 11-percent trimmed versus the G3 according to LG.
Maybe it's my eyes, trained over years of phone testing to prefer warmer colors, but the G4's screen strikes me as leaning a little too far on the cool side, though it's only really noticeably when the brightness is cranked up to the max. At more everyday levels, the colors are incredibly balanced: sure, bright reds are still bright red, but there isn't that luminous glow to everything that some phones lean toward.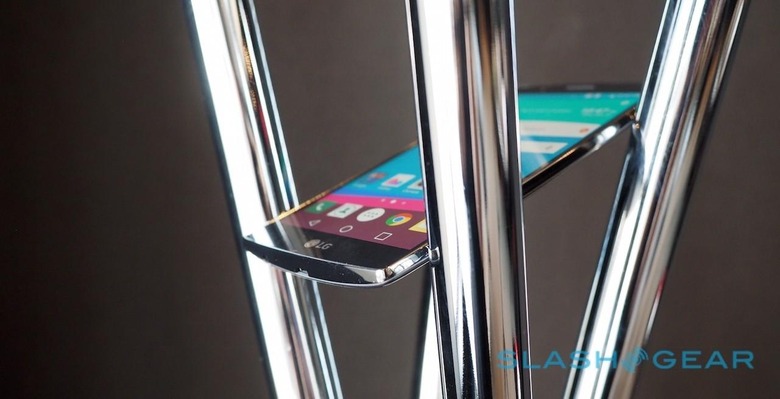 It comes down to your taste in screens. There's still something mesmerizing about an AMOLED panel as on the Galaxy S6 (even if Samsung offers tuning options so that you can notch down its saturation), but what I saw on the G4's display more accurately represented how I'd see the same thing on other devices.
Take the G4 outdoors, meanwhile, and that extra brightness kicks in. I really do mean kicks, too, since there's a special outdoor mode which cranks all 500 nits of backlighting to the max. It's not subtle, but it does mean you can continue to use your phone even when the sun is shining, which is certainly welcome.
So fancy is the Quantum tech, you could miss the fact that the G4 has a curved screen. It's no G Flex 2, mind: instead, LG has just gently curved the panel enough so that while you might not notice it, it keeps the Gorilla Glass off the table when you leave it face-down.
Software and Performance
If you're going to change Android, change it for the better. If you can't do that, leave it well alone. The previous iterations of LG's Android customization haven't exactly been met with universal joy, but it seems the message is – slowly – sinking in.
UX 4.0 on the G4 is LG at its most hands-off, though that's not to say the software team has been able to leave Android 5.0 Lollipop entirely alone. Thankfully what's left is generally useful or at least easily ignored.
LG credits working closely with Google for that, and there's certainly more of Material Design's influence than many other Android OEMs manage.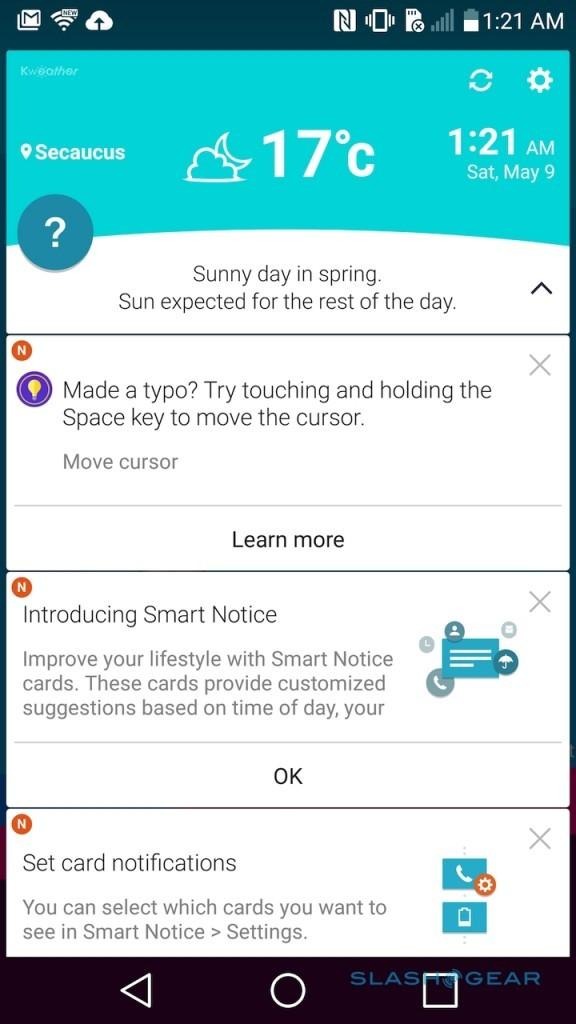 LG's default themes are back to brighter colors from their foray into more subdued tones on previous handsets, which work well on the Quantum display, though I'm still not a fan of the blocky custom icons.
Smart Bulletin is the G4's take on HTC's BlinkFeed, though it's all LG-centric rather than news: think of it as an aggregate of your calendar, recent step count from the rudimentary LG Health app, and tips & tricks for using the phone.
Some of those are repeated in Smart Notice, a sizable widget preinstalled on your homescreen and trying to deliver useful contextual hints. On the face of it that could be interesting – like reminding you to take an umbrella if it's raining, pinging you with traffic congestion warnings when you're about to leave for work, or prompting you to return calls you previously declined – but I found it was rare that something popped up that was actively useful at that point in time.
In short, it's nowhere near as ambitious in its scope as Google Now, and even Google's contextual engine struggles at times to get things right.
To be honest, LG does better when it thinks small. KnockOn, which wakes the G4 when you rap on the display, and KnockCode, which allows you to tap out a passcode, are both just as useful on the G4 as they were on previous G-series phones. Memories, which automatically curates photo and video highlight videos much in the way that Google+ does, is another little gem.
In fact, what pleases me most is what's been left out. There's now no confusion from having two browsers to pick between, for instance, because LG has opted to make Chrome the default. Google Drive is baked in as the cloud storage service of choice, LG throwing 100GB for two years at each user.
There are still goofs. Event Pocket is an intriguing concept, involving dragging photos, Facebook events, and nearby points of interest into calendar entries, effectively pre-populating them rather than forcing you to tap in the details with the – surprisingly good – onscreen keyboard. Unfortunately, attached media isn't accessible anywhere else other than on the G4, so it's missing if you're checking your Google Calendar in the browser.
Camera
More than anything, the G4 feels like the phone LG built around its camera technology. In many ways, that's not a bad strategy: cameras, after all, sell smartphones and mobile photography is still one of the most common uses for handsets. I particularly like that, rather than targeting just prosumers or beginners, the G4 has advantages for both.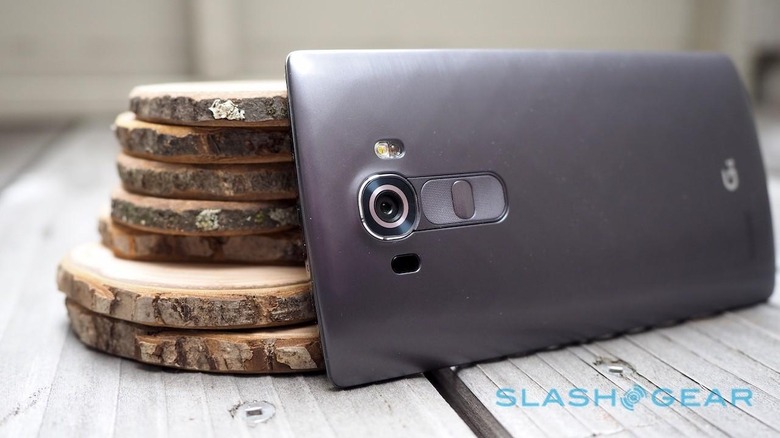 The specs tick the right boxes at the enthusiast end of the scale. The 16-megapixel sensor is paired with both an f/1.8 aperture lens and LG's second-generation optical image stabilization, which can now compensate for shake in all three directions rather than the two of its predecessor.
Those core talents are pared with some of the most comprehensive manual options I've ever seen on an Android device. Just about everything you could want to fiddle with to eke the best of a scene or subject is here for the tinkering: white balance, ISO, brightness, shutter speed, focus points, and more.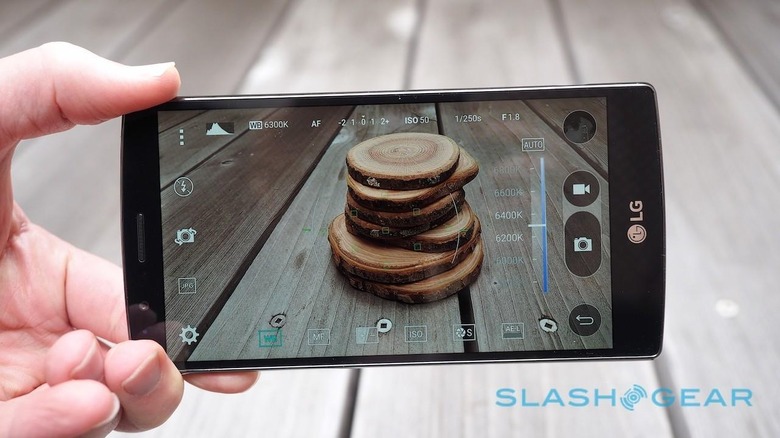 There are guidelines to show if you're listing at an angle, and a histogram, just as you'd get on a regular camera. Every change you make is reflected in real-time in the preview, so even if you're not 100-percent sure what you're doing you can generally fudge around and see what's doing what. Unfortunately there doesn't appear to be a way to save collections of custom settings for speedier access later on, and I feel like a "reset" button to instantly switch back to the defaults would help beginners feel more liberated to experiment.
You needn't be limited to the settings you picked in the moment, though, since the G4 can capture both JPG and RAW images. You'll need to offload the latter to a computer to actually make anything of them, however, since out of the box the G4 lacks even rudimentary RAW editing skills.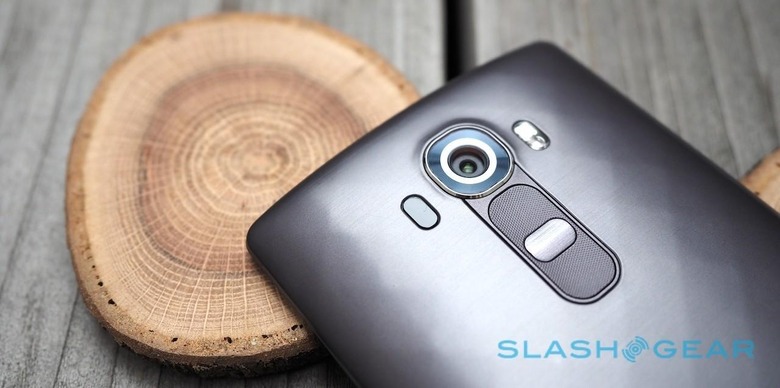 At the other end of the extreme is where LG's new Color Spectrum Sensor comes in. Lurking just under the LED flash, it promises to do for white balance in automatic mode what the well-trained eye of the capable photographer does in manual.
You can think of the white balance problem as one of context. Point a camera at a dress, for instance, and it has to decide whether it's white and gold given blueish lighting, or blue and black under warmer lighting. Human eyes are pretty good at that; a camera, with only what's in the frame to go on, struggles more.
LG's approach promises to first figure out the light condition and then the visible and invisible light emissions from the content of the scene, coming up with a more accurate setting in the process.
Does it work? Things aren't as clear-cut in the G4's favor as LG would like you to think, but there's no denying that the phone is capable of some incredible images. In decent light, colors are balanced and accurate, detailing is fine, and there's a wonderful life-like quality to pictures.
When things get darker you can occasionally get some pleasing sparkly bokeh thanks to the f/1.8 lens, but there's also a tendency toward over-sharpening and aggressive noise reduction. Again, these are great photos – and you could probably do some very interesting things if you took the time to finesse the RAW files – but they're not perfect, as no smartphone really ever has been in low-light.
Make no mistake, LG has instantly propelled itself to the top ranks of mobile photography with the G4, though it doesn't end with simple stills. The phone is cable of stitching together vast panoramas in excess of 100-megapixels, should you need a 20,288 x 5,120 shot, while there's also 1080/30p and 4k/30p video recording.
In the latter, you're limited as before to five minutes per file. Both Full HD and 4k video look great, particularly with the OIS helping keep things smooth – though this is no Steadicam, so don't expect it to iron out every sharp movement, and at times there can be an odd side-to-side wobble as you'll see in the 4k sample clip below – albeit with LG's over-enthusiastic processing sometimes stepping in a little more than I'd prefer.
On the front, meanwhile, is an 8-megapixel camera. LG's obsession with selfies – something the whole mobile industry appears to have become fascinated with – has spawned a new iteration of its Gesture Shot, too. Now, not only can you clench your fist in-frame to trigger a three second countdown, a double-clench sparks off four photos with a second pause between them.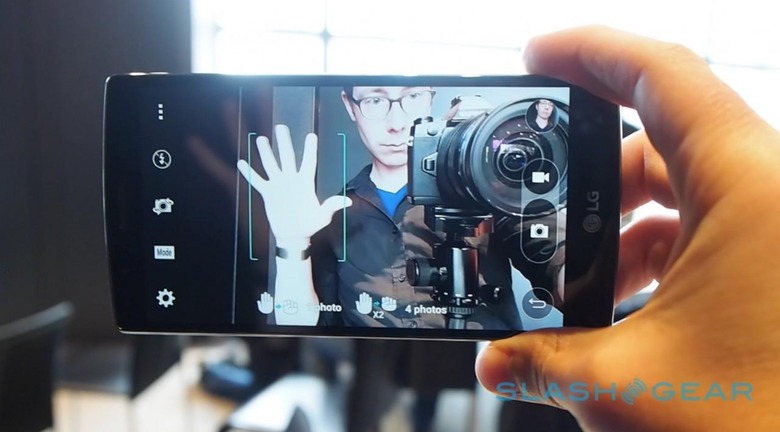 It works pretty well, though you need to hold your hand still for the G4 to lock on initially. Less impressive is the beautifying editing, which took my mediocre face and turned it into a bizarre wax figurine of a quality that would bankrupt Madame Tussauds were they to dare display it. Do yourself – and your ambitions of undisturbed sleep – a favor, and leave it turned off.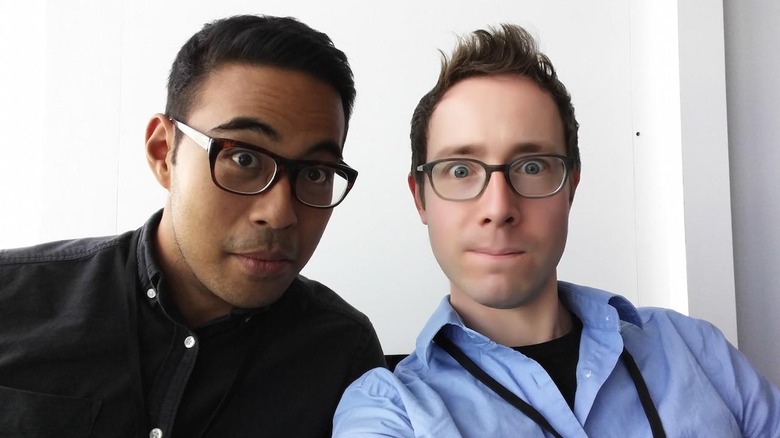 LG's final twist to the camera is a quick access mode. It's clearly intended as a retort to the launcher option on the S6, with the G4 trimming even more time by not only loading the camera app when you double-tap the volume-down button, but capturing the shot, too.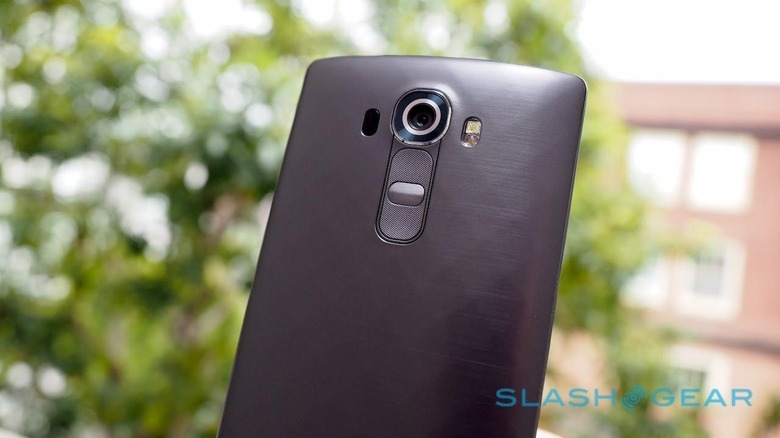 The ergonomics seemed off from the start: holding a phone up while simultaneously trying to reach to the back of it and tap a small button, keeping your finger away from the lens in the process and not shaking it are hardly conducive to stunning photography. Sure enough, without the ability to preview or frame anything beforehand, most of the pictures I took with the quick launcher were fit only for the trash, though at least the camera app was then ready and waiting for a second attempt.
Battery
Here's the good news. The G4 has great battery life, the 3,000 mAh pack easily lasting a full day of active use: several accounts of push email turned on, social networking, some browsing and Google Maps use, playing with the camera, and more.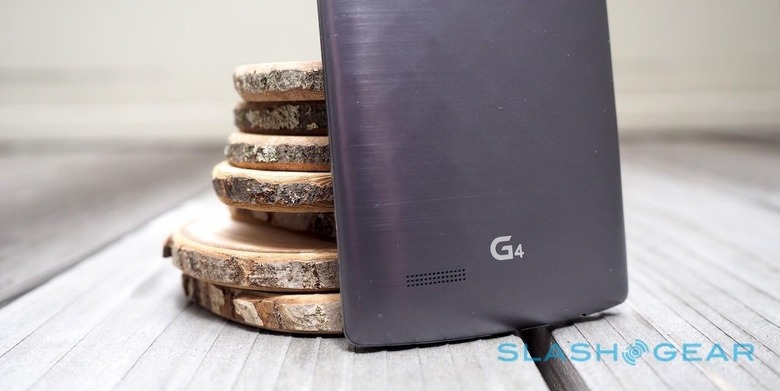 In fact, I could comfortably have left it off the charger and got a few more hours out of it first thing the next morning, and that's impressive. When you do start to run low, of course, you can switch out the empty battery for a fresh one.
Now, the downside. Or, more accurately, the two downsides.
First off, there's no Qualcomm Quick Charge, as is so useful on the One M9. LG's argument is, unsurprisingly, that you can switch batteries instead. Update: LG has confirmed that the G4 does, in fact, support Quick Charge 2.0, though the charger supplied with our South Korean unit is not compatible with the technology.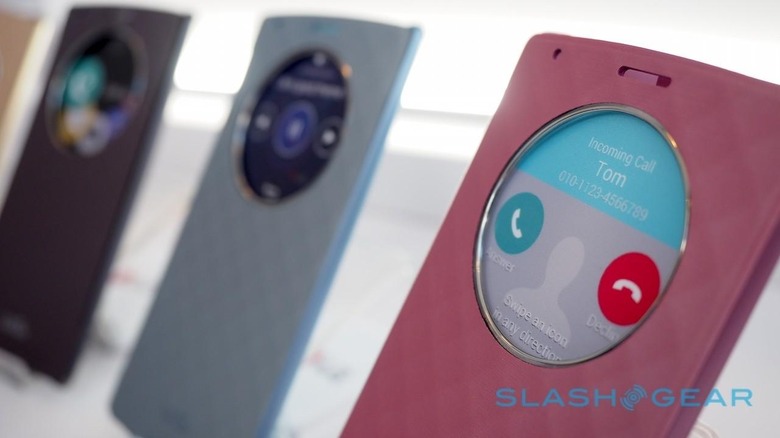 Second, if you want wireless charging, you'll need to be using LG's QuickCircle case. While the G4 has the pins and wiring as standard to support that, LG opted not to build it into the phone as standard, and it's something I really miss having become used to it on the S6.
To be fair, it's entirely possible that LG – or someone else – could release another back cover, without the case attachment, that adds wireless charging support. Still, to not have it out of the box feels short-sighted.
Wrap-Up
I admire LG's restraint. The company took the best of last year's G3 and spent its time refining the key elements: display and camera, and that focus has paid dividends. The G4 has a fantastic screen and a camera capable of taking on Samsung and Apple's finest and not being cowed.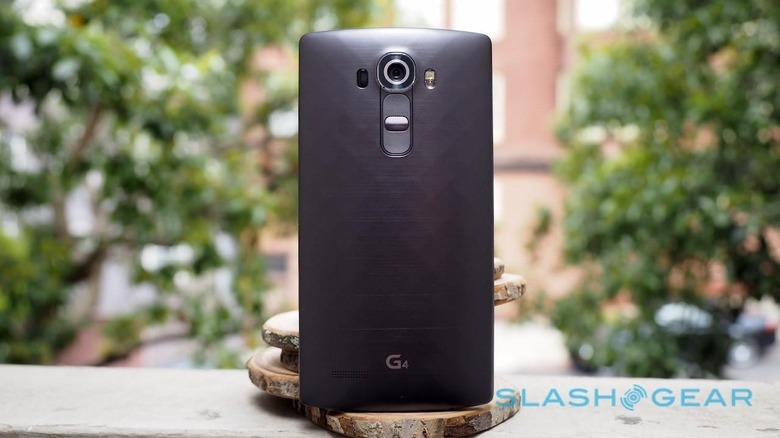 All the same, it's not a clean sweep. The G4's plastic models are frankly underwhelming and, even with the leather back in place, the fake chrome still cheapens the overall feel. Wireless charging as standard would've been an obvious cherry on top of the removable battery, too.
I wrote earlier that one of Android's key charms is the variety it permits. Make no mistake, the LG G4 is not merely the phone you buy because you don't want to have the Samsung everybody else has. Its well-considered camera make it a strong candidate for best Android for keen photographers, while its power and storage flexibility make it a compelling option for power users.