LG G2 vs Galaxy S 4 vs Moto X: hero phone war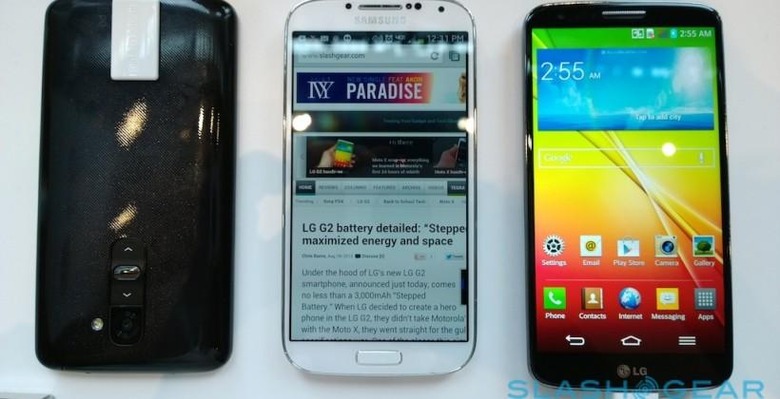 Now that LG has released its 2013 hero smartphone in the LG G2, it's time to hit the specifications battleground. What we're doing here on SlashGear first is taking on not just the Samsung Galaxy S 4, but the Motorola Moto X as well, aiming to give you an idea of the range of devices that are now sitting up on top of the game from several of the smartphone universe's top brands. We'll be saving the HTC One for a separate, individual battle – coming up not long after this one.
At once the differences between the Moto X, Galaxy S 4, and LG G2 are apparent in the size of their displays. The LG G2 comes in above the rest with a 5.2-inch panel while the Galaxy S 4 works with a 5-inch screen and the Moto X sits in as smallest with 4.7-inches if display. Meanwhile they're each working with a different combination of display technology and pixel resolution as well as body size.
Display
LG G2 5.2-inch IPS LCD at 1920 x 1080 pixels: 424 PPI
GS 4 5-inch Pentile AMOLED a 1920 x 1080 pixels: 441 PPI
Moto X 4.7-inch AMOLED at 1280 x 720 pixels: 313 PPI
Body Size
LG G2 5.5 x 2.8 x 0.35
GS 4 5.4 x 2.8 x 0.31
Moto X 5 x 2.6 x 0.41 Inches
The Samsung Galaxy S 4 works with a Qualcomm Snapdragon 600 quad-core processor while the LG G2 works with the next step up in the Qualcomm Snapdragon 800 quad-core processor. Moto X works with an amalgamation called the Motorola X8 computing system in an iteration that utilizes more Qualcomm architecture.
ABOVE: Samsung Galaxy S 4 vs LG G2 side-by-side.Before you go any further, we'd like to encourage you to view the hands-on and/or review of each of these devices to get a better idea of what they're all about, top to bottom:
• LG G2 hands-on (stay tuned for SlashGear's full review)
The camera arrangement on the Samsung Galaxy S 4 works with 13 megapixels on the back as well as a 1.9 front-facing shooter, both of which you can learn more about in SlashGear's Galaxy S 4 Experience Pillar 1: Enjoyment. Moto X works with a 10 megapixel camera on its back and a 2 megapixel camera up front, the back-facing cam working with an OmniVision sensor with RGB Clear (RGBC) – you can learn more about this camera arrangement in our bit on the hidden 4K support article posted just last week.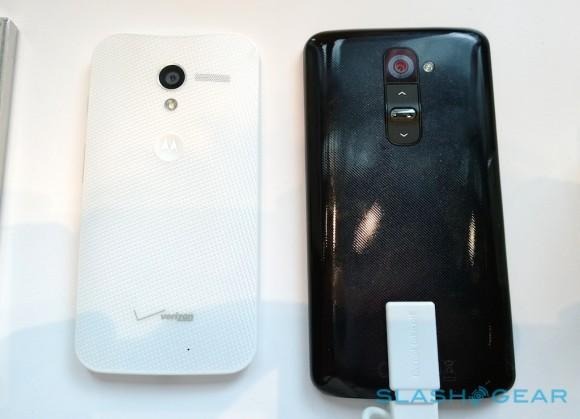 The LG G2 works with a 13-megapixel camera at its back and a 2.1-megapixel camera up front. This camera also works with 9 multi-point auto-focus and LG's intelligent auto scene detection – and no less than a bit of the ol' Sapphire Glass to cover its lens, with anti-fingerprint protection, too. See our LG G2 camera article from earlier today to get the full briefing.
Each of these devices work with the following, as well:
• NFC
• 2GB RAM
• Android 4.2.2 Jelly Bean
• 16 or 32GB internal storage *GS4 also has a 64GB option and a 64GB microSD slot
• Carried by top four carriers in the USA
• 4G LTE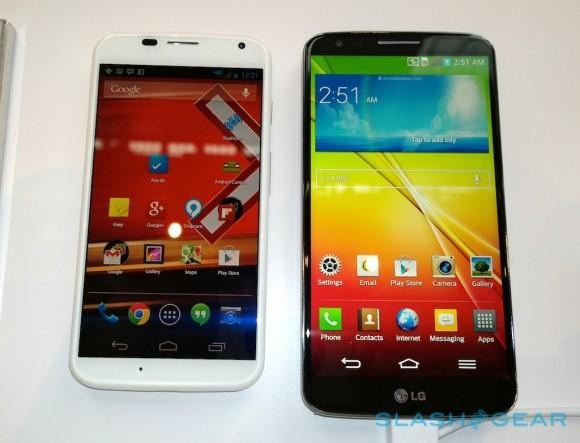 Both the Samsung and LG devices work with embedded IR-blasters for controlling your TV set and other infrared devices while the Moto X does not. The Samsung Galaxy S 4 has a removable battery while the battery on the Moto X and in the LG G2 is embedded. While pricing remains unknown on the LG G2, the Moto X and Samsung Galaxy S 4 can cost as little as $199.99 connected to a 2-year contract.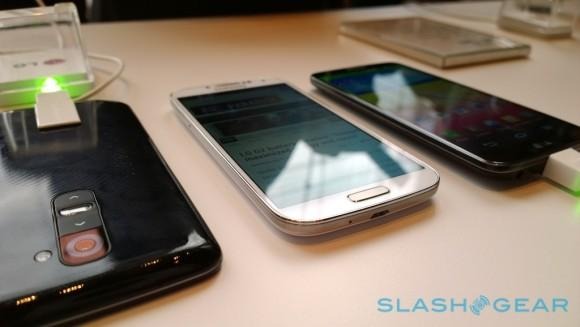 Does any one of the three devices above stand out to you as the clear winner? How about if the HTC One is kicked into the mix? Let us know what you're aiming for and why – and what else you'd like to know about these three (and the HTC One) between here and our final review of the LG G2!