LG D1L To Take On Galaxy S III In May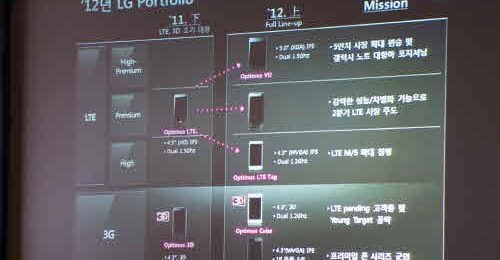 LG is readying its defense against Samsung's Galaxy S III, the LG D1L, a 4.7-inch dualcore flagship smartphone reportedly set to arrive in May 2012. The 1280 x 720 resolution handset will run Qualcomm's 1.5GHz Snapdragon S4 chipset – an iteration of which held up well to the quadcore Tegra 3 - according to DDaily, and will be the first to run Android 4.0 Ice Cream Sandwich out of the gate.
There'll also be LTE connectivity, suggesting the D1L is almost certainly headed to South Korea and potentially North America. A 3G HSPA+ version is likely to show up in Europe too. LG has used an LCD panel for its screen, rather than following Samsung down the AMOLED route.
The challenge the Galaxy S III presents is a significant one, even without official specifications for the handset known. Samsung's previous two Galaxy S-series flagships have been best-sellers, and the third-gen model is tipped to follow in those footsteps with a sizable 4.65-inch Super AMOLED Plus 720p-capable screen squeezed into a slender ceramic casing.
LG has, conversely, struggled to achieve similar success with its devices, chasing 3D as a potential differentiator but finding the market reluctant to adopt it in phones. Meanwhile, the company is yet to confirm what the new smartphone will be called; D1L is only a codename at present.