LG Android 10 update hides a surprise Desktop Mode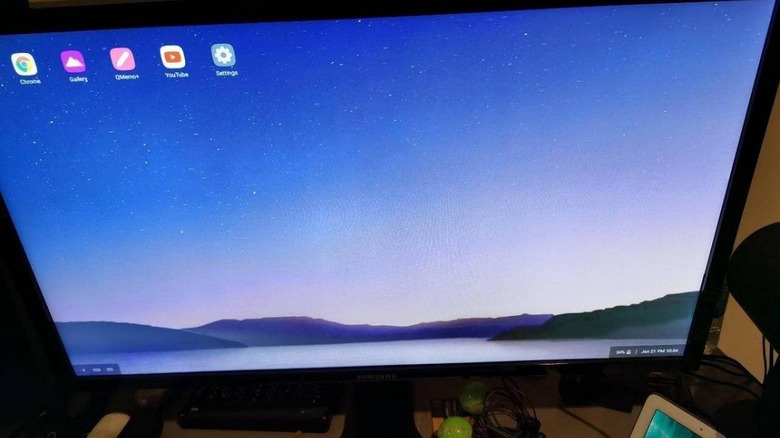 LG has recently received a lot of flak for its snail-paced Android updates and, truth be told, that is still the case. But for one brief moment, it seems that LG is at least making the update worth the wait more than usual. It turns out, LG's Android 10 update is one of the extremely few that actually surfaced the hidden Desktop Mode that Google introduced in the latest version of the mobile operating system.
To be clear, Android 10 itself has this Desktop Mode functionality but it's not something that Google has exposed to end users the way Samsung has made DeX easily accessible. Google's reason is that Desktop Mode is a developer tool to help app devs test their software on a larger screen. The default setup of this Desktop Mode can hardly be considered user-friendly.
So imagine XDA's surprise when its UX 9.0 update, which brought Android 10 to its latest devices, actually included what can be described as its version of Samsung DeX. All users have to do, it seems, is to plug in an external monitor and voila! Instant Android desktop on a bigger screen.
Admittedly, it's still a power user feature and one that still needs to be explored in full. It has conventional desktop elements, specifically a panel at the bottom for apps and notifications. Whether apps will behave properly in windowed mode is still up for testing. Android 10's Desktop Mode didn't enjoy enough public testing the way Samsung DeX did, exactly because Google hid the functionality.
LG does deserve props for providing this feature even if it didn't really publicize it for some strange reason. All that's left now is to wait for the Android 10 update to expand beyond the LG V50, LG G8, and LG G7 One. Whether other phones will be able to run this Desktop Mode, however, is yet another thing to be confirmed when the update does arrive.