Lenovo X200 Tablet Review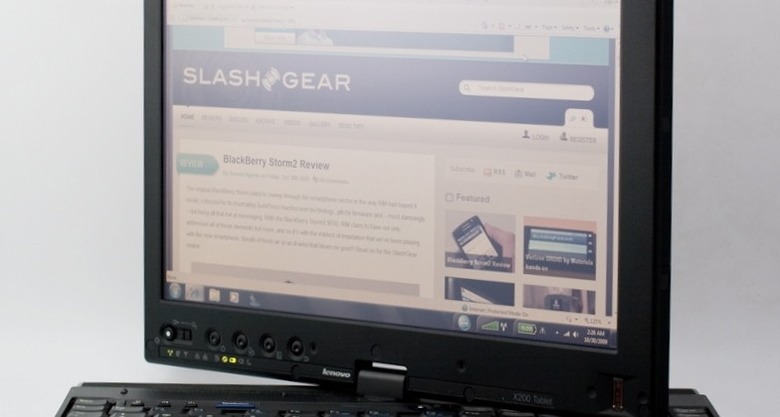 There's no doubting that multitouch is a key buzzword of today, and with the arrival of Windows 7 PCs gain at least software support for two-fingered control. Lenovo have responded by updating their well-esteemed ThinkPad X200 Tablet with Windows 7 and a new, multitouch-friendly display, the former as standard and the latter a paid option. Has the technology come of age, or is it a case of hype overtaking substance? Check out the SlashGear review after the cut.
Most elements of the new multitouch ThinkPad X200 Tablet remain the same as its predecessor. That means you get a 1.4GHz Intel Core 2 Duo SU9400 processor, paired with 2GB of DDR3 RAM, a 160GB 5,400rpm hard-drive, WiFi b/g/n and Intel GMA 4500MHD graphics. The 12.1-inch LED-backlit display runs at WXGA 1,280 x 800, and is mounted on a sturdy central hinge that rotates 180-degrees and allows the screen to fold flat against the keyboard for slate-style use. As with most ThinkPads we've tested, the keyboard is a triumph of usability, though you'll have to be satisfied with a trackpoint nub mouse as there's no room for a trackpad.
Our X200 Tablet came with a non-standard configuration, however, so it's worth bearing in mind that our Geekbench benchmarking results won't tally with what you'll see from the custom configurations on Lenovo's site. The review X200 Tablet has a 2.13GHz Core 2 Duo L9600 processor, paired with 3GB of RAM, and scored 2528 in Geekbench.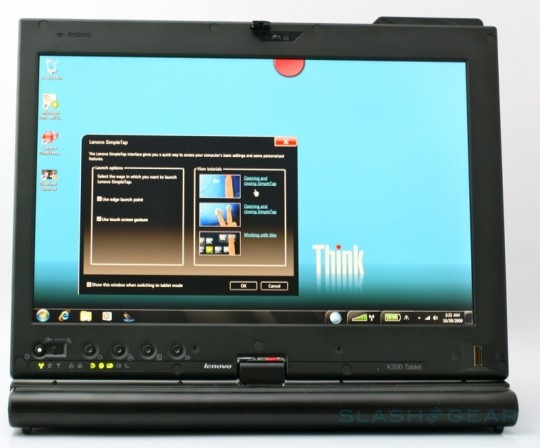 Like on the T400s, Lenovo have introduced SimpleTap with the multitouch screen option on the X200s, the company's shortcut menu and finger-friendly launcher. Triggered by tapping a red on-screen shortcut button, SimpleTap includes volume and brightness control, entering sleep mode, switching on and off the keyboard light and activating the webcam as standard; however you can also add any application or shortcut, much as you would a desktop shortcut in Windows. The launcher wizard is clever enough to pick a default icon – whether for an app, a file, a folder or a website – though you can override this with your own preference, and then you can rearrange the icons as you see fit (or allow them to auto-arrange).
SimpleTap makes far more sense on the convertible X200 Tablet than it does on the T400s, though, simply because for at least part of the time you'll be using the notebook in slate orientation. That means the keyboard and trackpoint stick are out of reach, and you're already tapping at the display with your fingers. On the T400s, in contrast, we found it often seemed counter-intuitive to lift our hands from the keyboard and reach over to tap the display.
Unlike the T400s, however, the X200 Tablet doesn't support more than two fingers of multitouch control, a limitation it seems of the Ntrig capacitive panel Lenovo have used. What you do get, though, is both finger- and pen-input, since the capacitive layer sits on top of a Wacom active digitizer. This works with the included (battery-free) stylus, automatically shutting off the finger-touch layer when the pen nib is nearby and capable of controlling the mouse pointer by hovering the stylus over the display surface together with tapping for selection and launch. Pen-input is also used for handwriting recognition in Windows 7 – there's no scrawling into the TIP (tablet input panel) with a fingertip – and while accuracy of conversion isn't 100-percent, it's still better than XP Tablet Edition's first attempts. Some applications, such as Microsoft's own OneNote, allow you to leave your text as handwritten but still search through it as if it were typed.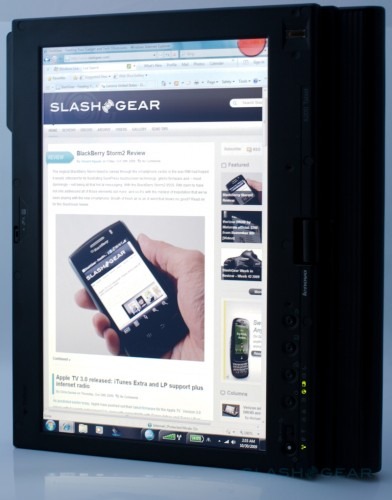 Unfortunately, not all software is as capable, and that goes for not only pen- but multitouch-input too. Windows 7 adds native multitouch support at an OS level, and the included Windows 7 Touch Pack – which consists of three games, a screensaver and a gallery app – does a reasonable job of showing off the functionality, but once you're back in Word or Internet Explorer there's no special support for the new capacitive panel.
As an alternative, Lenovo are also offering an optional "SuperBright Outdoor Viewable" display that boosts brightness to 400 cd/m2. As you might hope, opting for the SuperBright panel does indeed make the X200 Tablet more resistant to sun glare and reflections; however it's disappointingly not available if you opt for the multitouch screen. You should also budget for some extra weight if you choose to go multitouch, since the capacitive panel pushes the Tablet's weight up to 4.2lbs.

You could argue, then, that the SuperBright display is the upgrade to go for on the X200 Tablet. Not only do you not sacrifice non-keyboard control – after all, you still get the active digitizer and pen – but if you're a true mobile user you'll appreciate being able to tote and use the ThinkPad wherever you are, no matter whether you're stood in a stockroom or outside in the garden. It's more expensive, though; Lenovo are asking $125 for the multitouch upgrade and $175 for the SuperBright upgrade, on top of the "Elite" X200 Tablet (which starts from $1,609), and $200 and $250 respectively on top of the entry-level model (which starts from $1,529). It's easy to find the price sliding above $2,000, simply by upgrading CPU ($75 for the 1.86GHz SL9400), RAM ($30 or $65 for 3GB or 4GB respectively) and storage (a 128GB SSD is $380). Bluetooth and Mobile Broadband are also cost options.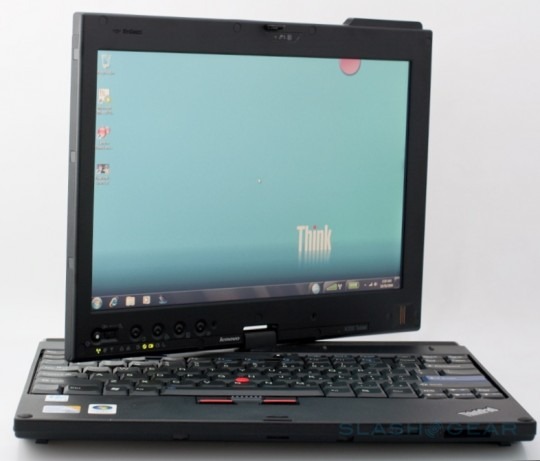 Still, $1,689 is the cost of entry for the multitouch X200 Tablet, and you're getting a sturdy, reliable machine that's all set for what we keep getting told is the next phase in finger-control. How relevant that is to you depends very much on what you plan to do with your notebook, of course, and though we'd argue multitouch makes more sense on the X200 Tablet than it does on the T400s, it's still taking a niche device into an even narrower market. What it does, the Lenovo ThinkPad X200 Tablet does very well, and Windows 7 is a considerable improvement over clunky Vista, but consumers desperate for finger-friendly touchscreens might be better saving their money until the inevitable surge of capacitive-bearing web tablets arrive in the months after the new OS' launch.