Lenovo ThinkVision LT3053p designed for color-critical jobs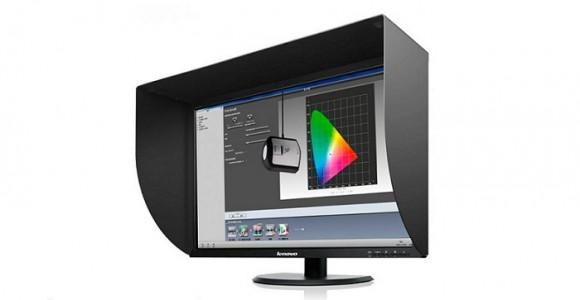 Lenovo has announced its upcoming ThinkVision LT3053p professional monitor. It's a 30-inch monitor designed for creative professionals tasked with color-critical jobs. The monitor is priced with an expensive $1,599 price-tag and will be released later this month, with an expected ship date being April 18th. It boasts an impressive spec sheet, with a very important feature being that it covers 99% of the Adobe RGB spectrum, and of course 100% of the Standard RGB spectrum.
The Lenovo ThinkVision LT3053p comes equipped with an AH-IPS Panel with a 2560 x 1600 resolution and an aspect ratio of 16:10. The contrast ratio is 1,000:1 static and 3,000,000:1 dynamic. It offers life-like colors with its 1.07 billion color depth. It has viewing angles of 178 degrees from any direction of the screen. The brightness of the ThinkVision LT3053p can go as high as 300 cd/m2, of course you can adjust it to the brightness you need.
The ThinkVision has an HDMI 1.4, VGA, DVI-D, and a DisplayPort connector to offer you a variety of options to connect the display. It has a 5-slot USB-hub, 2 slots being USB 2.0 and 3 slots being USB 3.0, integrated into it allowing you to connect more peripherals if need be. The display also has a protective hood designed to block sunlight. It has picture-in-picture and picture-by-picture capabilities so you can work without needing a second monitor.
The Lenovo ThinkVision LT3053p is an impressive monitor that should be a great addition to any creative professional's arsenal, however, its price-tag may be deterring to many. The ThinkVision LT3053p isn't the only interesting product Lenovo has planned for this year. It is also planning on releasing a 13.3-inch mobile monitor, the Lenovo ThinkVision LT1423p, this year to act as a portable second monitor. Check out our hands-on with the ThinkVision LT1423p here!