Lenovo IdeaTab S2109 Review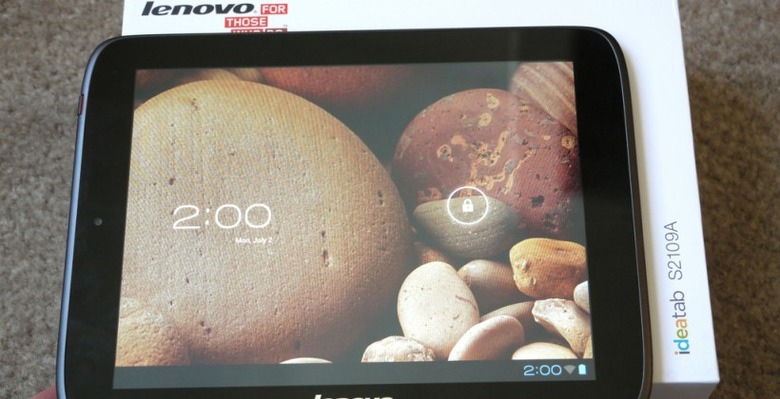 If you're one of the few that is looking for a decent mid-range well rounded Android tablet that also manages to come in the same shape as the iPad, we might have something just for you. Today on the SlashGear test bench is the new Lenovo IdeaTab S2109 Android 4.0 Ice Cream Sandwich tablet. Running on a standard build of Android, but rocking an iPad-like 9.7-inch 1024 x 768 resolution display check out if this tablet is for you after the break.
What we have here is a tablet that Lenovo has designed to be well built, well priced, and budget friendly. Coming in at just $349 with 16GB of internal storage it's an ideal offering, although the Nexus 7 severely undercuts it — while being more powerful. First you'll need to see our hands-on and unboxing, then lets dive into the tablet and see what we think. Shall we?
Hardware
In the very recent past Lenovo's hardware and build quality has always been one of the low points of their tablets, but with the S2109 they've surprisingly done a much better job in that department. Offering it at a low price at the same time doesn't hurt either. The build quality and hardware is improved, but it still isn't up to Samsung or Apple standards.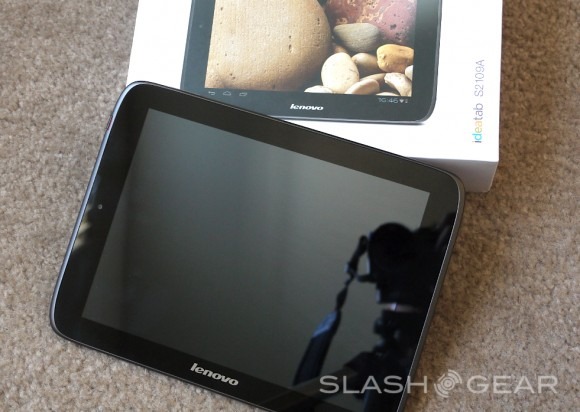 Lenovo's equipped this S2109 tablet with some pretty poor specs to meet that low price point though. You get an old, aging, and quite grainy 9.7-inch display rocking the same 4:3 aspect ratio and terrible 1024 x 768 resolution that the original (yes as in a few years old) iPad had. Almost all Android tablets come with at least a 1280 x 800 resolution so this is instantly looking worse once you glance into the screen. After using the Acer A700 with a 1920 x 1200 resolution, or our new iPad with Retina display this thing almost hurts my eyes.
Other than that you'll get a mid-range 1.0 Ghz dual-core TI OMAP 4 processor, 1GB of RAM, and this model comes with 16GB of internal storage — they do offer a 32GB version for those in need too. We would rather of seen the NVIDIA Tegra 3 quad-core here, but we'll take what we get. Overall however the S2109 both looks and feels smaller than a 9.7-inch tablet because of the curved rounded edges and the sleek unibody design. Sadly the back is a hard plastic and not aluminum and it picked up scratches extremely quick. Lenovo has shipped the tablet with a silicone case right inside the box however, so that is an added bonus.
As for ports and options you'll quickly notice the micro-HDMI and micro-USB ports on the right side, followed by a reset pinhole, the proprietary jack for charging, and a micro-SD slot for extra storage options. The top is outfitted with a single volume up/down rocker, then the left side is the lone 3.5mm headphone jack and power/wake button. The design is pretty basic, but works great for those who might be just beginning.
Sadly the hardware isn't anything special. The best part is probably the unibody design (although it's plastic) and the quad-stereo SRS surround sound speakers. The only camera is the 1.3 MP shooter up front, and they scraped the rear camera in favor of a low price. The speakers offer quite great sound for a little and budget tablet. While they won't fill an entire room — most tablets don't — they do have clear and crisp sound. We have mixed feelings on the hardware and build quality, but I guess for $349 it's ok but we'd rather just buy an iPad 2.
Lenovo S2109 unboxing video
https://www.youtube.com/watch?v=1GKT4vqZpOs
Software
The Lenovo S2109 runs a completely stock version of Android 4.0.4 Ice Cream Sandwich which is a nice change since their previous attempts had a lot of changes — for the worse. Everything is completely vanilla and they've not touched the launcher, settings or notification bar or anything. For some reason however it seems to stutter and lag more than it should.
Lenovo's pre-loaded AccuWeather, Lenovo App Shop, Documents To Go, Evernote, Adobe Flash Player, Go Keyboard, Movie Studio, Norton Security, Lenovo PrinterShare, Skype, SugarSync, News Republic, and Zinio. More than I'd like to deal with, but a few are quite nice. First thing you'll want to do however is disable that terrible Go Keyboard and stick with ICS stock option.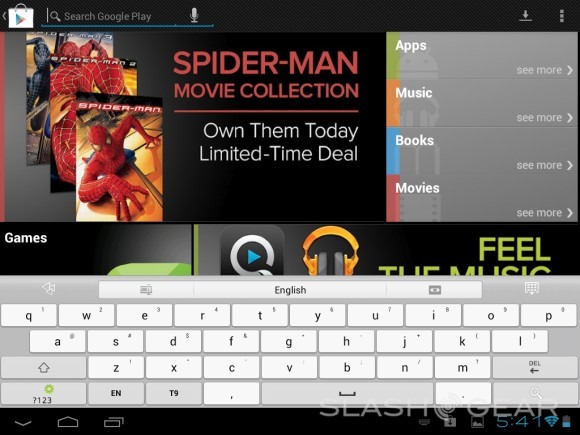 Performance and Benchmarks
Unlike many recent tablets the Lenovo doesn't run an NVIDIA Tegra 3 quad-core processor. Instead it runs a pretty basic and aging Cortex A9 Texas Instruments chip that lags behind most of the tablet competition, even compared to old Tegra 2 dual-core options. Android 4.0 Ice Cream Sandwich had a little lag here and there that wasn't expected, but that could be due to the old and aging processor under the hood. For the most part performance was fluid and swift, but we had to mention those odd stutters. Operation throughout the OS wasn't too bad, it was browsing the web, reading RSS feeds, or checking through the market that seemed to struggle more than most.
Benchmarks, as expected, fall far behind most of the competition. Tablets like the Transformer Prime, or even cheaper options like the Samsung Galaxy Tab 10 (2) all are a little better in this category. We see where Lenovo was aiming, but they just haven't quite hit the mark. Scoring lower benchmark tests than all 3 mentioned above. Here's a quick look at Quadrant and AnTuTu — which speak for themselves.
The boot time is rather long, and has a loud and slightly obnoxious animation and sound that is louder than anything else the tablet puts out, which we found a little odd. Playing your average games was decent although the slow processor and low resolution display gives you a less than stellar experience compared to the competition.
Camera and Battery Life
Now first we'll start with the camera, since it only has one. Most tablets these days offer both a front and rear camera but here we only have a 1.3 megapixel front camera. It's capable of 720p video but you'd hardly tell. While I don't consider it a con that there's no rear camera, many tablets currently offer one in this same price point — so we'll take another notch off for that.
Battery life is one area that the Lenovo IdeaTab S2109 does do well though. It comes with a 6,720 mAh battery under the hood that lasted for around 7-8 hours of solid use. They claim 10 hours of video playback but we doubt you'll make it that far. Stand-by battery was quite excellent too. Using the tablet here and there briefly during the evenings and leaving it at a table nearby we managed great battery life as you can see here. Some tablets no matter what will run out of life after a few days, but not the S2109.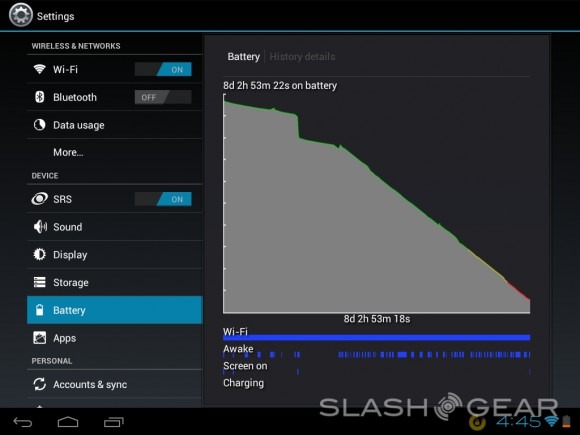 Wrap-Up
When using this tablet over the past few weeks we decided that for $349 you could probably do worse, but at the same time you could easily do better. Overall Lenovo has designed a decent mid-range tablet with ok specs, and a low price. With the iPad 2 being just $399 these days, and powerful quad-core Android tablets being similarly priced we had a hard time giving this a thumbs up of any kind.
If you'd like to stay under the $400 mark we'd easily have to recommend the ASUS Transformer Pad TF300T. It rocks a quad-core, higher resolution, and an optional keyboard for only $379, as well as the brand new Google Nexus 7 16GB for just $249. For those looking for a 9.7+ tablet the iPad 2 or even the new Acer Iconia Tab A510 would be a great option.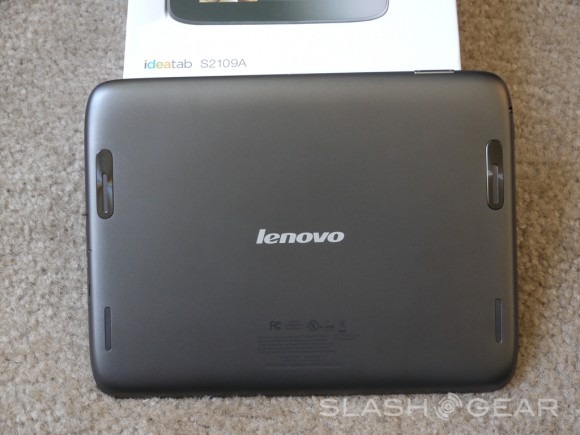 In the end the Lenovo IdeaTab S2109 is a well built tablet, it functions well and operates smoothly. The mid-range at best specs, low resolution, lack of a rear camera, and occasional stutters makes it hard to justify. For the price you could do better, but if Lenovo drops her down to $299 this might be a slightly different story.