Leica Sacked CEO, Steven K Lee To Step Down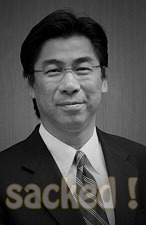 Thirteen months ago Steve K Lee was hired as the Lecia CEO with the challenge of turning the company around in digital era. That didn't happen and he has been dismissed and replaced by the company's owner and board chairman Dr Andreas Kaufman.
It's not an easy task in the cut-throat digital camera business, and twice as hard ran a small-town German company. Perhaps the cultural indifferences are not the excuses here, but rather the conflict of interests on the controversial perpetual M8 upgrade and company direction in producing a full frame body.
Apparently Steven's 6 years experiences served as Worst Best Buy's VP in Emerging Business and Strategic Development didn't get the German's Finest what they were gunning for, so the question is – What will happen to Leica Now?
The Amateur Photographer reported "One of the first tasks for Dr Kaufmann will be to positively review all options for the M system's future. There will be more details in the following weeks"
Obviously there have been many questions raised regard to the new CEO. So, how will they revive the Full Frame plan? Will Leica scrap the M8 upgrade program? It should be an exciting week for hardcore Leica fans.