LEGO MINDSTORMS EV3 robots hands-on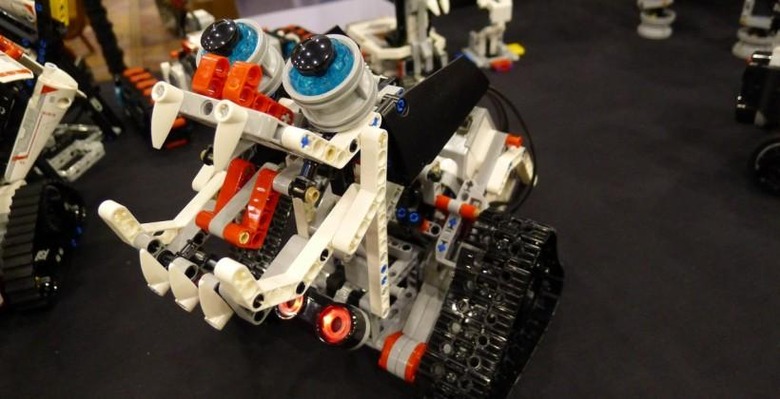 LEGO has been into robotics for quite some time now, but today at CES, the company unveiled the new MINDSTORMS EV3 robotic system, which is LEGO's first robotic system that comes with iOS and Android app support. The best part is, we got some hands-on time with a few of the robots on display at the company's booth at Pepcom.
A main focus to the EV3 system is the central Intelligent Brick, which runs on Linux and an ARM9 processor, both of which make the system even faster and more easily hackable than its predecessor robotic systems. Aside from speed specs, the biggest change on the Brick is the addition of Bluetooth, which allows builders to control their robots via an Android or iOS app. There's also a USB port and an SD card slot.
Another addition to the system is that the robots' eyes are actually infrared sensors, which can detect motion, so whenever you wave your hand in front of the robot, it will detect it and either attack, flee, dance, whatever. One of the robots was a dragon, and whenever a person crosses its path, it will extend its body and open its fiery mouth to attack.
The EV3 robotic system from LEGO will go on sale sometime this summer for a pretty penny — 35,000 of them, or $350. The MINDSTORMS EV3 will essentially replace the MINDSTORMS NXT 2.0 line, which came out in 2009. The programming software kit itself works on both Windows and Mac OS X.