Leaked Image Shows AT&T is Changing Messaging Plans on January 23rd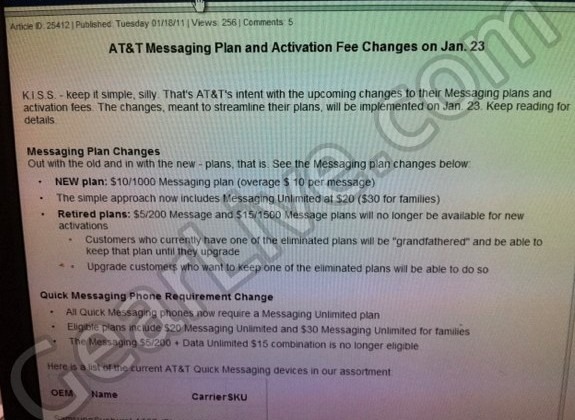 Best Buy's in the hot seat again, it seems. According to a new, leaked image from the electronics retailer, it looks like AT&T is getting ready to switch some things around. Namely, messaging is getting a boost. While two previous plans are getting dropped, the wireless carrier is offering up more text messages for less money. That is, if this screen shot turns out to be true, of course.
Starting January 23rd, new AT&T customers will have two options when it comes to their text messaging plans. The first is $10 per month for 1,000 text messages. The second is $20 for an unlimited amount of text messages. If you're in a family plan, or you're going to start up a family plan, then it will be $30 per month for unlimited text messages.
That means AT&T is dropping the $5 per month for 200 text messages, and the $15 per month for 1,500 text messages. As is common with a change of plan features, if you're currently on one of the plans that's getting dropped, you'll be able to "grandfather" in, and keep them. However, new customers will have only two options beginning on the 23rd of January. AT&T hasn't confirmed the change, as of the time of this writing.
[via GearLive]