LaCie Little Big Disk SSD Review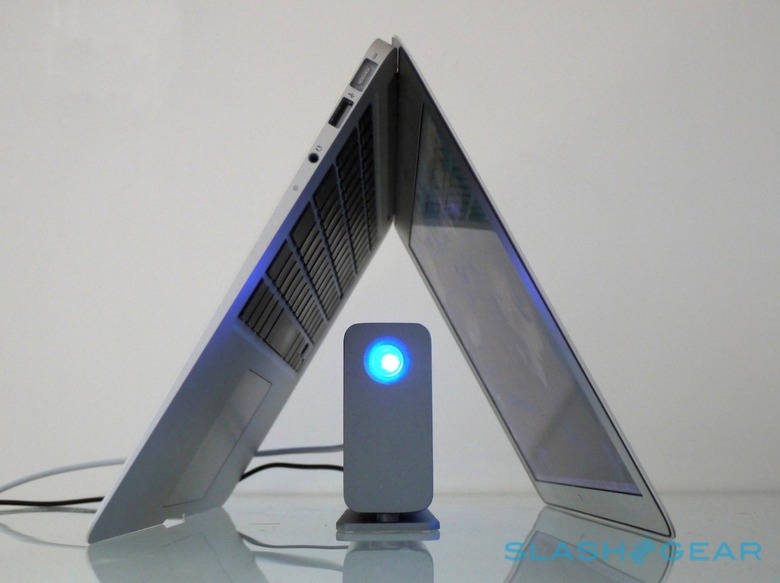 LaCie's Little Big Disk is the Thunderbolt drive your MacBook Pro has been waiting for. It's a fact of life that, while it's rarely cheap to be an early adopter, you do get to have the best toys: a nearly palm-sized twin SSD external drive that looks like a friendlier HAL 9000 and promises previously unseen levels of data transfer speed. Problem is, that speed comes with a $899 price tag; can the Little Big Disk make a Big Strong Case for all that cash? Read on for the full SlashGear review.
Hardware
LaCie's design language hasn't changed much over the years: looks-wise, the Little Big Disk is basically a squatter version of the Ethernet Disk NAS we reviewed back in 2007. That's no bad thing when you're talking about sturdy aluminum and a big blue LED, however, and at 5.5 x 3.3 x 1.6 inches it has a reasonably small footprint on your desk (LaCie includes a detachable stand, though it's capable of standing on its own without it). At 1.4 pounds, however, it's not light, and the wall-wart PSU is comparatively bulky, so those planning to travel with the Little Big Disk should expect some heft in their bag.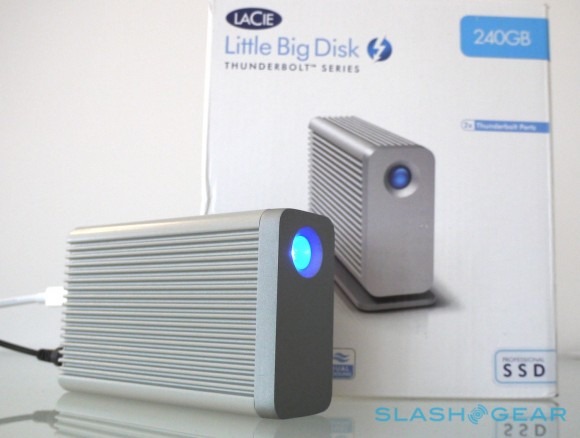 Physical controls are limited to the blue LED "eye" which doubles as a power button: hold it down for a few seconds and the drive shuts down. On the back there are two Thunderbolt ports, a power socket and a Kensington lock hole; we'd like to have seen a legacy connection, like USB, considering how few computers have Thunderbolt so far. That way colleagues still idling in the slow-lane could still grab files in a pinch. There's also a small fan, which adjusts speed based on temperature, though the whole chassis is intended to function as a hefty heat-sink.
Thunderbolt is the launch name for Intel's Light Peak, a super-fast next-generation interconnectivity standard that supports – in this first iteration – up to 10 Gb/s independent uplink and downlink of data and video channels. Apple has been the first to adopt the standard, adding Thunderbolt to its MacBook Pro notebooks and Mac mini and iMac desktops. Up to six Thunderbolt peripherals can be daisy-chained off a single port – hence the LaCie sporting a pair of them – and since it's backward compatible with DisplayLink you can connect a monitor, too.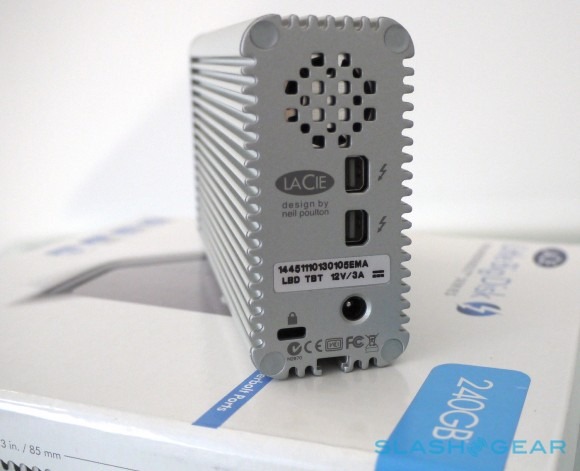 All that speed needs equally fast drives to make the most of it, and while LaCie already has a Little Big Disk on the market with traditional HDD storage, our review unit is the faster 240GB SSD version. Inside there's a pair of 120GB Intel 320 Series third-gen (SSDSA2CW120G3) solid-state drives, set up as a RAID 0 "striped" volume. While many associate home RAID setups as a way of protecting data with drive redundancy, RAID 0 is all about speed: the two SSDs combine for 239.38GB of indecently fast storage, though of course if one drive fails then the entire volume is lost. It's possible to reformat the Little Big Disk for data mirroring instead, though in that case you only get 120GB of capacity.
Performance
We tested the Little Big Disk with an early 2011 MacBook Pro, running Snow Leopard with the latest patches and fitted with 4GB of RAM, a 2GHz Core i7 processor and an aftermarket 240GB OCX Vertex2 SSD. Installation was straightforward: plug in the LaCie and it's automatically mounted as an external drive.
Benchmarking kicked off with a basic speed test, using OS X app Blackmagic. The Little Big Disk managed 487.9 MB/s read rates and 257.7 MB/s write rates, a frankly eye-watering pace that even slightly exceeds LaCie's own estimates. That's still well short on what Thunderbolt can carry, mind.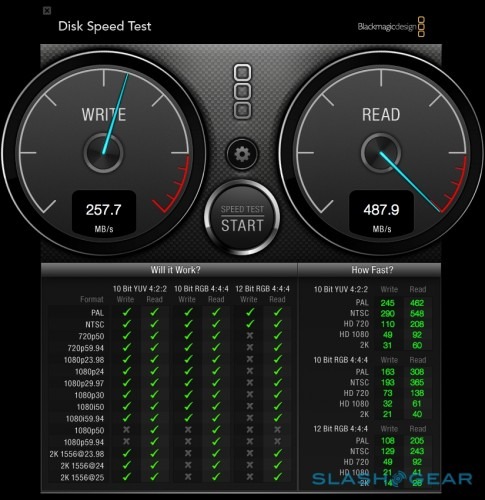 We then turned to some file transfer tests, to see whether real-world performance lived up too. First, we copied a range of files from the Mac to the LaCie: a 1GB file took 5.34 seconds to transfer, while a 5GB file took 19.01 seconds. A folder amounting to 5GB of separate files took 26.65 seconds. In the opposite direction, a 1GB file copied from the Little Big Disk to the Mac took 13.25 second, while a 5GB single file took 21.53 seconds. It was clear that the bottleneck for Little Big Disk performance was our own test Mac, with the OCZ SSD unable to keep up with the RAID 0 array's potential.
One of Apple and LaCie's boasts is the flexibility for multitasking inherent in Thunderbolt: you can do multiple things across the same connection simultaneously. We started up iMovie, encoding a Full HD video straight to the Little Big Disk using 1080p source files stored on the drive itself, and then tried transferring a separate 5GB file across to the LaCie too. That file took just 19.86 seconds to copy. LaCie says you'll get even faster performance if you daisy-chain multiple units together – four will just about reach Thunderbolt's potential, the company reckons – though we couldn't test that out.
The Little Big Disk never got more than mildly warm during heavy use – another benefit of the solid-state storage – but LaCie's tiny fan did its best to make itself heard. It's not so much loud as it is shrill, at full speed, though the combination of SSDs and heat-sink styling meant the enclosure quickly reached a point where the fan could slow down again.
Pricing
No shortage of performance, then, but none of that comes cheap. The SSD-based Little Big Disk will launch at $899/€849/£749, working out to a hefty $3.75 per gigabyte. In contrast, LaCie offers a 1TB version of the Little Big Disk using 7,200 rpm traditional hard-drives for $399.95, though with "only" up to 190 MB/s transfer rates. Somewhat galling is the fact that you still have to pay $49 for Apple's Thunderbolt cable.
Wrap-Up
Most on the SlashGear team agree that swapping from HDD to SSD has the biggest everyday impact on computing smoothness, compared to RAM or even processor. Until now, though, external storage – even external SSDs – has been hampered by connectivity.
What makes the LaCie Little Big Disk SSD so special is that, for high-bitrate multimedia editing, it's just as fast for apps to use as internal storage, if not faster. No lag while iMovie accesses your removable drive, just 240GB of extra space which you can treat just as you do your regular disk. Sure, you could use it for backup if you wanted (it's natively Time Machine compatible) or to store your MP3 collection, but that would be hugely wasteful of its talents.
For most, the huge sticker price will be a turn-off; capacity-junkies will sniff at the relatively paltry 240GB. Those who take their music and video editing seriously, though, and who want more storage without a speed compromise, need to have the LaCie Little Big Disk on their desk.