Konami President: shifting gears from consoles to mobile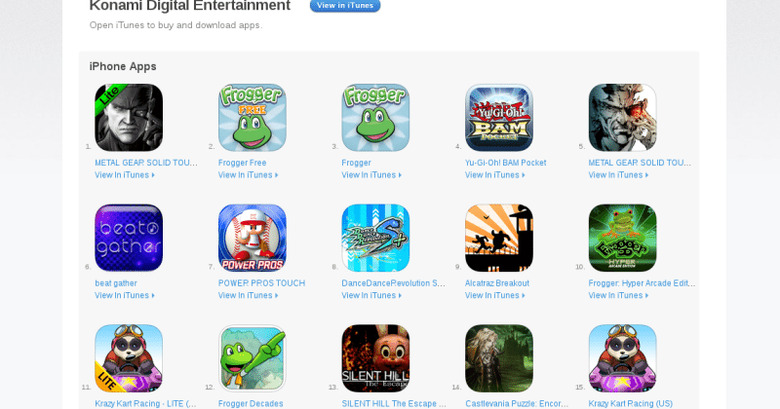 The gaming landscape is changing rapidly. Smartphones, previously relegated to casual games like snake, have become serious instruments of play, to the point that even stubborn Nintendo can no longer deny its lucrative appeal. The latest big name in the gaming industry to bite the mobile bullet is Konami, whose new president Hideki Hayakawa was quoted, in translation, of course, to practically say that the company's future will lie primarily in mobile games, or at least games that can span the divide separating devices and experiences.
To some extent, this isn't really a hard decision to make for Konami. Aside from the Metal Gear Solid and the now practically canceled Silent Hill franchise, the game publisher's legacy lies mostly in the past, with titles like Contra and Castlevania puffing up its resume. It will most likely continue to make console versions for its hit titles, but the console market is as crowded as ever and has become even harder to fight for some space among the top names.
In contrast, it's relatively easier to make a one hit wonder on mobile, over saturated as the market may be. Especially with a pedigree like Konami's, it won't be that hard to get publicized and have a thousand, even a million, downloads at launch. Hayakawa was, in fact, nothing but praises for mobile gaming, claiming that it is a platform that has been closest to its heart and believing that it is were gaming is eventually headed. Of course, given its sudden change in direction, it cannot but say so.
This move, however, would probably put Konami under even more scrutiny given its past actions. It's sudden cancelation of Silent Hills, as well as rumored disagreements with MGS creator Hideo Kojima, has left many wondering. It's apparent exit in the US due to being delisted from the Stock Exchange also hints at a company in deep trouble.
For now, Konami's mobile plans are as vague as Hayakawa's statements. It's current roster of games are anything but extraordinary, so it will really have to double its efforts if it doesn't want to become a has-been in its new darling market.
VIA: Ars Technica