Kohjinsha DZ dual-display netbook shipping December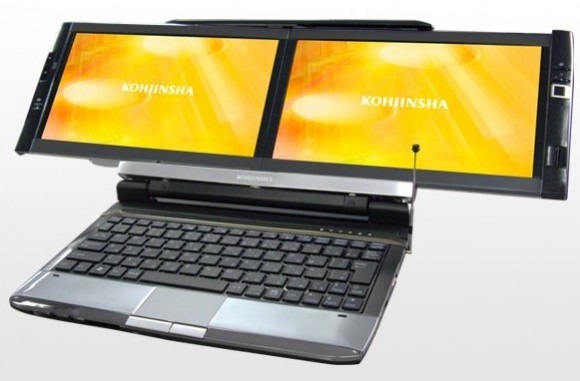 Kohjinsha's dual-display netbook was one of the stars of CEATEC back in October, but the company was quiet on whether the prototype would reach shipping stage.  Strong feedback has obviously tipped their hand, however: you can now preorder the netbook, freshly named the Kohjinsha DZ, with a Japanese delivery expected on December 11th.  Your 79,800 yen ($921) netbook has two 10.1-inch 1024 x 600 LCD displays which sandwich together into the lid for ease of transportation, as well as rotating all the way around to face backwards.
There's also AMD's 1.6GHz Athlon Neo MV-40 processor with the company's S780MN chipset and ATI Radeon HD 3200 integrated graphics.  Standard RAM is 1GB (4GB supported) and there's a 160GB hard-drive, WiFi b/g/n, Bluetooth 2.1+EDR, gigabit ethernet and a fingerprint reader built into the screen bezel.  Japanese buyers will also get a 1-Seg TV tuner.
Ports include three USB 2.0 and audio in/out, and the standard battery is a 6-cell 5,200mAh pack which Kohjinsha claim is good for up to 4.5hrs use.  It's unclear whether that's with both panels active, however; you can use the DZ with just one screen visible and turned on.  As for weight, it comes in at 1.84kg which is unsurprisingly slightly heavier than we're used to from a netbook.
[via Netbooked]