Klipsch LightSpeaker, Sound From A Lightbulb?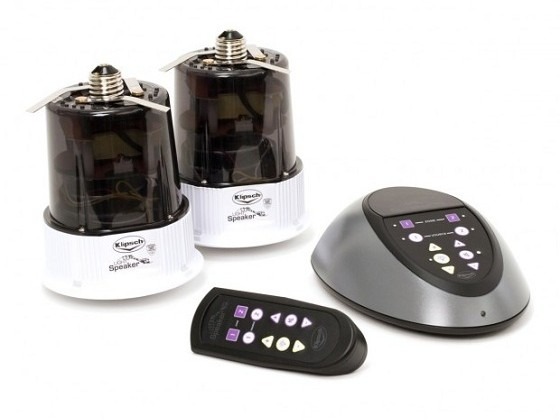 Klipsch's novel speaker combines wireless audio with efficient LED lighting, and screws in like a normal lightbulb.  The LightSpeaker  uses a 20-watt high performance, low-distortion digital amplifier to deliver efficient sound, and comes with a dimmable LED bulb (that lasts 40,000 hours) that fits light fixtures with a standard Edison socket.
"Today's consumers are overloaded with complex technologies, and the LightSpeaker is designed to enrich their lives without complication," said Klipsch president Paul Jacobs. "It offers brilliant light, reduces energy costs and creates a multiroom ambient music system in mere minutes. There's no wiring, no retrofitting and no software to deal with."
Each unit purportedly consumes 10W of power while putting out the equivalent of 65W of light.  Klipsch is offering a $599 LightSpeaker bundle, which includes two LightSpeakers, a transmitter, a remote control, and a 3.5mm-to-RCA cable. Currently demoing at CES 2010, A single speaker will cost $249 on Klipsch's website this March.