Top Jump Starters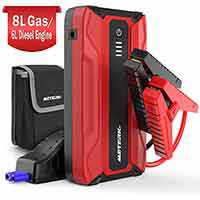 Meterk 1500A 12V Car Jump Starter
Pros
High capacity and output
USB quick charge
LED flashlight
Water-resistant
The Meterk car jump starter is a powerful and portable device that can start gas engines up to 8 liters and diesel engines up to 6 liters. The voltage on this starter ranges from 12 volts to 15 volts. The lithium battery charges in around three hours, and the charger includes dual USB ports for charging other devices and a three-mode LED light.
This is a very affordable jump starter compared to others of a similar amperage — it typically costs between $55 and $70, depending on current promotions. Buyers were especially pleased with how quickly it starts the engine and its safety and reliability.
STANLEY 1000A 12V Car Jump Starter with 120PSI Air Compressor
Pros
Air compressor
USB charging ports
Rotating LED flashlight
Safety alarm
Cons
Heavy
Some negative reviews
This product is a combination car jump starter and air compressor that helps with both dead batteries and flat tires. While the jump starter has lower amperage than some of its competitors, its lead-acid battery can comfortably start most V-8 engines. If there's an improper connection, the starter sounds an alarm to keep you safe.
STANLEY offers a one-year manufacturer warranty and recommends charging the starter every 30 days. Customers particularly enjoyed the extra features on this starter, such as the air compressor and rotating flashlight. You can typically find this one online for around $95.
HULKMAN 2000A 12V Jump Starter
Pros
High capacity and output
24-month warranty
Smart screen
Nine types of protection
Cons
No carrying case included
HULKMAN creates a powerful jump starter with a 2,000-amp peak current that can start vehicles with 8.5-liter gas engines or 6-liter diesel engines. The lithium-polymer battery can be used 60 times on a single charge, and it can start your car with only five minutes of charging. The bank can also power other 12-volt DC devices, and it has a built-in three-mode flashlight.
Customers praise its reliability and cold weather durability, and many have commented on how long it holds a charge. This starter usually costs between $95 and $100.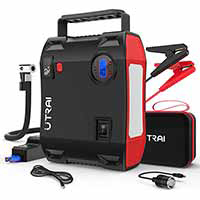 UTRAI 2000A 12V Portable Jump Starter with Air Compressor
Pros
High capacity and output
LCD screen
USB charging ports
LED flashlight
UTRAI's 2,000-amp jump starter is powerful and reliable, and it includes a built-in air compressor with an LCD tire pressure readout. It uses a lithium-ion battery and includes a USB cable and car adapter for charging. Its five-watt LED flashlight is large and bright, making it ideal for emergencies.
Reviewers report that this portable starter is highly dependable as both a jump starter and air pump. Depending on current promotions, this starter's cost may range from $100 to $125.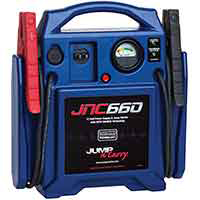 Clore 1700A 12V Jump Starter
Pros
High capacity and output
Long cables
Automatic built-in charger
This jump starter packs a powerful punch, offering 1,700 peak amps and a DC outlet to charge other 12-volt devices, such as air compressors. The lead-acid and AGM batteries are built for performance, and this starter can even automatically charge itself with an onboard battery.
Customers are happy with how well this starter tolerates the cold and how quickly it starts vehicles. Clore's jump starter typically costs around $130 online.
NOCO Boost Pro 3000A 12V Jump Starter Box
Pros
Lightweight
USB charge and recharge
High capacity and output
LED flashlight
The NOCO Boost Pro has an advanced design that includes a seven-mode flashlight, a water-resistant body and a two-hour rapid charge. For such a small, lightweight device, it carries a tremendous charge of 3,000 amps for gas and diesel engines up to 10 liters.
It's on the higher end of the price scale and typically costs around $300. Customers have high praise for the performance of this lithium jump starter.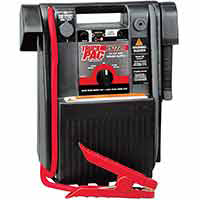 Truck PAC 3000/1500A 12V/24V Jump Starter
Pros
Both 12V and 24V
Automatic recharging
Long cables
For trucks
This heavy-duty Truck PAC jump starter can switch between 12 volts and 24 volts, offering peak amperage of 1,500 amps and 3,000 amps. Its 60-inch cables have industrial-grade clamps and an advanced warning system to keep you safe during operation. This unit can operate in extreme temperatures and environments.
It costs around $350 for this model, though there are lower amperage Truck PAC and Booster PAC jump starters if you're looking to spend less. Customers are overwhelmingly happy with this product and the customer service they receive from the manufacturer.
How We Found the Best Jump Starters
To find the best jump starters, we compared dozens of products on Amazon to find those with the highest customer satisfaction and best combination of features. Only products with 4 stars or higher made the final cut, and customer reviews were evaluated for common issues or praise. We included a variety of trusted brands at various price points to offer options for every budget.
Compare Our Picks for Top Jump Starters
Below, compare our top picks on price and customer satisfaction.
| Brand | Model | Cost* | Rating* |
| --- | --- | --- | --- |
| Meterk | Epower-175 | $69.99 | 4.1 |
| STANLEY | J5C09 | $92.65 | 4.4 |
| HULKMAN | Alpha 85 | $79.97 | 4.8 |
| UTRAI | Jstar Five | $128.98 | 4.5 |
| Clore | JNC660 | $129.99 | 4.8 |
| NOCO | GB150 | $299.95 | 4.7 |
| Truck PAC | ES1224 | $342.11 | 4.7 |
*On Amazon, as of publishing date.
Bottom Line: What to Know About Jump Starters
Keeping a jump starter handy is a matter of both safety and convenience. Make sure your starter has the right amperage and voltage for your vehicle. In addition to reading customer reviews, look into complaints and recalls about the brand's products. This helps you find a product that's trustworthy and safe to use. With a little research, you can find a reliable jump starter to help avoid the inconvenience of a dead battery.
Jump Starter FAQ
Jump starters are rated based on their amperage and voltage. Most jump starters range between 800 amps and 3000 amps, with voltages ranging between 12 volts and 24 volts. These devices may also vary by battery type, including lithium-ion, lithium-polymer, AGM and lead-acid.
A jump starter lets you jump start your car without hooking it to another car's battery. Portable jump starters can be charged at home and kept in your vehicle for emergencies, but remember to occasionally check the charge so it's ready when you need it.
Jump starters may have lithium-ion, lithium-polymer, absorbed glass mat or lead-acid batteries.
Good jump starters run from as low as $50 to as high as $400. The price increases with the product's amperage, so you'll need to spend more if you want a high-output jump starter. Read customer reviews and research the company's reputation to determine if the jump starter is any good.
Lithium-ion jump starters are very popular and affordable. Customers are typically pleased with products using this battery type.