Jeep Wrangler Dragon Limited-Production Model Arrives Next Month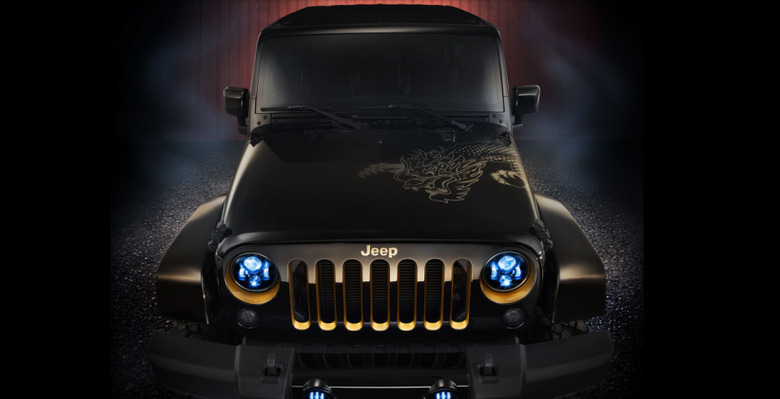 In 2012, Jeep showed off a concept Wrangler called the Dragon, a model that it decided to put into limited production and will begin offering for sale next month. Unlike some limited edition models, the Wrangler Dragon has the same specifications as the average Wrangler, but comes with a new design that features, not surprisingly, a dragon.
The Jeep Wrangler Dragon model is based on the Wrangler Sahara Unlimited four-door model with heated leather seats and 18-inch five-spoke alloy wheels tossed into the mix. That aside, the Dragon Edition model is all looks, featuring what Chrysler's CEO Mike Manley says is a "stunning, unique, upscale design with styling cues that make it unlike any Wrangler ever seen before."
The paint job is unique, using a high gloss satin finish and deep black coloring. Such is accompanied by bronze trim accents, which you can see on the grille in the image above. On the hood is a gold dragon, which wraps around to the side of the car in greater details, scales seemingly both blending in and popping from the Jeep's overall paint job.
The rear tire cover also features this dragon, and the color range applies to the interior as well, including dark Nappa leather seats, dragons on the headrest, and accents composed of the same bronze coloring found on the outside of the vehicle. Those who are interested will find the model hitting showrooms in October with a starting price of $37,090 USD.
SOURCE: USA Today