JayBird BlueBuds X Review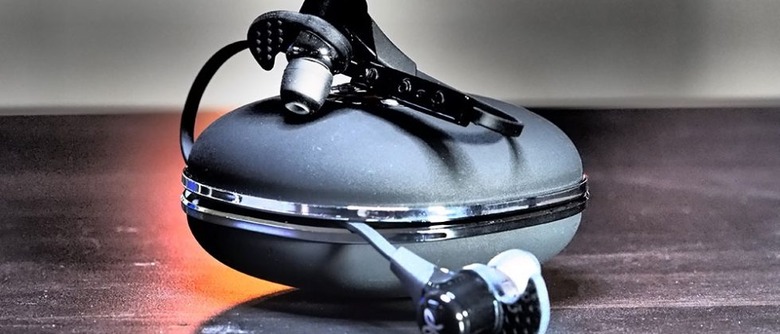 If you're all about the most high-quality Bluetooth earbuds in the business, you'd be remiss to skip over the JayBird BlueBuds X release we're having a peek at right here and now. What you've got is a $169.95 pair of earbuds that JayBird promises will be the best experience you've ever had with personal audio with a real sweat-proof guarantee. And that's not just a metaphor – these earbuds are sweat-proof to the point that JayBird will hook you up if there's any sweat-related issues with your pair whatsoever.
So what is it about a pair of earbuds like these that make them so fantastically above-and-beyond as JayBird says they are? Starting with the sound, you've got Bluetooth connectivity with "SHIFT" technology as well as "Puresound." With SHIFT you've got a unique implementation of the native Bluetooth SBC codec that takes the traditional model of compressing the audio, sending it over Bluetooth wirelessly, and re-expanding it and dashes it to the ground with high-quality delivery.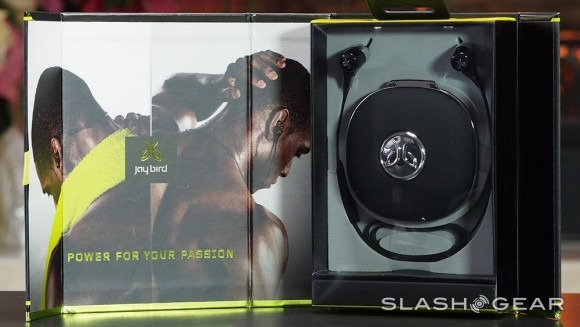 And yes, indeed, these earbuds do deliver a sound quality that's as close or equal to wired earbuds as we've ever experienced. Puresound takes the white noise created with in-ear headphones and eliminates it with an on-board filtering system. Along with that you've got what JayBird says is their own patented system "Signal Plus" for skip-free connectivity to your smart device. It works flawlessly – we never had an interrupted connection one single time during our trial period.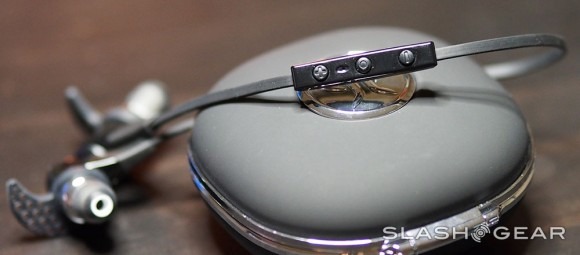 These earbuds work with their own lady speaker by the name of Jenna. This "Jenna" speaks to you when your headphones are on, let you know when they're ready for pairing, and will let you know when you're dialing a number – don't expect her to respond to your voice, but button presses do help her help you. These headphones are wireless from start to finish, working with their own integrated rechargeable battery – one charge lasted us 8 hours.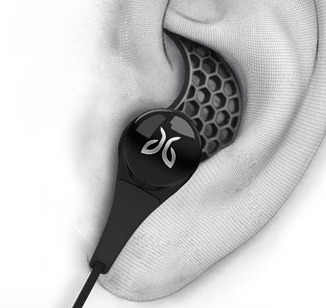 Perhaps the most interesting part of this release is the fit – you've got a couple of different options with how JayBird recommends you wear the BlueBuds X, one over the top and back of your ear, the other straight down in front. You'll likely want to drape the cord between the two buds behind your neck, but any way you do it you've got a "wing" attachment that holds itself up and in to your ear with the larger flap of it – the flap of your ear. This system keeps your buds in, secure, and tough while you're out and about with your sports-related action.
These buds sound fabulous for a Bluetooth-delivered music system, and clearly outperform the massive bulk of the rest of the Bluetooth earbud universe. They don't quite add up to the power of a real wired set of buds, of course, but they're just about as close as you're going to get at the moment. Expect these buds to be the best-sounding and most dynamic earbuds on the market without wires connecting to your smart device.
Wrap-up
If you're the sort of person who wants the best Bluetooth earbud experience on the market today, we can safely say that we've seen no other set better than the JayBird BlueBuds X. That all comes with a price, of course, of right around $170, a rung above the competition. Don't expect these buds to feel like the steel-and-gold beasts that the rest of the high-cost personal audio equipment world suggests means quality – instead you've got plastic and rubberized connections to keep you sweatproof and hearty while JayBird delivers the high-quality audio in any high-action situation.