Itadaki Street DS - Nintendo and Square-Enix latest character mash up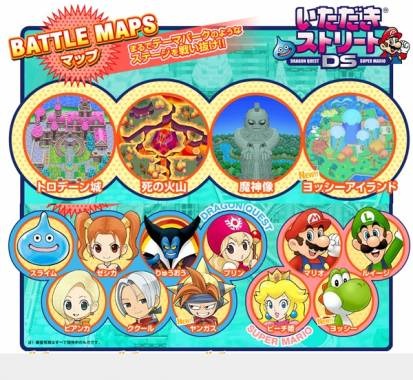 Nintendo and Square-Enix announced Itadaki Street DS, a monopoly like game with Mario bros and Dragon Quest characters. The game has eleven characters so far, Slime, Jessica, Ryuuoh, Pudding, Bianca, Angelo, Yangus, Mario, Luigi, Princess Peach, and Yoshi.
You'll be able to play on different boards such as Castle of Torodaine, Death Volcano, Giant Demon's Statue and Yoshi's Island.
Itadaki Street DS will be available in Japan on June 21st this year, and sad enough those who are outside Japan wont be able to buy it, as Nintendo and Squre-Enix did not say if they would release it outside Japan.
Won't You Tell Me How to Get to Itadaki Street? [via kotaku]