iStraw - Because your water is dirty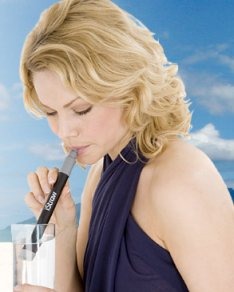 I'm horrible about drinking water. I really don't drink nearly as much as I should, as I'm too busy getting hopped up on Mountain Dew. However, when I do drink water, I like it to be purified, rather than from the tap. No, I don't go out and buy bottles of water, I just have a purifier hooked up to my tap.
So what if you're hanging out at a friend's house and you want a glass of water, only to find out that their water isn't purified? Fear not, as you always carry the iStraw with you! The iStraw is made of a light polycarbonate material that uses an internal micro-filtration system to make your water nice and clean.
Seriously, if you carry one of these in your pocket, purse or whatever you have, you might consider getting some professional help. The only people that should be carrying these around are those traveling to areas that don't have clean fresh water. (No, your buddy's house doesn't count) If you think that you need one of these, it will purify up to 500 liters of water and will cost you $40
iStraw: For the Mysophobe In All Of Us [via crunchgear]