iRiver P20 PMP hands-on: Unintuitive & disappointing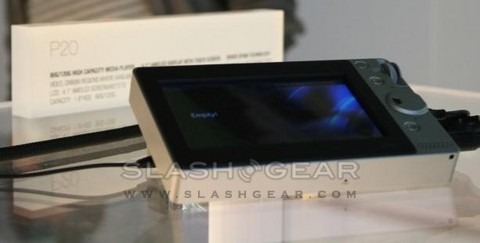 If iRiver nailed the interface of the SPINN, they seem to have come undone with that of the P20.  The hard-drive based player is big, blunt-edged and the controls manage to make it look rather like an analog FM radio.  Dual scroll-wheels – one horizontal, one vertical – coupled with a separate 'OK' button and a touchscreen that's inset slightly too far for comfort make it a tricky PMP to navigate.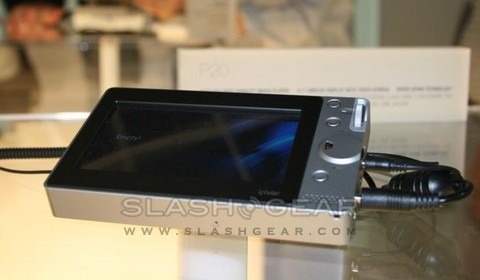 The 4.1-inch 480 x 272 OLED touchscreen is bright, but its finger-friendliness is undermined by that raised bezel and some of the menus requiring either scrollwheel navigation or options too small to be accurately pressed.  It's a shame, because the P20 certainly has the specs to offer: aside from audio/video playback there's an FM radio, integrated DMB-TV, voice recording and TV-out connection.
Storage is either 80GB or 120GB, and the battery is rated for up to 12hrs audio, 9hrs video or 8hrs digital TV.  The P20 measures 130 x 97 x 20.5mm and will launch in Korea in September; iRiver are uncertain as to whether the PMP – missing digital TV most likely – will spread anywhere else after that.