iPhone firmware V. 2.0 Beta 3 - first looks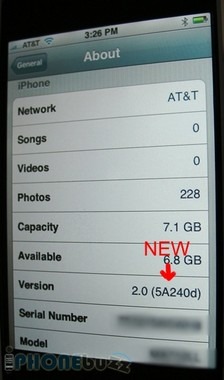 The latest update to the iPhone's firmware beta has become available and our own Vincent Nguyen has gotten his hands on it. The build number is 5A240d, Vincent has been running the second version of the beta for a couple of weeks and he said he immediately noticed a major improvement in system stability after upgrading to this latest firmware.
New enhancements include being able to save images from safari as well as the ability to search your contacts. They also apparently fixed a lot of the bugs that were found in the second beta release.
There are also some other new features included such as more settings for your calendar and a lot of new mail settings. Vincent is apparently also toying around with PWNAGE with the iPhone Dev Team reporting that these days cracking the latest firmware is as simple as doing "a simple byte search". So, it's nice to see things moving along in both the official and unofficial iPhone development worlds.
[via iPhoneBuzz]