iPhone 5 Cases With Clear Back Push For Curved Corners And Button Realignment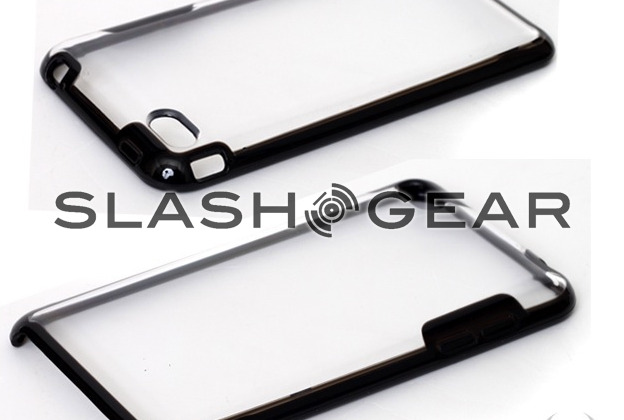 Another set of cases have appeared on an online merchant site, this time in three versions. As you should know quite well by now, the iPhone 5 is one of two iPhone devices expected to be revealed at the next Apple keynote event, this event likely for some time before the end of 2011, and possibly inside October. What we're seeing today is a set of three cases, each of them said to be fitting the iPhone 5, and each of them showing one unique sort of case change for this model. Though we're certainly not sure of the legitimacy of the online sales site (our tipster encouraged us to buy, so we'll tell you NOT to buy, of course), it's interesting to see these new renders.
Or perhaps they're photos? More likely they're not quite real in the sense that they probably haven't been manufactured quite yet, but they certainly appear real enough to be real in the near future. There's one called "Air Series", another called "2.0 Cover", and another called "Ex-Sleek". Legitimate names, right? The online store says they'll be shipping these cases on October 1st, 2011, this of course tying up nicely with the early October guess for the Apple event.
What these cases reveal (see the gallery below) is that this iPhone will have its camera on the same side that it is on the iPhone 4 but that the flip switch (normally in the upper left) will now be in the upper right – right next to the camera, that is. The volume rocker, on the other hand, appears to be in the same place it's is on the iPhone 4. The location of the headphone jack also appears to be in the same location as the iPhone 4, right at the top and to the side.
Beyond that, we can see in the dummy image of the actual iPhone that the display seems to be enlarged beyond the borders of the iPhone 4 and that there's a slightly different background to the icons dock at the bottom of the display. Also the time display reads 9:42 AM, this perhaps pointing at the time of day that the device will be announced. Take a look at all the photos from the online store below, then note that we're not going to link to the store because that would be silly since its obvious that they shouldn't have the cases already anyway.
Next notice the complete lack of a flash light for the camera on the back of the device. Interesting! And finally, there's the curvature to the backs of the devices, closer to the original iPhone or the iPod Touch than they are to the iPhone 4.
See the rest of our iPhone 5 / 4S / everything else news by hitting our big iPhone portal and find out everything there is to know (and to wait for.)