iPhone 3G hands-on review roundup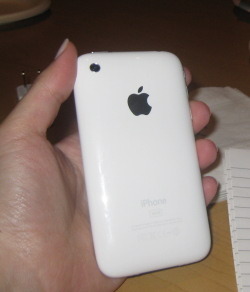 Several hands-on iPhone 3G reports from after the WWDC 2008 Keynote are out, and as you might expect they're all saying pretty much the same thing. Despite the few extra millimeters thickness over the old iPhone, Apple's newly slimmed edges disguise it well and the plastic – which is a concession to the numerous wireless radios packed inside – feels reasonable, though some question how scratch-resistant it will prove. Apple are claiming it'll disguise wear better than the original. The buttons have been switched to metal for aesthetic, not practical reasons, and are sharper-edged. A few people have suggested that the new, white 16GB handset is particularly feminine, though that's more personal choice than anything else.
Update: SlashGear iPhone 3G review on July 11, 2008
"Fundamentally, 3G radios are different from 2G. 2G radios have been around a long time, so they're more optimized. Five hours for 3G is a great benchmark in and of itself. What we've been able to do is be very aggressive on power management to achieve those numbers" Bob Borchers, Apple's senior director of worldwide iPhone product marketing

More excitingly, even inside the convention center the 3G data connection proved a success. The transition from WiFi b/g to tri-band 3G took around two seconds; CNN's site took 2s to load, NYTimes coming up in 3s. 3G can be switched off, and the iPhone limited to 2G connections, but Apple don't expect many to do that and the option is buried down through the settings menus.
GPS suffered from being tested indoors, and nobody could get a grip on acquisition times. Thankfully Apple have very much used the Assisted-GPS (A-GPS) method, where GPS is just another way – along with WiFi and cell-tower positions – that the iPhone can find itself. The company confirmed it won't be offering its own mapping data; they demoed the handset with Google Maps, but TomTom have already announced that they've an iPhone satnav app waiting in the wings. That should fix the lack of voice-directions, too, and mean you can use the phone for navigation even without internet access. Photos are automatically geotagged, with as much accuracy as the iPhone 3G can figure out from its three methods.
Copy & Paste and Bluetooth A2DP are confirmed as still missing in action, which is a shame, and Apple PR declined to comment on their later introduction. It seems reasonable to assume that they'll turn up sooner rather than later, though. There's also no front-facing camera and the main camera is the same, mediocre 2-megapixel unit with no autofocus, no flash and no video capture capability.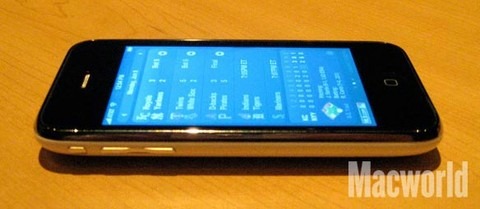 Quite a few people have commented on the new, tiny power adapter, which is an extremely small cube with two prongs on one side and a USB port on the other. It'll apparently recharge the first-gen iPhone too, as well as the iPod Touch, and will be sold separately as well as included with the iPhone 3G; we've heard a figure of around $29. The dock won't be included as standard, only sold as an accessory, and has been slimmed down; it's not visible from the front when the iPhone is in place, and may not be compatible with the original iPhone because of the casing change.
All of the apps demonstrated in the first half of the keynote were available to look at, and unsurprisingly SEGA's Super Monkey Ball seems to have been the first port of call. The graphics are universally praised and gameplay "addictive", but there was concern that in tilting the iPhone 3G the player lost the best viewing angle of the display. It sounds like the Nintendo DS may have some competition!
Remember, these opinions are from ten, maybe fifteen minutes hands-on time with the iPhone 3G, so there's plenty of time for it to impress (or, heaven forbid, disappoint) in a proper review.
Update July 8, 2008: iPhone 3G reviews(US Today, NYT, Allthings D)
BBCEngadgetGizmodoLaptopMagMacWorld
[via iPhone Buzz]