iPad 2 display reportedly leaks: thinner, lighter & smaller bezel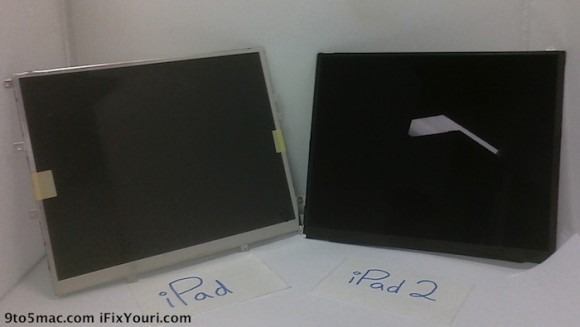 Pinch of salt time, but images purportedly showing Apple's second-generation iPad display have emerged, hot off the Chinese production line. According to 9 to 5 Mac and iFixYouri, the iPad 2 panel is both lighter and thinner than the existing LCD used in the first-gen iPad; that would certainly fit in with previous rumors.
In addition to being more than a millimeter thinner, the iPad 2 display also has a smaller bezel. That should give Apple more flexibility in its overall casing design, since there's less bulk to fit in. Considering the first-gen iPad was basically a sandwich predominantly comprised of display and batteries – with the electronics squeezed in – that could make a huge difference to the overall aesthetic.
Going by the product code, LP097X02-SLN1, and some online deduction – still unverified – one of the 9 to 5 Mac commenters has worked out that the display could well be an LG Philips panel running at 1024 x 768 XGA resolution and using H-IPS technology. Again, that would fit in with suggestions that Apple is saving an iPad Retina Display update for the third-generation model.
[Thanks Paul!]