Intel Pentium M based EP80579 System-on-Chip announced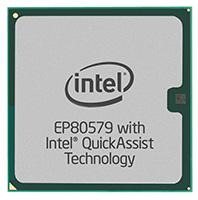 Intel have announced a new product line, based on the Pentium M, intended for consumer electronics, mobile internet devices and embedded systems.  The EP80579 Integrated Processor SoC (System on Chip) will ship in eight different variations, differentiated by CPU speed (ranging from 800 to 1,200MHz) and DDR2 memory controller speed (ranging from 400 to 800MHz); all will have 256kb of L2 cache and a "variety of integrated communications and embedded I/O controllers".
These include triple gigabit ethernet connections, two USB, two Serial ATA, and PCI Express (in 1x8, 2x4, or 2x1 lane configurations).  Power requirements are also down, as much as 34-percent less than previous Intel SoC products.  Half of the chips will have QuickAssist technology that speeds cryptographic and packet processing in security applications, running at 13-21W, while those without it are even more frugal at 11-19W.
The EP80579 family is only the first of more than fifteen new SoC from Intel, some of which will be based on the Atom CPU.  These new models will begin to show up in new products from later this year.  Meanwhile, there are apparently fifty companies (identities undisclosed) lined up to use the EP80579 chips.
[via The Tech Report]