Intel launches dual-core Atom processor platform formerly known as Clover Trail+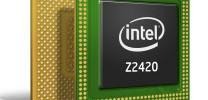 Intel has officially launched its new dual-core Atom processor-based platform that was formerly known as Clover Trail+. The new platform has officially launched at Mobile World Congress 2013 and will be featured in a range of new products, ecosystems, and other platforms including Android tablets. The new platform promises significantly improved power consumption among other features.
The new platform is for smartphones and Android tablets and will be the company's first multimode-multiband LTE solution shipping in the first half of 2013. Intel says that the new platform and smartphone reference design delivers industry-leading performance combined with low-power consumption and a long battery life. Intel says that the new platform is able to rival today's most popular Android phones.
The platform uses a 32nm dual core Atom Processor in one of three varieties. Those three processors include the Z2580, Z2560, and Z2520 operating at speeds up to 2 GHz, 1.6 GHz, and 1.2 GHz respectively. The processors support Intel Hyper-Threading technology allowing for application threads to execute at one time. The platform also has integrated Intel Graphics Media Accelerator engine with the graphics core operating at up to 533 MHz.
That graphics core supports full 1080p hardware-accelerated video encoding and decoding and 30 frames per second. Intel also promises advanced imaging capabilities for the platform with support for two cameras, and support for primary camera sensor up to 16 megapixels of resolution. The imaging system also supports panorama capture, 15 frame per second burst mode for eight megapixel photos, real-time facial detection and recognition, and mobile HDR image capture. Another important feature of the platform is Intel Identity Protection Technology supporting two-factor authentication.
The platform supports displays with resolutions up to 1900 x 1200 enabling larger screen Android tablet designs. The platform supports Android 4.2, Intel Wireless Display Technology, HSPA+ at 42Mbps along with the Intel XMM 6360 Slim modem solution, and it supports UltraViolrt file format. Intel says that customers that will use the platform include Lenovo, Asus, and ZTE.
[via Intel]