Intel demo MID remote server 'Second Life' gaming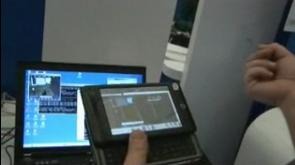 Intel are working on a new client/server model for their Mobile Internet Device (MID) platform, which would take advantage of high-speed wireless networking to make up for the relatively low-power processors fitted to the touchscreen devices themselves.  Demonstrating the system with a mobile Second Lifeapp, Intel's solution is to host its own servers on which the heavy processing work is done, funneling the data through 3G or WiMAX-style connections to the MID. 
Video demo after the cut
A somewhat similar model has been around for some time in the Sidekick messaging cellphone, where a constant link to a T-Mobile server maintains a backup of all device data as well as a constant connection to IM accounts.  That way, even if the phone moves out of network coverage, conversations continue to be stored ready for when the Sidekick reconnects.  Elsewhere, various companies have experimented with ways to speed up mobile browsing, using a server to crunch a requested webpage in real-time and send a compacted version to a handset.
Intel's system, however, differs in that it would offer MID users the convenience of a faster, more capable processor while the MID itself could still be fitted with a power-efficient CPU (such as the company's own Atom).  In the Second Lifedemo, exploring the virtual world was controlled by the MID but rendered, in real-time, on a separate computer (which in practical implementations would be a server farm catering for multiple users).  Intel did not disclose how much bandwidth was necessary to make the system usable, but it's fair to assume that the upper ranges of 3G, WiFi or WiMAX would likely be required. 
Of course, this isn't all about mobile gaming; Intel's concept would work for any processor-intensive application.  The idea of using a remote server for its sheer grunt isn't particularly new, but it's only recently that wireless technologies (including WiMAX, which Intel has invested heavily in) have caught up to satisfy the amounts of data being transferred.