Inplay's WriteSense enables pen input for capacitive touch screen devices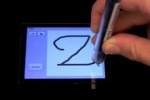 Unlike the resistive-type touch screen, capacitive touch screen used in you G1, Storm or iPhone registers electricity in your finger, it will not operate properly with a gloved hand, fingernail or with a mechanical stylus; thus handwriting input devices are difficult to implement.
InPlay technologies has unwrapped a new WriteSense digital pen technology to overcome the technique barrier, enabling pen inputs for capacitive touch-screen devices. The coupling active RF pen communicates directly with the capacitive touch sensors, eliminates the need for a separate electromagnetic digitizer; It also provides a much responsive, precise and accurate input.
Prototypes of the innovative human interface devices has been demonstrated to various OEMs and strategic partners according to Inplay. With multi-touch features in Windows 7 coming next year, this WriteSense technology might be the next wave in touch screen industry.
PHOENIX –(Business Wire)– Dec 17, 2008 InPlay Technologies (NASDAQ: NPLA) today unveiled its patent-pending WriteSense™ digital pen technology, coupling active RF pen input with capacitive touch systems. WriteSense eliminates the need for a separate electromagnetic digitizer by communicating directly with the capacitive touch sensor, resulting in a smaller three-dimensional form factor and a cost-effective solution.

Popularized by the iPhone, capacitive touch technology enables many advanced features over other types of touch input. However, it is limited in that it requires a finger's ability to provide capacitive coupling to interact with the screen. The traditional stylus will not work with a capacitive screen. Nor will fingernails, or even use with gloves, causing frustration to users.

Working with InPlay, OEMs can integrate WriteSense into the existing capacitive touch architecture already being adopted for mobile devices. The active digital pen enables the precision, accuracy and speed of pen input, and the ability for advanced features based on InPlay's unique digital architecture. Unlike most pen input systems that utilize analog communication, InPlay technology uses digital stream communication, bringing stronger performance and enhanced feature capability.

"Our new technology enables active pen capability at an incremental cost when capacitive touch systems are used," said Van Potter, InPlay president and CEO. "We believe that our technology could be rapidly adopted in the tablet PC and e-reader markets. We are also seeing strong interest from the Smart phone segment."

In a recent report, ABI Research forecasts global revenue for touchscreens in Smart phones and other mobile devices to reach $5 billion in 2009. The report notes a significant opportunity in Asia for touchscreens that support handwriting recognition using a stylus because of the character alphabet used in the region. Resistive touch technology, along with an active pen or passive stylus, currently dominates this market. OEMs prefer the gesture and multi-touch features capacitive pen technology offers in mobile applications, but where handwriting recognition is required, they are forced to use resistive technology in small form factor applications or the more complex and costly traditional digitizer for larger applications such as tablets and notebooks.

"WriteSense eliminates the cost and performance barriers to integrated capacitive touch and pen in all these applications," Potter continued. "Target applications also include integration into track pads."

WriteSense advantages:

* No additional ITO or glass layers required, resulting in high optical performance

* Low-cost integration and thin stack-up by eliminating the digitizer behind the LCD or a specially configured LCD

* Active RF pen enables high-resolution pen capability, gesture support

* Digital architecture allows for feature expansion

* Low power, battery free

* Simple supply chain, standard components

InPlay has demonstrated prototypes of WriteSense to various OEMs and strategic partners. WriteSense will be commercially available mid-2009.