Infiniti aims to go electric starting in 2021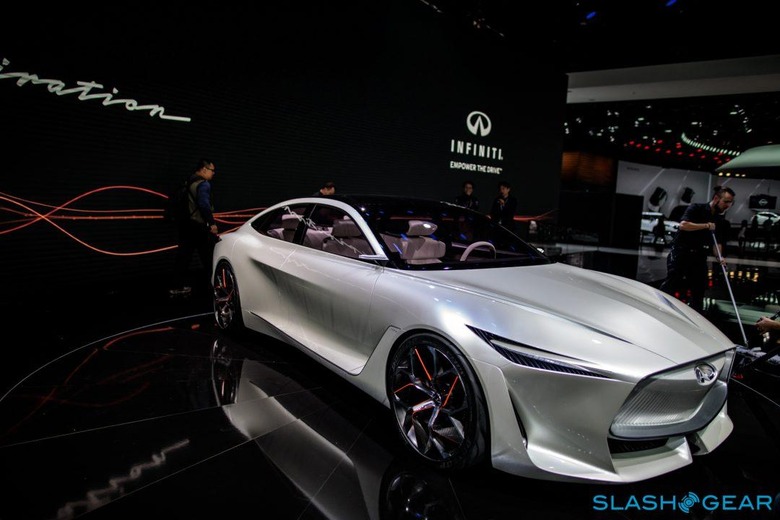 One of the coolest concept cars that we saw at the Detroit Auto Show was the Infiniti Q Inspiration concept car. That long and sleek four-door beauty wants to make the sedan cool again and if Infiniti builds it, cool it will certainly be. What we didn't hear much about at the auto show was when we might see something based on the Infiniti Q.
The automaker has now offered up more details on its timeline. Infiniti says that it will begin offering electrified powertrains in 2021. The very first Infiniti branded pure electric vehicle will launch in 2021.
The automaker has a short timeline for predicting that electrified vehicles will compromise a significant portion of its sales figures. According to Infiniti, by 2025 more than half of its global sales will be electrified. Note that it isn't promising pure electric sales, just electrified meaning hybrids most likely.
Infiniti also notes that customers looking forward to this electrified future can expect to see "beautifully designed vehicles, like the Q Inspiration concept." Infiniti is also promising a new level of electrified driving performance as an evolution of its current powertrains.
Infiniti has a plan in mind for some of its electrified vehicles that sounds a lot like what GM did with the Volt. Infiniti proprietary e-POWER tech will use a small gas engine to charge a high-output batter that will eliminate the need for an external charging source. It will deliver a pure EV driving experience with the convenience of refueling with gasoline.
SOURCE: Infiniti