iMac Core i7 Review (Mid 2010)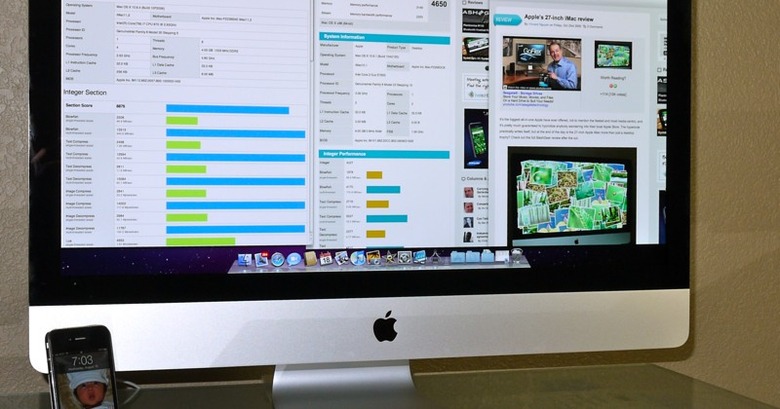 Apple's recent refresh of the all-in-one iMac range may not have concurred with all of the preceding rumors, but the main expectation was certainly met: faster processors than ever before. Fresh to the SlashGear test bench is the 27-inch iMac, with the flagship quadcore Intel CPU. Pairing a 2.93GHz Core i7 processor with 4GB of DDR3 memory and a 256GB SSD, it certainly promises high performance; it also makes for an expensive buy, $2,799 to specify the same spec as our review unit. Check out the full SlashGear review after the cut.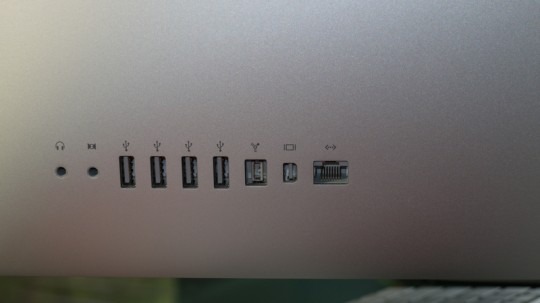 While all-in-ones may not be particularly known for their upgrade potential, Apple has made great use of the 27-inch iMac's internal space. The SSD is an option, but so is pairing a regular hard-drive with a solid-state counterpart, each occupying its own internal bay. The 27-inch model comes with a 1TB, 7,200rpm HDD as standard: you can upgrade that to 2TB or swap it for the 256GB SSD, or combine either HDD with the SSD. That could be useful for digital media pros looking for the system speed an SSD brings together with the relatively cost-effective storage a traditional HDD delivers. At this stage, you can't combine two SSDs, however.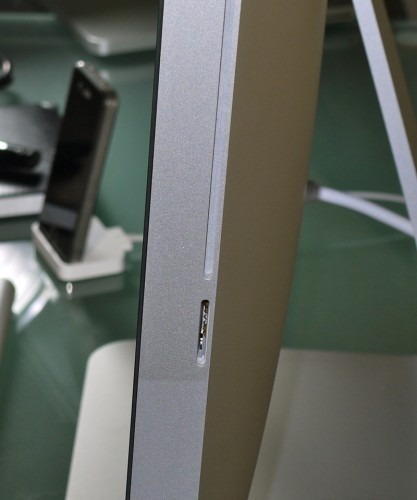 Our wish-list for the iMac gets smaller with each iteration, and right now is pretty much limited to Blu-ray, USB 3.0 and eSATA. Given Apple's general antipathy toward the former, it looks unlikely that the company will include Blu ray any time soon; instead they're betting on digital delivery through iTunes. USB 3.0 and eSATA are trickier: Apple helped lead the way in ditching legacy connections, which might lead you to assume they'd also be at the forefront in these faster ports, but so far there's no sign.
Everything is wrapped up in what's perhaps the slickest chassis in Apple's line-up today, a smooth unibody aluminum expanse with a simple one-legged desk stand. Opt for the included wireless peripherals and a WiFi network connection and you can hook up the iMac with a single cable, for power, which snakes neatly out through a purposefully cut hole in the leg. Up front, most noticeable is the 16:9 aspect 27-inch IPS LCD panel, running at 2560 x 1440 resolution with 375 cd/m2 brightness and 1000:1 contrast ratio. Hidden behind the glass bezel is an iSight webcam, a microphone and an IR port for use with the optional Apple remote, while underneath are stereo speakers each paired with a 17W amp.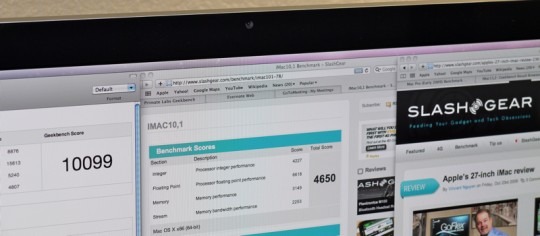 The display remains a key selling point for the iMac, being bright, color-rich and having very broad viewing angles. Think of it as the desktop's equivalent of the iPhone 4's Retina Display; only a few PC manufacturers offer LCD displays that can compete, and it's rare to find one integrated into an all-in-one machine. Obviously the iMac is at home with movie playback in Full HD, though of course with the absence of Blu-ray you're limited to digital content downloaded or side-loaded in 1080p HD resolution. Standalone media performs well, with the iMac's speakers belying the absence of a dedicated subwoofer; thanks to the digital audio output it's straightforward to add a 2.1 or 5.1 surround sound system too.
With its superlative specifications, though, it's likely content creation rather than consumption that iMac buyers prioritizing this particular model would be occupying themselves with. It's certainly easily capable when it comes to processing video, audio and images. At the risk of getting geekier, though, there are some good reasons why this is the best iMac to-date.
We ran Geekbench, a synthetic test of processor and memory performance, and the quadcore iMac scored a massive 10099 points. In contrast, last year's Mac Pro – with a quadcore 2.67GHz Xeon processor and 12GB of memory – scored 9600. The current generation entry-level iMac – with a Core i3-550 dual-core running at 3.2GHz is scoring around 6700 in Geekbench; the machine positioned at the same point in Apple's range late last year scored just 4,650. More importantly, perhaps, is the increase in L3 cache, with the 8MB in the new iMac matching the old Mac Pro (the old iMac lacked L3 cache completely). Put simply, the L3 cache is used as a high-speed store for data being processed: the more you have, the faster the computer can crunch through whatever it is you're working on. Meanwhile the FSB (Front-Side Bus) is the same 4.80GHz on the quadcore iMac as it is on the old Mac Pro: that's the speed of the pathway between CPU and Northbridge, and a potential bottleneck if it's not high enough.
[sgbenchmark id=108 show=score]
When you start factoring that performance increase in with Apple's pricing, the new iMac's appeal gets even greater. First off, consider that – without the SSD – you're getting Mac Pro (i.e. flagship) performance, plus a brilliant 27-inch display, for less than you'd pay for the current entry-level Mac Pro with a quadcore 2.8GHz Xeon ($2,199 versus $2,449). On top of that you'd need to pair the Mac Pro with a display; the 27-inch LED Cinema Display, using the same panel as the iMac we're testing, will be $999 when it arrives next month.
Now, the Mac Pro obviously has some benefits of its own: the four hard-drive bays, faster SuperDrive, speedier CPU options and greater connectivity, for a start. For most users though, balancing high performance with price, the iMac's combination of a slimline form-factor, huge amounts of processing power and integrated display will likely hit the sweet spot that previously only an entry-level Mac Pro would've filled.
From that perspective, the $2,799 of our review unit ($2,199 if you opt for the 1TB HDD instead of the SSD) starts to look a whole lot more reasonable. Yes, it's overkill for most, but that's why the 27-inch Core i3 version (at $1,699) is on offer; that model itself delivers around 45-percent more performance (as measured by Geekbench) than its predecessor. Factor in the quality of the display, design, construction and usability of OS X, and the iMac is not just a fitting flagship but a well-rounded alternative to traditional workstations. For all those reasons it comes highly recommended. Feel free to drop me questions in the comment section or visit  apple.com/imac for more details.
iMac Mid 2010 Core i7 Specification
[sgbenchmark id=108 show=system]