iLuv iNT170 Internet Radio Alarm Clock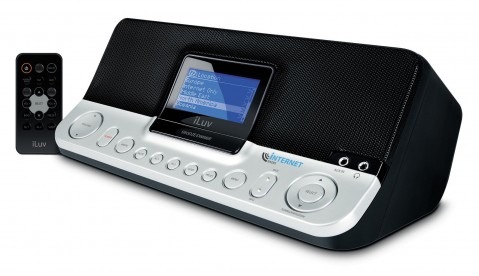 iLuv have officially announced their latest internet radio, the iLuv iNT170, with access to 15,000 radio stations and podcasts, twin 2.5W stereo speakers and WiFi.  The iNT170 has a large, dimmable monochrome display, FM radio and a dual-alarm digital clock; it can also be used with your iPod or other PMP, thanks to a 3.5mm line-in socket.
There's space for either 40 or 16 station presets, depending on whether you go by the press release or the product page - either way they're split equally between FM and internet channels – and a remote control.  The clock automatically sets itself via your internet connection; there's no word, though, on UPnP media streaming of audio files across your network.
The iLuv iNT170 is available now, priced at $199.99.  We're chasing up confirmation on the number of presets, and will update once we have a definite answer.
Update: iLuv tell us that there are 40 presets, twenty each for internet and FM radio stations, and that the iNT170 is only capable of playing internet radio, not UPnP streaming across your network.  Unless you particularly want two alarms built into your WiFi streamer, we'd probably suggest taking your $200 elsewhere – this is just too expensive for what you get.