iHD171 HD Radio comes complete with iPod dock and iTunes tagging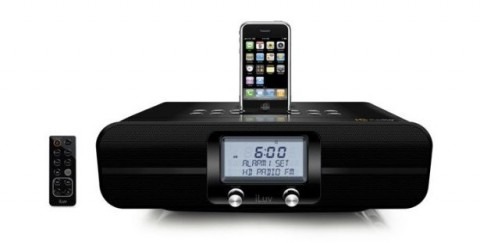 iLuv is proud to announce their iHD171 HD Radio complete with iTunes Tagging for the iPhone 3G. This radio features a dual alarm clock with TV connection capabilities, AM/FM Radio and song title display. The iHD171 HD Radio is also compatible with the iPhone 2G as well as the new 3G.
No longer do you need to set the clock, this clock radio automatically syncs the time with your iPhone or iPod. The one touch iTunes tagging feature allows you to tag music from the HD Radio and automatically save info on your iPhone or iPod for you.  The bright display tells you what station you are listening to along with the song title, artist and frequency information.
"iLuv is delighted to unveil their third HD radio alarm clock product to HD aficionados desiring a little something more in their bedside tunes and sound quality" said Robert Caputo, iLuv Sales VP. "We have created this product to meet the latest demands of HD users, featuring the dual alarm clock functions, iTunes tagging and a TV connection output for watching your iPod videos on TV."
You can program a total of 30 preset stations (10 AM and 20 FM).  This HD radio has iAura Acoustic Speaker Technology to deliver very full, rich tones.  If you have another PMP that you would like to use as an audio source you can just plug it into the 3.5mm audio input. The iHD171 HD Radio will go on sale in January for the retail price of $199.99.