iConsole Promises Steam Gaming On Most Potent Android Hardware Ever

An Android game console? No, not OUYA, but iConsole.tv, an Intel Haswell based Android gaming start-up running Steam and intending to double as a home theater setup for your living room. Quietly announced earlier this year, and with an Intel IDF appearance under the team's belt, iConsole.tv is revealing a new version of its "Unit 00" developer hardware today, and billing it as the most powerful Android device around.
That's no great surprise when you consider the sort of hardware running under the curved casing. The start-up is using a quadcore Haswell processor with Intel Iris graphics, which it claims will, thanks to OpenGL 4 and some in-house tuning, rival traditional consoles for visual performance.
CPU and GPU are paired with 8GB of DDR3 memory and a 500GB hybrid HDD. Ports include – on the developer unit, anyway – six USB 3.0, two 2.0, two HDMI (with 3DTV support expected in a future update), WiFi b/g/n (with WiDi later), Bluetooth 4.0, two gigabit ethernet, and a PS/2 port. There'll also be analog and digital audio outputs, plus external Bluetooth and WiFi antennas. Developers will be able to request DisplayPort-equipped versions, if they're ready to start coding games in 4K resolution.
If all that sounds like a regular PC, it's basically because that's what Unit 00 is. The Jelly Bean based developer console – which is priced at $699 – is effectively a computer, but iConsole.tv says the consumer hardware will be much smaller and considerably more affordable. In fact, the expectation is that the final retail version will be in the "$399 to $499 price range" with several different models "to cater to different audiences."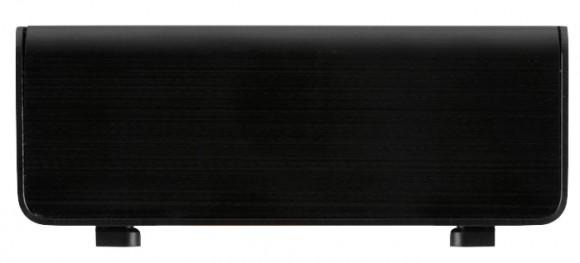 The company has already been providing some early dev-units to coders, but says it will now be replacing them with Haswell-based mass-produced versions using the same silicon as the consumer consoles. The fourth-gen chips, iConsole.tv claims, are powerful enough to play first-person shooters while simultaneously recording media or backing up household computers in the background.
Since Android might not be able to satisfy all needs, there's a secure boot mode to load regular Linux too, the company says. That will also address one of the common complaints about OUYA, that it only plays casual games from mobile devices; instead, iConsole.tv developers will be able to port over full titles, the company argues.
"Why did we build the Linux Desktop? We know Android isn't going to be able to do everything that iConsole.tv can handle day-one. You'll be able to fire up great apps like Chrome and LibreOffice and watch online TV content that other game consoles charge for. When you're done, you'll be able to jump back to android in seconds – we're building the interface that makes this great in-front of your TV, or at your desk"
It's an interesting time to be announcing a new console. Microsoft's Xbox One and Sony's PlayStation 4 are fast approaching, priced in the same ballpark as iConsole.tv expects to launch, and getting the sort of developer support success requires will be a challenge. To win that, the team says it has software news to share in the coming weeks; that's something we'll be keeping an eye on ourselves.