Humble Bundle for Android 4 launches with six games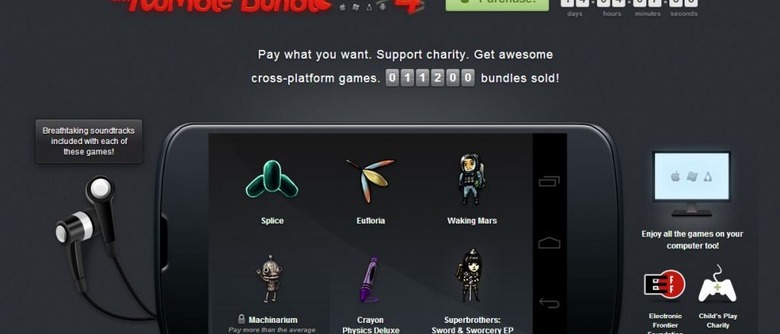 Ready for more indie games? Hopefully you are, because the Humble Bundle for Android 4 has just launched, and it has some pretty excellent games in tow. After taking a brief break from gaming with a surprise eBook bundle, the folks at Humble Bundle are back with some more traditional offerings. As always, you get to name your own price for the bundle, which only serves to make the deal sweeter.
There are five games included in the Humble Indie Bundle for Android 4: Splice, Eufloria, Waking Mars, Superbrothers: Sword and Sworcery EP, and Crayon Physics Deluxe. If you beat the average purchase price – which at the time of this writing sits at $5.62 (it's rising quickly too) – you'll get Machinarium added in as a bonus. All of these games are compatible with Windows, Mac, Linux, and Android, with most of these games making their Android debut. You also get soundtracks for each game, so there are plenty of bonus goodies to take advantage of in the Humble Bundle for Android 4.
As with all other Humble Bundles, the games offered in this one come DRM-free, so you're free to install them on as many machines (or phones) as you want. A customizable portion of your purchase price will be going to help charity, namely Child's Play and the Electronic Frontier Foundation. This particular Humble Bundle seems to be pretty popular, as it's already managed to pull in over $55,000.
Of course, if Humble Bundles of the past are any indication, this is just the start. In about a week, more games will be added to the Humble Bundle for Android 4, so we'll be keeping an eye out for those. The Humble Bundle for Android 4 has two weeks to go before it's gone forever, so if you're thinking you might like to pick it up, don't wait too long.