Huge LEGO Millennium Falcon - Over 5,000 pieces!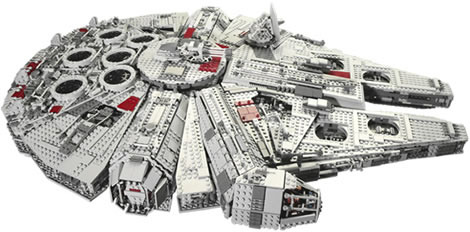 I love pretty much everything that is Star Wars. Except Jar Jar Binks of course, but I don't think anyone really likes him. I also have a love for LEGO's. In fact, I still have my childhood collection in my closet. Naturally, my favorite sets are those that feature some of the famous ships from the Star Wars universe. I think that if I had a larger place, I would probably have to get this new Millennium Falcon set.
This is by far the largest LEGO set ever made. At over 5,000 pieces, it is a good 2,000 pieces larger than the previous record-holder, which also happened to be a Star Wars ship. This YT-1300 freighter measures 33" tall, 22" wide and 8" tall.
You can preorder your's now, and they will begin shipping on October 1st for $500. These Ultimate Collector's Millennium Falcon sets are limited to 5 per person, so don't get greedy!
Millennium Falcon LEGO – Ultimate Collector's [via geekalerts]