Huawei Watch pricing confirmed by UK retailer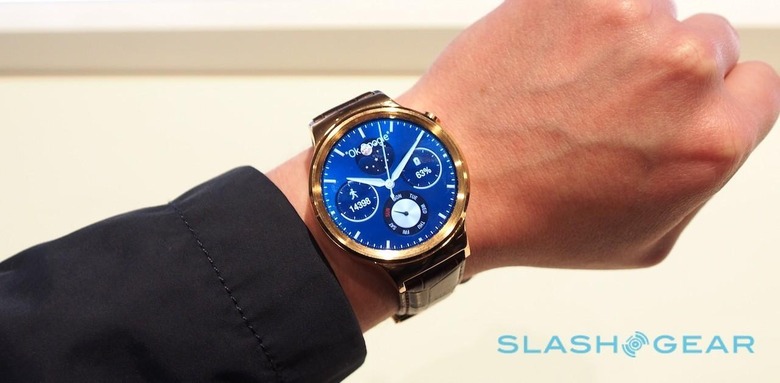 Back at MWC, we saw some posters cleverly placed around town that depicted a new wearable from Huawei. A handsome device, the Huawei Watch lived up to its billing as being a luxury wearable for the Android Wear platform. Luxury typically means expensive, though — something we were all witness to on Monday with the release of Apple Watch. Some early reports pegged the Huawei Watch as high as $1,200, but w'eve now come back down to Earth a bit, with one retailer confirming it will cost much less.
First spotted via German retailer Billinger, Huawei Watch was originally pegged at 349 Euro, which is about $370. A gold color was 50 Euro more, which keeps Huawei Watch hovering around the $400 mark.
UK retailer Mobile Fun has confirmed their pricing at £300 for silver and black, and £350 for the gold Huawei Watch. Exchange rates put that a bit higher than the Euro pricing, but Huawei Watch still hovers around the $400-450 price point. If they did come to the US, we'd have to assume the pricing would be a bit more competitive than that, though.
Unfortunately for our readers stateside, there's been no announcement that Huawei was bringing the Huawei Watch to the US. A luxury Android Wear device we're a bit smitten with, it seems Huawei isn't yet ready to challenge Motorola, LG, or Samsung stateside.
Source: Techno Buffalo