Huawei P40 Pro could have five cameras on its back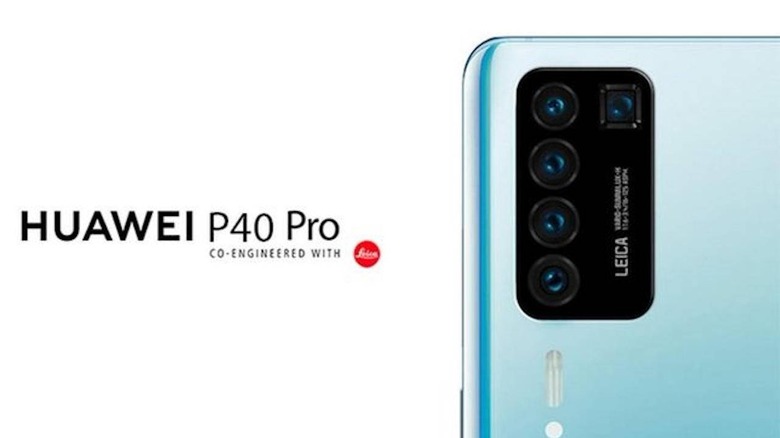 Huawei is perhaps the brand that turned the smartphone camera segment on its head, rising quickly to the top and establishing its superiority on benchmarks and reviews. Some might disagree, of course, but that won't stop Huawei for pulling every and all trick to maintain its position. That includes putting as many cameras it can on the P40 Pro's back. At least it is arranged in a now-familiar yet still unaesthetic block.
Huawei isn't the first to this penta camera party, of course. The craziness was perhaps prophesized by the Nokia 9 PureView, though that had its own level of insanity both in design and functionality. The Xiaomi Mi Note 10 and CC9 Pro brought a bit of sanity to that design with five cameras in a row.
A leak coming from a Chinese publication shows the alleged design of the Huawei P40 Pro's camera bump, a now-familiar rectangular structure off to the corner. It's tall enough to fit eight sensors, four side by side, and there are indeed four such cameras on the left side. The right side sits a lonesome camera with the telltale signs of a zoom lens.
According to other leaks, the P40 Pro will have a Sony IMX686 main camera with a 64 megapixel sensor, a 20 megapixel ultra-wide camera, a 12 megapixel periscope-style telephoto, and an unspecified macro lens camera. This will be joined by a 3D time-of-flight (ToF) camera for depth perception and AR.
Just as interesting, perhaps, is the unrevealed front, which will reportedly have a dual camera punch-hole cutout housing a 32 megapixel camera and 2 megapixel depth sensor. How Huawei will design that without looking like the Galaxy S10+ will be one of the things to look out for when the Huawei P40 Pro is announced next year.