HTC Touch Pro2 Review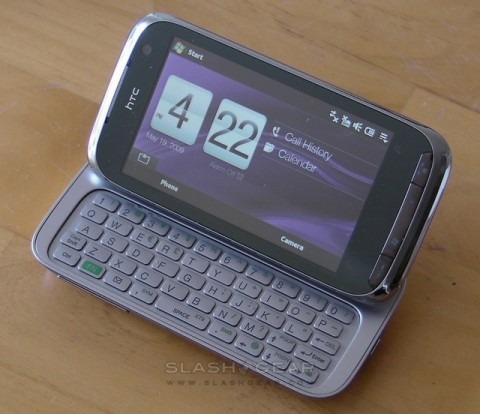 For all the analysis of iPhones, Android devices and webOS' suitability for the enterprise market, there's one company already a mainstay and with the smartphone legacy to prove it. HTC have carved a niche for themselves with sturdy, dependable handsets, often running Windows Mobile, and their Touch Pro2 is the latest of the bunch. It's a serious smartphone with a considerable spec-list and considerable bulk to boot; in a world of waifish business/consumer crossovers, is the Pro2 a chunky anachronism? SlashGear set to finding out.
In the box there's the Pro2 itself, a spare stylus, wired stereo handsfree kit, a case with magnetic closure (though no belt clip or loop), a USB to ExtUSB cable and an AC power adapter. Our full unboxing video is further down the page; you can find our first-impressions with the Pro2 here. In terms of connectivity there's 900/2100MHz HSPA/WCDMA and quadband 850/900/1800/1900MHz GSM/GPRS/EDGE, together with WiFi b/g and Bluetooth 2.1+EDR with A2DP support.
HTC's hardware keyboards have won no small number of fans over the past few years, and we were relieved to find that the Pro2 certainly delivers on that count. The screen section clicks out with a firm, solid slide, revealing a well-spaced QWERTY layout. As well as a dedicated number row there are shortcuts for messaging, SMS, internet and the wireless connection manager. Key travel is good – for a portable keyboard – with a quiet though tactile click leaving no confusion as to whether a button has been pressed. The whole 'board is backlit, and despite the metal trim on the screen bezel the weight balance in your hands is excellent.

In a welcome comeback from earlier devices, the Pro2's display also tilts once it is fully-opened, up to around 45-degrees from the horizontal. There's a little wobble in the friction-fit hinges, though the display itself stays put no matter how long it's extended. Here, though, the weight balance of the Pro2 is not quite ideal, with the smartphone having a tendency to rock back slightly as the curved back-plate and heavy screen section make themselves known.
The other controls pale in comparison to the keyboard, with the main row of four under the screen – call, Windows, back and end-call – small and with hard to read legends. As with the Diamond2, sandwiched between display and keys is a touch-sensitive zoom bar, used in the Pro2's browser and image viewer. It allowed for a less-jerky zoom than we found the Diamond2 capable of, though we'd still like to see it implemented in more apps. Why can't we slide through tabs in TouchFLO 3D with the zoom bar, enlarge text in the messaging app or fast-forward through media playback?
As for the screen, at 3.6-inches that gains a welcome 0.4-inches over the Diamond2 (though is still 0.2-inches less than the Touch HD) with the same WVGA 800 x 480 resolution. Colors are bright and well-saturated, and the active backlighting – which adjusts brightness in accordance to ambient conditions – seems to have more scope for change than on previous HTC phones we've used. The Pro2 uses a resistive touchscreen, which will obviously have its detractors among the capacitive-camp. In this case it requires a firm touch or tap, harder than on the Diamond2, and lacks some of the glass-like stiffness of the Touch HD. One side-effect of this is that you'll have to support the back of the phone while tapping the folded-upright screen, otherwise it rocks backward. Still, it proved accurate and usable, as well as reluctant to accidentally respond when held to the face during calls.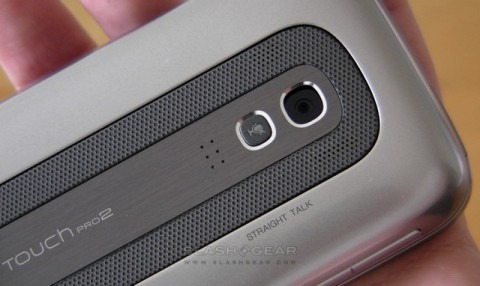 Call quality often gets dumped to the bottom of a smartphone review, with other, glossier features getting the attention. In the case of the Touch Pro2, however, it deserves equal billing: this is an excellent device for voice calls. The earpiece is full-bodied and clear, while the microphone does an excellent job; callers had no problem hearing us. HTC have also included their latest speakerphone technology, "Straight Talk", activated by flipping the phone face-down. Do that, and the Pro2's speakers and dual microphone array click into action, using noise-cancellation technology to maximize sound quality. Cellphone speakerphones often turn out better suited to acting as a music loudspeaker than for hands-free calls, but the Pro2 does an admirable job keeping things clear and very loud. Meanwhile software tweaks make adding participants into conference calls is far quicker than on rival handsets, while taking part in third-party calls (admittedly not something we do that often) has its own dedicated scheduler with time and PIN reminders together with an on-screen "call" button. The oversized volume controls are easily accessible, and there's a handy microphone-mute button just below the camera.
As for that camera, it comes in at 3.2-megapixels with autofocus but no flash. Like earlier HTC cameras, you can selectively focus by tapping a point on the preview screen; shots are taken relatively quickly, and there are a range of settings – white balance, exposure, etc – that can be tweaked, together with basic effects such as sepia and negative. Image quality didn't impress as much as with other recent HTC handsets, looking a little more grainy than we've come to expect, while video shows the usual cameraphone proclivity to blurring and smearing when shooting fast-moving subjects. Unlike other platforms, Windows Mobile lacks any sort of quick-upload feature for either stills or video footage, something we wish HTC had carried over from their Android devices as part of TouchFLO 3D.
What you do get with TouchFLO 3D is a far more integrated Windows Mobile experience than on any other Microsoft-based device – bar the Diamond2 – to date. Contacts are linked into recent calls, messages and emails, while the calendar gets promoted to its own homescreen tab. There's still the occasional Windows Mobile 6.1 dialog – adding a new calendar entry, for instance, or if you want to load anything but the most basic contact details to the address book – but this latest iteration of TouchFLO 3D is the best yet at hiding the ugly underlying platform. In fact, it's not even Windows Mobile 6.5 that presents the most challenge to TouchFLO 3D: it's HTC's own Sense UI as seen on the recently-announced HTC Hero Android smartphone. HTC have already admitted that Sense as on the Hero is the culmination of three years of TouchFLO development, and we're hopeful that this new platform returns the favor and hands back some of the gloss to upcoming Windows Mobile devices.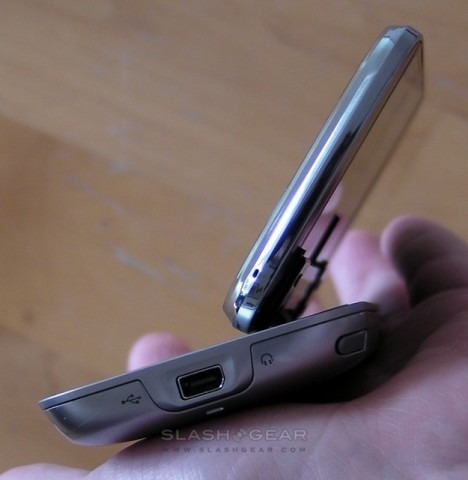 Internet access on the Pro2 is courtesy of Opera Mobile, and as ever it's a slick method of browsing. The same push-page system as on the Diamond2 – where you can have the smartphone cache recent versions of a webpage on a preset schedule, for speedy access even without a connection – is present, while the Google search box is on the internet tab in TouchFLO 3D thus cutting out an extra tap. Considering its proficiency, some of the standard settings for Opera are confusing; we'd suggest increasing the number of simultaneous tabs from the default three, together with changing the "minimum overview zoom" figure under "Adaptive Zoom" to 70 to 100-percent. The latter will allow you to select links without having to zoom in first, something eminently possible with the Pro2's expansive display.
The Pro2 also has GPS, which works as you'd expect from previous smartphones. Google Maps with Latitude support, satellite views and directions is pre-installed, while the QuickGPS app is used to speed up satellite acquisition times. We found the phone a little slower than others to fix its position, and the tougher touchscreen made smooth map panning a little trickier, but the hardware keyboard made tapping in addresses far quicker than trying to do so on-screen (especially when trying to walk at the same time).
Media functionality isn't the focus of the Pro2, but that doesn't mean it's incapable. As well as the usual Windows Mobile media player there's HTC's own audio and video playback, together with a decent range of supported formats. AAC, AAC+, eAAC+, AMR-NB, AMR-WB, QCP, MP3, WMA, WAV, MIDI and M4A audio is accommodated, as is WMV, ASF, MP4, 3GP, 3G2, M4V and AVI video. The Pro2 actually makes for a neat desktop video player, with the tilting screen ideal for hands-free viewing; it's also compatible with HTC's TV Out cable, meaning you can pump out footage (or, if you want to stick it on expenses, PowerPoint presentations) to a TV or projector. Sadly there's no such cable included in the box, while another odd omission is the FM radio you find on the Diamond2. HTC have been accused of failing to software-enable an otherwise present FM radio module on previous handsets, so we're not sure whether this is a technical limitation or a case of jaded product positioning.
The Pro2 isn't without flaws, and one of the most frustrating is the lack of a 3.5mm headset socket. HTC still maintain that this is reserved for their consumer range of devices, but in our experience business customers are just as likely to want to plug in a wired hands-free kit of their choice (or enjoy a few MP3s on the commute into work) as anybody else. The omission is compounded by the fact that HTC don't bundle the ExtUSB-to-3.5mm-jack adapter with the Pro2, a miserly touch considering this is effectively their Windows Mobile flagship. The included headset is reasonable, but only in terms of what you might typically find bundled in with a smartphone.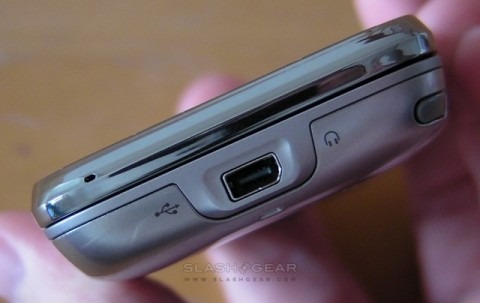 Perhaps the missing socket is a casualty of space shortages, but the upshot to that isn't a compact handset. At 116 x 59.2 x 17.25 mm (4.57 x 2.33 x 0.68 inches) and 187.5g (6.61oz) this is a hefty chunk of smartphone; you can carry it in a front trouser pocket, certainly, but you'll definitely know it's there. HTC have attempted to save some weight with a plastic back cover, but it ends up being the cheapest-feeling aspect of the Pro2 and frustratingly can't be easily removed without first whipping out the stylus. At least the microSD card slot is accessible without then needing to remove the battery.
That battery needs to share some of the weight blame, being a considerable 1,500mAh Li-Ion pack. HTC quote up to 510 minutes GSM talktime (390 WCDMA) or up to 500hrs GSM standby (750 WCDMA) and the Pro2 can certainly stand up to some heavy use. Left to its own devices it happily sat for a full week in standby, chewing through less than half its charge, while over the course of two days of heavy internet and messaging (over 3G and WiFi) with occasional short calls it still had power to spare at the end. If you're regularly let down by the runtime on your iPhone, Palm Pre or T-Mobile G1, it's safe to say the Touch Pro2 will prove a revelation.
Target market for the Pro2, then, is clear. Windows Mobile's excellent integration with enterprise-friendly Exchange servers, together with the phone's strong voice call support, lag-free Qualcomm MSM7200A 528MHz processor and capacious 512MB ROM (with 288MB RAM) add up to a resolute business device that should also satisfy the heavy-duty message addict. The QWERTY keyboard on the Pro2 is among the best we've tested on a mobile device, and if you do as much email sending on your smartphone as you read messages then you'll likely find your productivity gets a welcome kick.
The payoff to all that functionality is the heft of the device and the overly-sensible Windows Mobile operating system. TouchFLO 3D does its best job to date of hiding the aging platform, but we're very much looking forward to seeing WM6.5 make its appearance. Similarly, while resistive touchscreen technology may have come on in leaps and bounds from its spongy heydays, we'd still love to see some of HTC's capacitive magic from their Android range cross over to their Windows Mobile line-up.
Lengthy battery life, broad functionality and a surfeit of input methods win the day, however, for the HTC Touch Pro2. Handsome, though perhaps lacking the instant style-appeal of Apple or Palm's latest devices, it's a solid business buy and a strong contender for anybody prioritizing text-entry when mobile.
[vms 71ff252c1903e7132cd6]