HTC Smart Review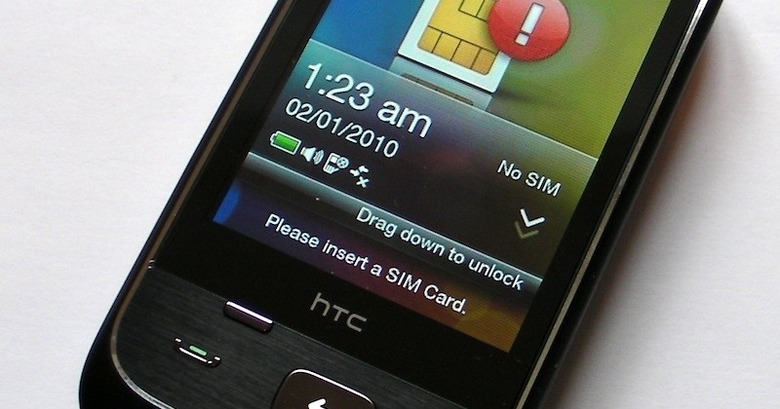 With a wealth of high-end smartphones on the market, and eye-catching alternatives such as the fourth-generation iPhone HD and WiMAX-toting HTC EVO 4G just around the corner, it's easy to forget that the real sales movement happens down at the more affordable levels. Crashing into that market comes the HTC Smart, a smartphone with a spec-sheet that looks anaemic in comparison to most rivals but a similarly slender price tag to boot. Based on Qualcomm's Brew MP OS – healthily reskinned with HTC Sense – the Smart hopes to pull in the entry-level smartphone crowd, graduating from their dumbphones. Does it deliver, or have HTC had to shave away too much to meet a bargain-basement price? Check out the full SlashGear review after the cut.
In the hand, the Smart is compact and lightweight, and while the plastics obviously aren't at the level of the Desire, neither do they feel like they'll buckle and snap with the lightest squeeze. Hardware controls are limited to call and end keys, a tiny options button and a large back button. There are also volume controls on the side, together with a dedicated camera shortcut key, while on top there's a 3.5mm headphone socket and on the bottom HTC's own ExtUSB port. That's compatible with miniUSB, but we're disappointed not to see microUSB as on the rest of the company's current range. The battery is a 1,100mAh pack and shares space under the back panel with the SIM slot and a microSD slot. Meanwhile wireless connectivity includes quadband GSM/EDGE and 2100MHz HSDPA/WCDMA, Bluetooth 2.0+EDR (with A2DP support) but no WiFi or GPS.
Though the iconography of Sense is familiar from HTC's Android and Windows Mobile devices, navigation is a little different from what we're used to. The homescreen consists of multiple panes, moved between with a side-swipe and each dedicated to a different feature – weather, email, SMS, Twitter, contact speed-dials, etc – and while you can selectively hide panes from view, you can't reorder them or otherwise change them. There are no widgets or indeed any way to download new panes, though you can add shortcuts to applications on the central pane; however, there are Scenes as on HTC's Android devices which can change the panes between, say, work and weekend modes.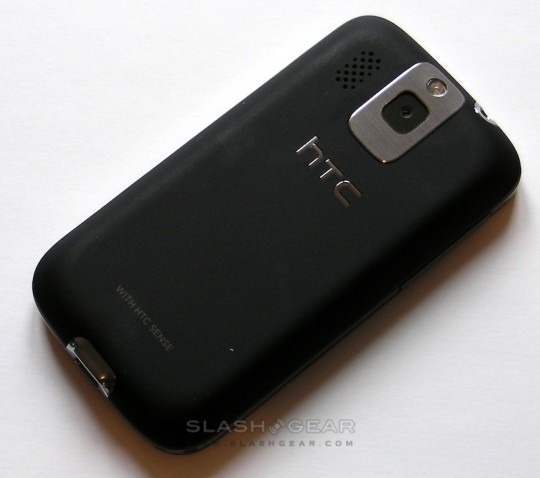 Calling up the main menu is, somewhat counter-intuitively, done by hitting the "back" button, and there are three pages of apps that are again navigated by swiping from side to side. All of the basics are present – SMS, email, browser, contacts and calendar – together with a few simple preloaded games and an FM radio. Email account support is limited to POP and IMAP (there are preset configurations for common webmail services like Gmail) with no Exchange compatibility, unsurprising given the target market. Meanwhile the small, chromed button above the call key brings up a contextual menu in whatever app is running, for starting new messages, for instance, or changing settings.
With a 2.8-inch display and only QVGA resolution to play with, text entry is perhaps the biggest hurdle. Two on-screen keyboards are supported: in portrait orientation you get a numeric keypad layout with a choice of multi-tap or T9 predictive text. Tapping a rotate button – there's no accelerometer for automatic screen flipping – switches into landscape orientation and offers a proper QWERTY keyboard with auto-completion. Neither is especially spacious, but it's possible to tap in with a fingertip and reach a reasonable degree of accuracy. Still, this isn't the phone for anything more than a brief email response, shooting off an SMS or punching in an URL.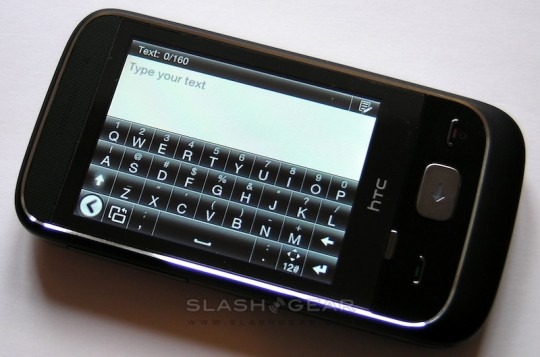 The Smart's browser similarly suffers from the display's limitations. Expect to make frequent use of the zoom if you want legible text, and since there's no multitouch support, it's all via on-screen controls rather than the more intuitive pinch-zoom we've grown used to on other devices. Heavier websites frequently stalled in their loading, and of course Flash video is a non-starter.
What proved the biggest surprise with the HTC Smart is the speed at which it moves, considering there's only a 300MHz processor with 256MB of RAM powering things. Menus pop up and transition quickly, and apps load with minimal lag. The camera – sometimes sluggish to load on even Snapdragon-based devices – is ready to go in a matter of seconds, though unfortunately then lets itself down with significant shutter lag. At 3.0-megapixels and fixed-focus it's no surprise that photography isn't the Smart's absolute forte, and the LED flash has the same narrow sweet-spot outside of which subjects are either hopelessly under-illuminated or over-exposed.
Media playback includes support for AAC, AMR, QCP, MID, M4A, MP3, WMA and WAV audio together with MP4, 3GP, 3G2 and M4V video, though the Smart makes for a better music player than it does a video device. The standard 3.5mm headphone socket is welcome, and audio quality is reasonable though nothing outstanding. A useful homescreen music pane makes it straightforward to control tracks without having to delve through the (albeit shallow) menu structure.
HTC reckon you'll see up to 370 minutes WCDMA talktime (450 minutes GSM) or up to 600 hours WCDMA standby (450 hours GSM). In practice, the Smart was comfortably capable going through a couple of days in-between recharges, primarily because there's no push-email support to batter the data connection. We usually prefer WiFi on a smartphone – absent of course on the Smart – as it's less power-hungry than 3G, but it's unlikely owners of this phone will make sufficient use of data-heavy apps that they'll particularly miss it.
What will really make or break the HTC Smart will be the price. O2 UK are offering the handset free on a new 18 month agreement at £15 ($22) per month, and if you opt for a 24 month agreement it's free from £10 ($14) per month. Pre-pay, it'll set you back £100 ($144); meanwhile, Expansys have the Smart SIM-free and unlocked for £179.99 ($259). That's cheaper than an HTC Tattoo, itself a relatively cheap phone.
Of course, with the Tattoo you're getting the flexibility of Android, not least the access to the Android Market for thousands of third-party applications. HTC may be calling the Smart a "smartphone", but you could well argue that, with such little room for expansion or modification, it also has a foot very much in the featurephone camp. Sense may look a lot like it does on Android and Windows Mobile devices, but in the scaling down process – of screen, CPU and OS – you also have to reduce your expectations.
Our concern is that HTC Smart owners would soon tire of the limitations of Brew MP and wish they'd picked an entry-level Android device instead, perhaps even HTC's own Wildfire. Yes, that would mean a little more initial outlay (or a slightly higher monthly contract) but it could end up cheaper than prematurely upgrading to a more capable handset. If your ambitions are minimal and your budget matches, the Smart does what it promises on the box; problem is, we've grown used to smartphones exceeding such promises with third-party modifications, and that's a party the HTC Smart is left out of.