HTC Salsa Review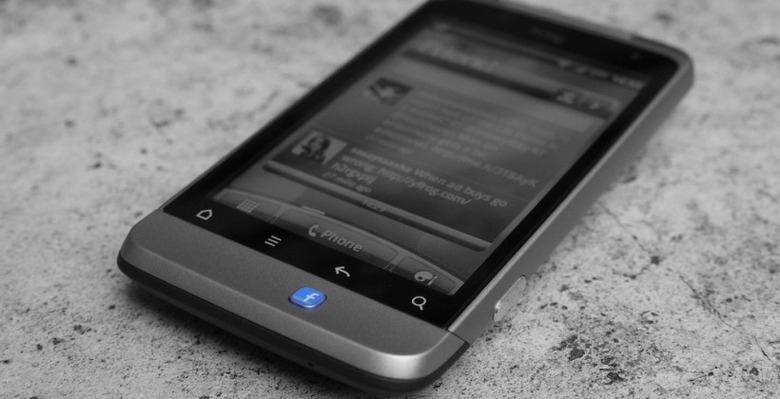 The first of HTC's so-called Facebook phones, the HTC Salsa, arrived with plenty of fanfare at MWC 2011 back in February – the looming head of Mark Zuckerberg on the big screen, issuing a blanket blessing to all phones that prioritized Facebook integration – then left us scratching our collective heads as to whether we truly loved the social network quite enough to warrant a dedicated button for it. Now the lilac lifestyle phone is in our hands, encouraging us to detail the minutiae of our lives with everyone willing to read it. Check out as we over-share on the Salsa after the cut, in the full SlashGear review.
Hardware
Out of HTC's two Facebook-centric phones, the Salsa is perhaps the less inspiring design-wise. Reminiscent of the HTC Legend, it has a unibody metal chassis with a plastic "chin" section, camera surround and battery cover/antenna, all finished in various shades of purple. Considering it's intended to be a relatively budget device, build quality is surprisingly high: the 4.3 x 2.32 x 0.48 inch, 120g handset is just as creak-free as the range-topping Sensation.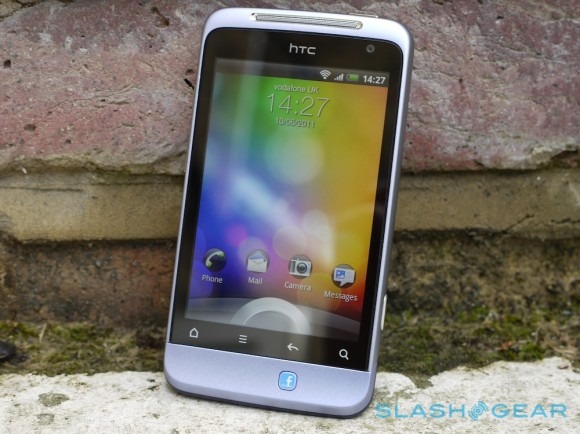 Up front is a 3.4-inch 480 x 320 touchscreen, with the usual row of touch-sensitive Android keys – home, menu, back and search – underneath. On the chin, however, is the new Facebook button, a physical key which can light up depending on when HTC's custom Facebook services can be used. A volume rocker is on the top left-hand side, above a microUSB charge/sync port, while the power/lock button is on the top edge by the 3.5mm headphones socket. Finally, there's a dedicated camera shortcut on the right edge, a rare – and welcome – addition to HTC's Android line-up.
HTC Salsa overview:
[vms bdcad8e7300e202e7caa]
On the back is a 5-megapixel camera with autofocus and an LED flash, while a VGA resolution camera upfront takes care of vanity shots and video calls. Inside, HTC sensibly upgraded the original 600MHz processor for a faster 800MHz chip, obviously short of the 1GHz or higher dual-cores we've seen lately, but sufficient for an affordable device. It's paired with 512MB of RAM and 512MB of ROM, along with a microSD card slot.
Connectivity includes HSPA/WCDMA 900/2100 and quadband GSM/EDGE, along with WiFi b/g/n and Bluetooth 3.0. There's A2DP support for stereo Bluetooth audio connections, along with a g-sensor, digital compass, proximity and light sensors.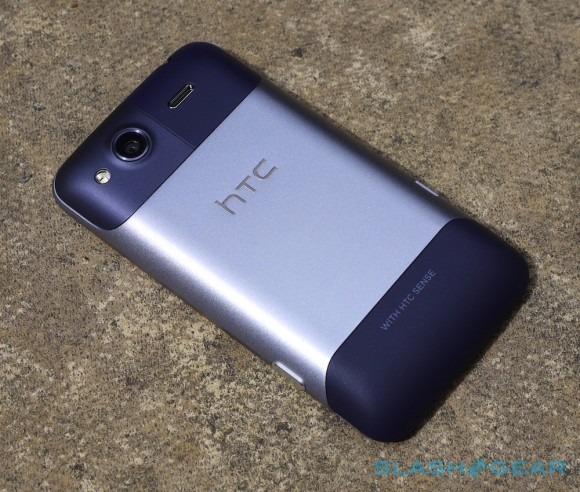 The display may run at a lower resolution than the WVGA we're used to from current mid- to high-end Android phones – or, indeed, the qHD of the Sensation – but it's still reasonable quality. Viewing angles are broad without discoloration or inversion, though colors are only average for a regular LCD. It's not going to scare off Super AMOLED Plus, but it's better than many budget Android phones we've seen.
Software
Like HTC's other recent Android handsets, the Salsa runs 2.3.3 Gingerbread. There's a modified version of HTC Sense, too, though it's v2.1 rather than v3.0 as on the Sensation, with a number of Facebook-specific features that other HTC devices won't share.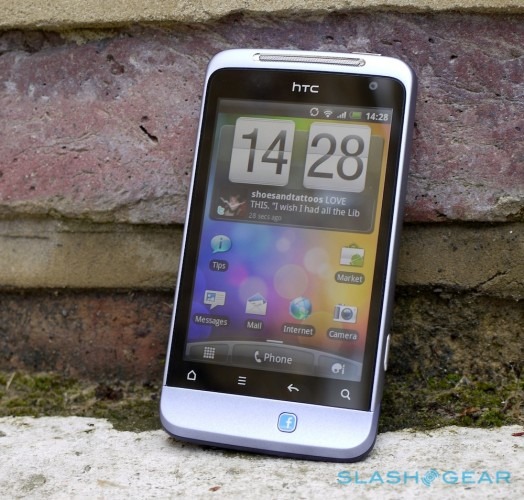 You get the same active lockscreen with four app shortcuts as in v3.0, though not the animated weather, gallery or Friend Stream updates, and the seven-pane homescreen doesn't endlessly scroll or have the eye-catching 3D effects. That's probably a sensible decision, given the limits of the processor. There are all of HTC's usual custom apps – Friend Stream pulling in Twitter, Facebook and Flickr updates, Peep for Twitter, the HTC Hub and HTC Likes apps for downloading new themes and widgets plus getting recommendations, the Mirror app for using the front-facing camera to check your eyebrows are equally bushy, and the WiFi hotspot app – and the augmented notification drop-down with recent app shortcuts and quick settings access, together with some new widgets and functionality for the social networking obsessed. What you don't get, though, is HTC Watch, the company's movie purchase/rental service, nor OnLive streaming gaming.
Facebook
A dedicated Facebook prompt has been added to HTC's startup wizard, and the usual homescreen clock widget has lost its weather info in favor of a Facebook status update from one of your friends. There's still the same Friend Stream widget, along with the smaller Friend Channel widget, but now HTC has added a Facebook Chat widget and accompanying app, since the Salsa supports real-time IM through the social network. As you'd expect, this shows online status and allows you to have text conversations, though not share photos or other multimedia like BBM or Apple's upcoming iMessage for iOS 5. Oddly, HTC's Chat client only supports portrait use, not landscape.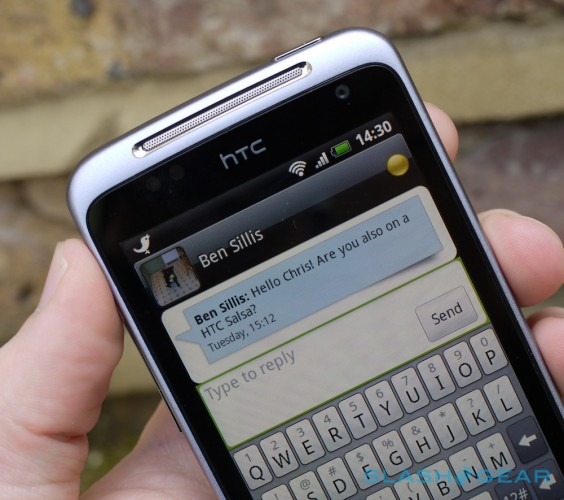 HTC is betting on the dedicated Facebook button being of most interest to users, however. One tap and it opens up the Wall Post dialog, allowing you to quickly post a message to your own wall or, by choosing their name from the drop-down list, the wall of one of your Facebook friends. You can also upload photos, either taking one there and then with the Salsa's camera, or choosing an existing shot from the gallery. If you're listening to music at the time, hitting the Facebook button automatically shares what track is playing to your wall; similarly, pressing it while in the browser shares the page you're currently viewing, and pressing it while viewing a photo allows you to upload the shot. You can choose an existing or a new gallery to add it to, adjust the privacy settings and add tags and a description to each picture.
HTC Salsa Facebook integration demo:
[vms c84d5239d1a12a4f7187]
A long-press on the button, meanwhile, and that lets you check in using Facebook Places. You can either choose from a list of nearby locations already registered, or add a new location (complete with a description). It's worth noting that Google's Latitude alternative to Facebook Places is also preloaded, as is normal on Android devices, though there's no way to use the Facebook button shortcut to post to both services.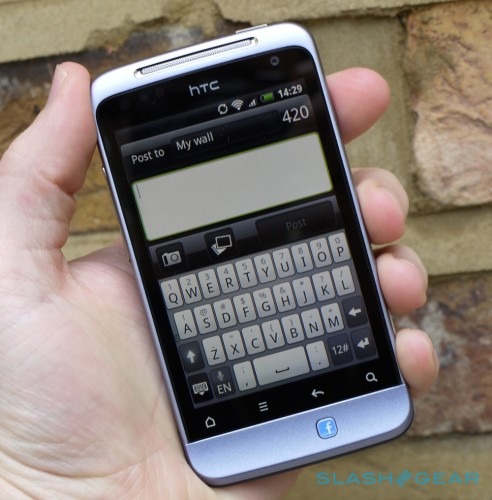 It all works, but there are still some gaps. For a start there's no Facebook Group or Page support: if you're the owner of a fan page, you can't add updates to it or respond to comments using the page's "identity". Similarly, there's only support for a single Facebook login at any one time, so you can't load a second set of credentials for a different account.
We'd also liked to have seen broader support for the button itself. The music sharing works with the default Android media player app but not third-party apps, so you can't share what you're listening to via Napster, Spotify or DoubleTwist, for example. Similarly there's no ability to share a business result from Google Maps, an app listing in the Android Market, or a YouTube video from the official Android YouTube app.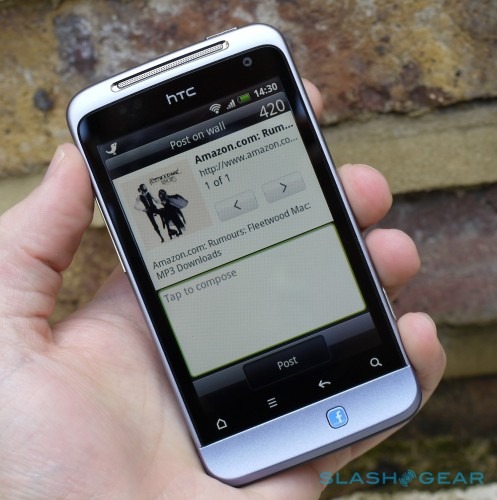 There are also some frustrations around metadata and what you can edit: share the track you're currently playing, for instance, and some will have links to Amazon listings along with album art thumbnails, while others will merely say "Listening to [ track ] on [ album ] by [ artist ]" pulled from the ID3 tags. The latter you can edit yourself, whereas the former cannot (aside from flipping through multiple album art, if available).
Some of our lingering complaints about Friend Stream – and, indeed, how smartphones generally handle social networking aggregation – persist. The Salsa is Facebook-centric, but there's no way to get Friend Stream to prioritize news pulled from Facebook versus Twitter (or vice-versa); it's all too easy for recent Facebook updates to get lost amid the – generally more frequent – tweet onslaught. Right now, the only workaround is to use separate apps for Facebook and Twitter. Similarly, you can't share to both Facebook and Twitter using the dedicated button, though you can via the regular Friend Stream widget.
Camera
The Salsa's 5-megapixel camera can shoot stills or up to 720 x 480 video clips, a far cry from the 720p or 1080p HD of other handsets we've been looking at recently. The dedicated hardware button is a nice touch, offering two-stages to lock focus and then fire off the shot, though there's a little longer between actually pushing it all the way and the frame being captured than we'd like. We ended up with some blurry images by overestimating the Salsa's eagerness.
Hold things steady, though, and daytime pictures are good. Colors could do with being a little more vivid for our liking, though that's easily tweaked with some post-processing; odder was the noticeable purple tint the Salsa gave the overcast skies in our sample shots. Meanwhile the exposure and white balance can be sluggish to react to changes in lighting. Give it a few seconds longer, though, and it generally catches up.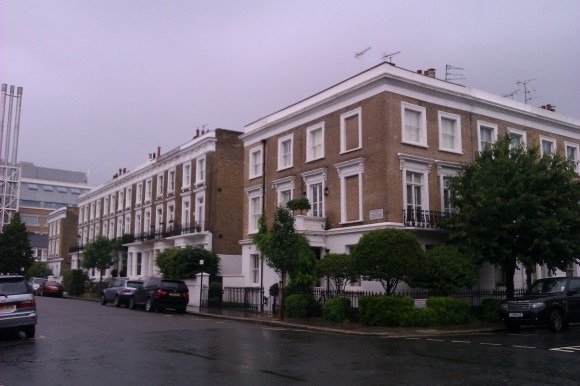 Video, meanwhile, is fair but can be jerky during faster pans, and the same lagging exposure issues can leave clips murky and showing more noise than necessary. Audio is prone to wind noise. At least the low resolution makes for speedy uploads to Facebook, triggered with a tap of the sharing button.
Phone and Battery
In-call performance was solid but nothing special, with the Salsa's single microphone lacking any fancy active noise-cancellation abilities. The loudspeaker is underwhelming, meanwhile, making music sound crackly and tinny, while calls aren't as loud as we'd have liked.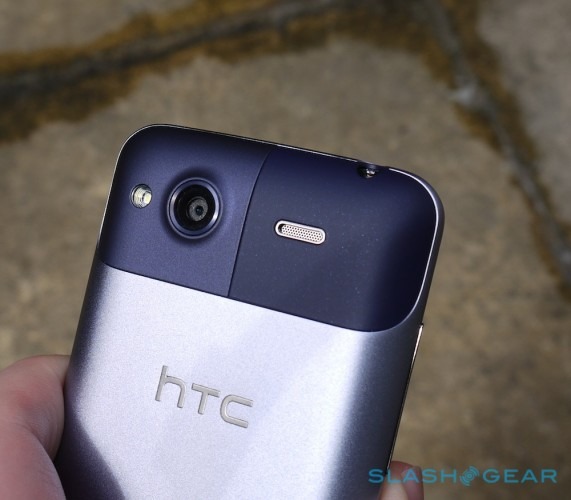 The standard Li-Ion battery is a 1520 mAh pack, which HTC rates for up to 474 minutes of WCDMA talktime (up to 540 minutes GSM) or up to 530 hours of WCDMA standby (up to 445 hours GSM). In practice, with push Gmail turned on and HTC's defaults for Facebook/Twitter updating, we managed two full days of use out of the handset, impressive indeed.
Pricing and Value
Pricing for the HTC Salsa is yet to be confirmed at time of writing, though HTC has previously said that it intends the handset to slot in-between the Wildfire S and Desire S in carrier line-ups. That would indicate somewhere between £185 ($300) and £300 ($489) SIM-free and unlocked, pre-tax, or "free" on new agreements between around £10 ($16) and £18.50 ($30) per month depending on carrier.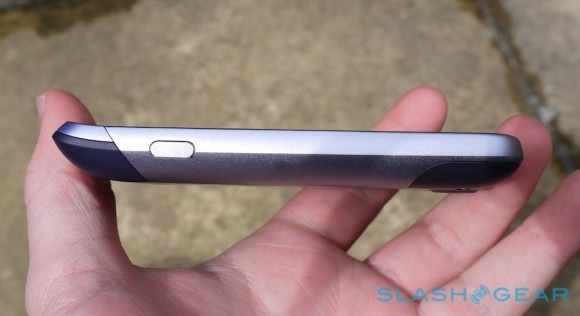 We'd certainly opt for the Salsa over the Wildfire S. The larger display and front-facing camera are obvious benefits, as is the faster processor: the Wildfire S is 200MHz behind the Salsa. HTC has also been able to fit a larger battery to the Facebook phone, and the construction is sturdier. Of course, you're also getting all the same Android/HTC functionality and more on the Salsa, though if you're not an avid Facebook user then that might not be too great an advantage.
Wrap-Up
The Salsa is an odd little phone. If HTC hadn't bothered with the extra Facebook garnish, and instead made a low- to mid-tier Android handset with the sturdy chassis of the Legend, two-day battery life and most of the more appealing features from HTC Sense 3.0 only with a more affordable price tag, we would've readily said it probably had a best-seller on its hands.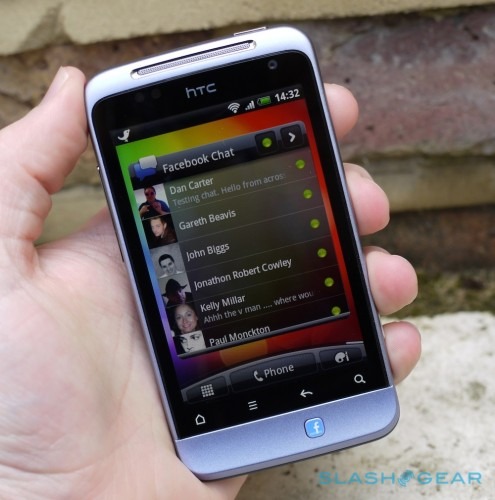 The Facebook integration, though, muddies the waters somewhat, if only because it doesn't quite make sense in this first iteration. Support for the dedicated button is limited, and while the new widgets work well, there's little here that the official Facebook app for Android doesn't offer on its own, albeit with maybe a key-press or three more to access it. If we could remap the button to suit our own social network of choice – make it a Twitter key, for those who have that as their addiction, say – then that would add some extra flexibility. As it stands, though, the Facebook part of the Salsa feels half-baked.
Still, you're under no obligation to use it, and that leaves us with a low-cost, functional device that cocks a snook at plastic-bodied rivals. Facebook messaging addicts may want to wait for the HTC ChaCha, with its physical QWERTY keyboard, and the 800MHz processor may not be up for heavy-duty gaming or HD video, like the dual-core high end devices on the market, but everyday users are getting a solid all-rounder with admirable longevity on a single charge.