HTC RE camera in orange is delayed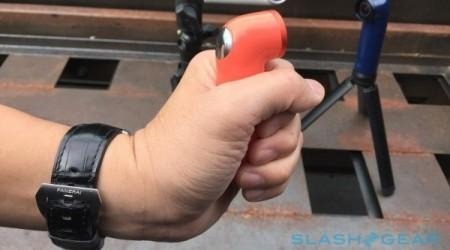 HTC's L-shaped RE Camera, recently announced earlier this month, is offered in multiple colors: navy blue, teal, white and orange. Those who decided to take the plunge by pre-ordering the camera might be in for some bad news (if they opted in for the most popular color): orange is sold out and thus has been delayed. While, in a way, the status is good news for HTC, which is apparently seeing solid demand for the RE, it is bad news for those who were pining to get their camera soon.
The information comes from HTC Source, which revealed the details it received from HTC in an email. Most notably, the maker is giving those who ordered the orange version three options to choose from. Under the first option, one can switch over to a white camera instead and will then get it by November 15th, as well as a 10-percent discount for the troubles.
If you're not fond of the white model, you can go with the second option, which is dealing with the delay and eventually getting your orange camera, as well as the same 10-percent discount. Or the third option, which isn't much of an option at all: keep the orange and buy a white model, and you'll get double the discount.
We got our hands on the camera early this month and put it through the paces, giving it some time on camera, as well. The RE features a 16-megapixel sensor and WiFi, among other things, and is hawked as being an everyday camera. Wondering how it compares to your GoPro? We've got the answer.
SOURCE: HTC Source