HTC Legend review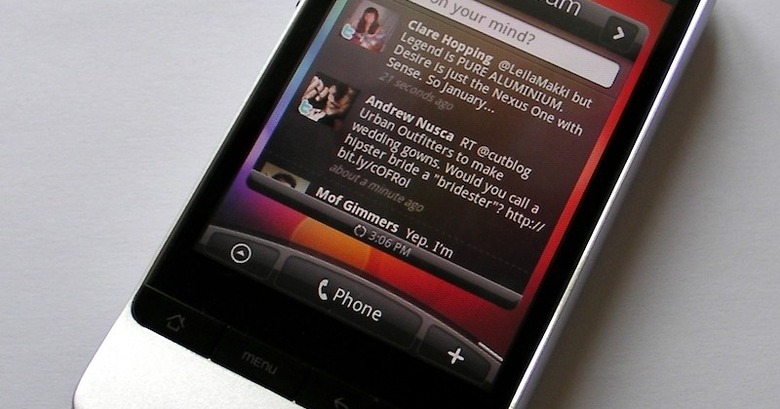 We did little to disguise how impressed we were with the HTC Hero when we reviewed it all the way back in July 2009. At the time we suggested it was the device with which Android came of age; since then, of course, we've seen a huge growth both in the number of manufacturers and devices available, and in Android itself. Into that fray wades the HTC Legend, undoubtedly one of the stand-out devices from MWC 2010 in February and packing the latest versions not only of Android but of HTC's Sense, which rather fittingly debuted with the Hero. Can HTC history repeat itself? Check out the full SlashGear review after the cut.HTC Legend unboxing:
[vms f5b8c02c0e46513b98f9]
Specifications-wise, the Legend marks some key changes over the Hero and some points where we wish HTC had been a little more forthright. The Legend has a 3.2-inch HVGA display, like the Hero, but this time around it's an AMOLED panel rather than LCD. Similarly, there's a 5-megapixel autofocus camera, but now it has an LED flash. Where the Hero used a 528MHz chipset, the Legend gets Qualcomm's 600MHz MSM7227; a speed increase, yes, but short of the 1GHz Snapdragon on the Google Nexus One and HTC's own Desire.
In fact, there's a feeling that HTC are pushing the Legend into the mid-range market, rather than aiming for the flagship status the Hero once occupied. We can't argue the strategy – however much we generally prefer faster processors – and nor can we argue what the Legend brings to its new tier. Most notable is the construction: gone is the Hero's Teflon-coated plastic, with a new, unibody aluminum casing taking its place. HTC describes their latest design focus as "hidden power", but with the Legend it's anything but disguised: by carving the phone's casing out of a solid block of metal, they've been able to do away with a separate outer shell and thus make the whole thing smaller than the smartphone it replaces.
The only plastic to be found is the camera surround – punctuated with holes for the speaker grill – and the battery compartment door, which doubles as the antenna. The row of buttons under the display are also plastic, and they're the sole point on the Legend where the quality doesn't feel 100-percent; instead they're a little too clicky, a little too plasticky. Everywhere else is soft-touch and sturdy, and the Legend feels great in the hand.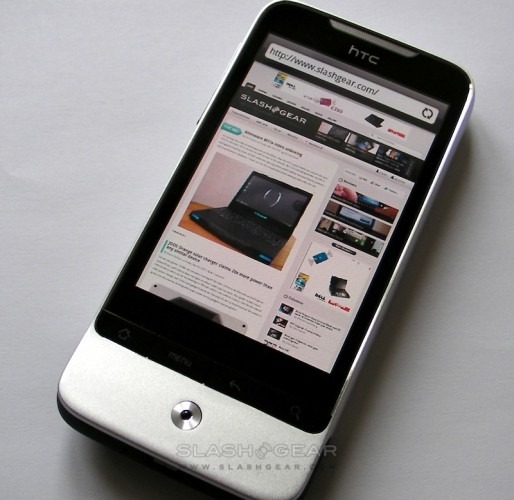 Gone, too, is the Hero's trackball, replaced by an optical joystick. It takes a little getting used to – stroking it from side to side to navigate homescreens or tabs – but once you're familiar it actually feels more accurate than the trackball ever did. That's partly because there's less chance of sideways-slip when you press in to select. As before there are seven homescreen panes and a variety of HTC's own widgets to fill them with; you can also save various "Scenes", with layouts and wallpapers suited to different times of day or activity. Not all of HTC's widgets are loaded by default – there's a "Get more" shortcut at the top of the list, with things like a tip calculator and a "Daily Challenge" – and we're hoping that means the company are planning to push out new examples periodically. Panning between panes is swift and lag-free, even if they're loaded up with widgets, and of course there's the new – and incredibly addictive – "helicopter view", which shows Exposé-style thumbnails of all seven panes when you pinch-zoom on the homescreen.
HTC Legend video demo:
[vms 1715466cd580a448cf82]
Since the Legend runs Android 2.1 and the newest build of HTC Sense, there are several software changes to be discovered. That includes the newer version of the Android Market, complete with screenshot previews, something Hero owners are still waiting for. Still, the biggest improvements are HTC's own. Unlike the partial Exchange support in Android 2.1, the Legend can sync not only Mail and Contacts but Calendar entries as well. HTC's own Mail app has had a makeover and now has useful tabs to show not only messages and conversations, but pull out messages from your preset VIPs, unread-only, those flagged, meeting invitations and those with attachments. Where Nexus One owners looking to use Exchange have often had to resort to third-party apps from the Android Market, that's unlikely to be the case with the HTC Legend.
HTC's Calendar app has also been tweaked, with a new Agenda view that pulls appointments and reminders into a single list, rather than demanding you navigate by month or date. You can also put an Agenda widget on the homescreen. The other big change, however, comes in how HTC now manage social networks; while the first-gen of Sense added Facebook, Twitter and Flickr updates to individual contacts, there was no way of seeing all recent updates from everybody. Only HTC Peep – their own Twitter client – had such a view.
Now, though, there's Friend Stream, which pulls together all three services into one view (and a homescreen widget too). As with MOTOBLUR you can update your Facebook status and Twitter from one single point; like the various tabs for drilling-down through messages in the Mail app, Friend Stream has separate tabs for viewing status updates only, just photos or just links. Of course you can still view each contact's updates separately, or just use Peep for Twitter, but we're glad to now have the choice. Still, it'd be great to see HTC commit to adding more social networks to their roster, like Motorola have been doing; there are still plenty of people wanting MySpace and LinkedIn, for instance.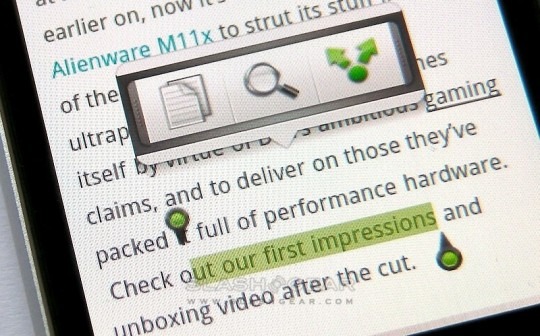 There's also a new copy/paste system which links in neatly to Wikipedia, Google Dictionary and Google Translate. Tapping and holding on a word calls up a small magnifier window and highlights that word; letting go allows you either to drag extender bars to enlarge the selection, or tap to copy it, share it via whatever methods are installed (Mail, Messages and Peep as default, with the Legend automatically URL shortening if necessary), or pushing it over to the look-up services. There, three tabs offer dictionary definitions, various language translations and Wikipedia's mobile site. Our only one frustration is that, once you're in the look-up pane, you can't then tap-and-hold to search for a word in those three tabs; it only offers you the ability to copy that text.
Optics have never been HTC's strongest point, and the Legend's camera isn't a huge step up from that of the Hero. Daylight shots are actually pretty reasonable, with the autofocus quick to snap into order and pressing the optical joystick easier than trying to do the same with the Hero's trackball. Less impressive, frankly, is the LED flash. HTC told us ahead of the Legend's launch that they're currently finding that LEDs can produce just as good results as Xenon flashes but, whether or not you believe that, like other LED-equipped phones we've tested it has a tendency either to wash out or under-illuminate the subject. There's a definite sweet-spot, and it's a narrow one; particularly frustrating are close-up shots and, as you can see from those in the gallery below, while the Legend was capable of producing a decent shot of a Nexus One while naturally lit, relying on the flash resulted in a seriously washed-out photo. To be fair this is something that affects most camera phones, so we can't especially blame HTC.
Speaking of Flash, while we were led to believe that the Legend wouldn't support Flash Lite – unlike the Hero – in actual fact the customized browser does indeed display Flash animations and games. There's also multitouch support, for pinch-zoom (something not shared by Google Maps), and the usual tabbed browsing. Text-reflowing is impressively quick: a double-tap on a block of writing will automatically zoom in and instantly reflow the paragraph for single-screen reading. We've had no problems with flipping from portrait to landscape orientation, and complex websites have rendered with no errors as far as we can see. While the Legend's display may not be as expansive as that of the Desire, the combination of reflowing, intuitive zooming and overall speed go a long way to overcoming that limitation.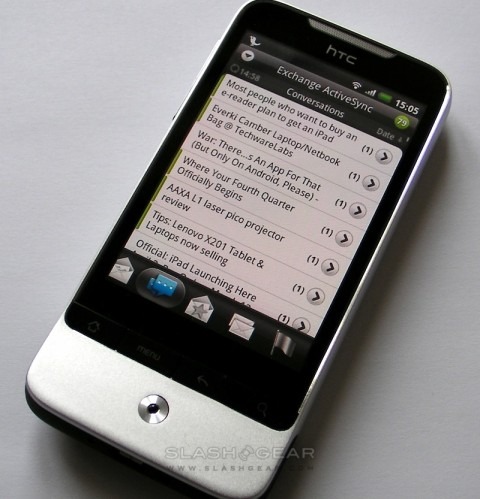 In fact, speed is generally pretty impressive across the board. Our concerns at the relatively minor bump in chipset were founded on repeated complaints about the Hero suffering lag; that's something HTC have obviously worked hard to code out of the Legend. There's a little pause as you move between tabs in data-heavy apps like Mail – as the phone pulls out only those messages flagged, for instance, or with attachments – but otherwise it's slick and smooth. Loaded up with push email, various social networking accounts and media, the Legend does an admirable job of keeping up, and that's no small relief.
Call quality is good, though we miss the dual-microphone array found on the Google Nexus One. We had no trouble finding and sticking to an HSPA connection, either, with the Legend supporting up to 7.2Mbps downloads and 2Mbps uploads, network depending. Short-sighted, though, is HTC's decision to limit HSPA/WCDMA support to the European/Asia Pacifit 900/2100MHz bands; while you'll be able to use EDGE data in most places (the Legend is quadband GSM) you'll have no luck, say, getting 3G in North America. We understand that's probably to allow HTC to differentiate their global range, but it's frustrating nonetheless. Of course, there's also WiFi b/g (along with Bluetooth 2.1+EDR) for faster connections when you're around a suitable hotspot.
Given our relatively limited time with the Legend, we haven't had the opportunity to fully test out its power management. HTC quote up to 440 minutes WCMDA talktime or 490 minutes GSM talktime from the 1,300mAh battery, or up to 560hrs WCDMA standby or 440hrs GSM standby. From what time we've had, we'd expect this to be another case of a charge-nightly device, especially if you have push-email and social network updates turned on. One of HTC's optional widgets is a 1x1 battery meter you can put on your desktop, which is a more telling way to gauge how much runtime you have left.
It's saying a lot that, when we reviewed the Hero just eight months ago, we had to go pretty much back to basics to explain Android as a platform, but today there's no such requirement. The standard music player is still uninspiring, and we're hoping HTC turn their Sense amendments to that next, given Google themselves seem reluctant to do anything about it; still, we'll take the FM radio they've added (which requires a wired headset in order to work) as a start. The jump from Android 1.5 on the Hero to Android 2.1 on the Legend is a sizeable one, though of course HTC are promising a reasonably imminent firmware update that should bring the Hero up to speed. That's expected to include Android 2.1 Eclair together with many – but not all – of the new Sense functionality.
It's a long-overdue release, and something Hero owners have been anticipating for some time; it's also a moderate cause for concern for those considering the HTC Legend. As we've increasingly seen with manufacturer-modified Android devices – not just from HTC, but other companies as well – there's a potential for delay involved when you start modifying the core OS. The Hero has been left languishing with Android 1.5 because of the effort its taken bringing Sense up to speed with newer versions of the platform, something initially tipped to be ready late last year.
HTC Legend durability test:
[vms 762eba80aa538b0c527f]
Now, as we'd say with any device, you should always choose a new gadget because it satisfies your needs now, today, out of the box, rather than because it may get some new feature however many months down the line. Still, one of the attractions of Android is undoubtedly its potential for upgrade and the relative speed at which Google are pushing out new iterations. HTC have again pledged to support the Legend with new firmware as and when possible, but it's up to the would-be buyer to decide whether they're willing to take the risk of possible delays.
Nonetheless, even if it remained as it is today, the HTC Legend is an impressive device. It no longer occupies the top-spot in HTC's Android range – the imminent Desire will take that position – but it's arguably more attractive and pocket-friendly than its sibling. HTC have made some clever, thoughtful enhancements with Sense – Friend Stream and the look-up functionality come particularly to mind – and in doing so they've improved on a core platform that already feels reasonably mature. Held up to the mid-range devices it's being positioned against, the Legend feels a step up in build quality and design; enough, even, that we could well see it tempting some of the geeks who might automatically have plumped for the Desire or Nexus One. The Android landscape may have changed significantly in the months between now and the Hero's launch, but with the Legend HTC have shown they still have what it takes to stand apart.