HTC Incredible Glimpsed In Verizon's Inventory System, Coming March?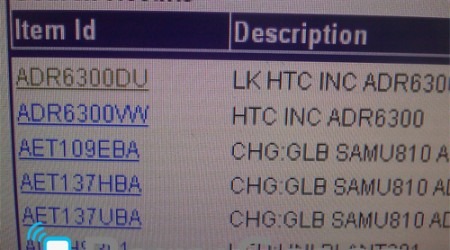 Earlier this month we caught a look of the incredibly red HTC Incredible, ostensibly heading to Verizon's network as its first HTC handset with Android 2.1 onboard.  The Incredible has now been revealed to be in Verizon's inventory system, and corroborates some of the earlier specs that were leaked.
The top SKU, ADR6300DU, is allegedly a reference for the launch kit which includes materials for the retailer, such as display units or pamphlets. The second SKU, ADR6300VW, is for the actual handset, where the 'HTC INC" description is clearly and undeniably stated.  The  HTC Incredible will run on the speedy Snapdragon CPU, Android 2.1 with Sense UI, 256MB of memory, and is equipped with a display rumored to be either a 3.5-inch or 3.7-inch with WVGA resolution (possibly AMOLED-based).
Availability has yet to be released or confirmed, but with CTIA's spring expo coming March, we may expect the release date sometime around then.
[via Android Community]