HTC HD2 review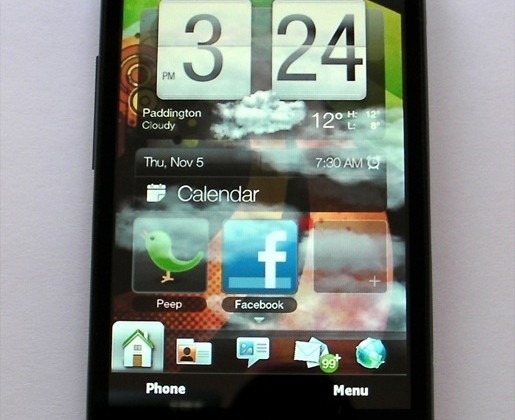 Twelve months ago HTC shook up the Windows Mobile world with the launch of the Touch HD, a smartphone that offered a vast touchscreen, lashings of connectivity and the latest version of their UI tweaking, TouchFLO 3D, to produce what was hitherto thought impossible: an alluring Windows Phone. Now, the company have attempted just such a revolution with Windows Mobile 6.5 in the shape of the HTC HD2. They've upped their game with a speedy Snapdragon processor, even vaster display and a fresh UI that's been educated by their recent work on Android. Can the HTC HD2 again do the unthinkable, and give us a reason to love Windows Mobile?
As you'll have seen from our unboxing and initial hands-on, the HD2 isn't exactly a retiring, discrete device. Measuring in at 120.5 x 67 x 11 mm (4.74 x 2.64 x 0.42 inches) it's long and broad but surprisingly thin; in comparison, the Touch HD is 115 x 62.8 x 12 mm and the iPhone 3GS is 115.5 x 62.1 x 12.3 mm, meaning they're both a little shorter and narrower but actually minutely thicker than the HD2. In the hand it feels even thinner, thanks to the tapering curve of the backplate and the subtly bevelled edges, though it's a reasonably hefty device at 157g (5.54 oz) compared to the Touch HD's 147g (5.185oz) and the 3GS' 135g (4.8oz). As for materials, HTC have used soft-touch plastic for the top and bottom rear panels, broken up by the metal battery cover; it feels an expensive, quality design, and there's no creaking or flexing. It's also surprisingly pocketable: we've been carrying it in our front jeans pocket with no issues, though it also slips neatly into a jacket pocket, predominantly because of the thinness.
HTC HD2 unboxing:
[vms 40c570a322f1b0b65909]
The expanse of fascia is put to good use with a huge touchscreen, the glass front of which explains some of the HD2's weight. Considering there's relatively little difference between the HD2 and the Touch HD face-on, the fact that HTC have squeezed in a 4.3-inch LCD versus the older phone's 3.7-inches is amazing. As before, it runs at 800 x 480 WVGA, but this time around HTC have used a capacitive panel rather than a resistive one. That means there's no stylus for pecking at the screen or using handwriting recognition, but HTC have more than made up for the latter's omission with the addition of multitouch woven through Windows Mobile 6.5. Hardware controls are squeezed down to a single row running along the bottom of the display – talk/send, home, start, back and end/power – with a volume rocker on the left-hand side; unlike other HTC handsets there's no lock/unlock button on the top edge, with the power key doubling up for that purpose.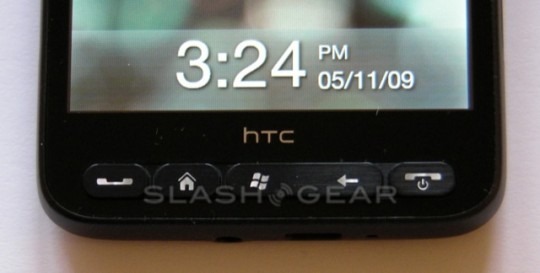 It's hard not to be blown away by the quality of the HD2's LCD. Colors are incredibly vibrant, edges crisp and pictures incredibly contrast-rich. While we'll come to HTC Sense's UI enhancements later, the default weather display – which has migrated from being locked in its tab and now sends clouds, thunder, lightning and rain roaming across the full home pane – is mesmerizing, and the menus have a welcome splash of color compared to TouchFLO 3D's more monochrome scheme. As for the touch responsiveness, we found the HD2 requires a little more pressure than the iPhone 3GS, but it's a very minor difference and casual sweeping gestures feel natural and intuitive. Going back to a resistive touchscreen after the HD2, even the decent one on the Touch HD, is a recipe for disappointment.
While the excellent capacitive panel is half of the story, the HD2 owes the rest of its hardware magic to its chipset. Unlike the somewhat tired 528MHz Qualcomm processors we've seen in recent HTC models (both in its Windows Mobile and Android ranges) the HD2 gets a 1GHz Qualcomm Snapdragon processor paired with 512MB of ROM and 448MB of RAM. This isn't, of course, the first time we've seen Snapdragon on a Windows Mobile device – the Toshiba TG01 was first to market with it, though it proved less of a draw than we expected – but it's the first time we've really seen the chipset shine. There's practically no lag in moving between applications, pages and menus render instantly, and even with a dozen applications running in the background – WinMo6.5 seems as reluctant to automatically close them as its predecessors were – there's no slow-down.
Connectivity comes as no disappointment either. The HD2 supports quadband GSM (850/950/1800/1900) and dualband HSPA/WCDMA 900/2100 in its Europe/Asia-Pacific form, though HTC promise the latter will be tweaked for US bands when it arrives in North America early in 2010. There's also WiFi b/g, Bluetooth 2.1+EDR (with pretty much all the profiles you might want, including A2DP stereo audio) and – for the first time on an HTC Windows Phone – a microUSB port rather than the company's own, proprietary ExtUSB connector. On the base, next to the USB port, is a standard 3.5mm headphone jack.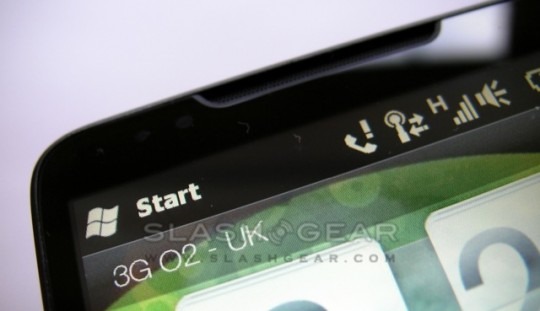 There are also plenty of other sensors stuffed inside, with GPS, a digital compass and an accelerometer. Meanwhile an ambient light sensor and proximity sensor both cluster up by the earpiece, used to automatically adjust the screen backlight and turn the panel on or off when you're holding it to your face during a conversation. Finally, on the back there's a 5-megapixel autofocus camera and a dual-LED flashlight, though you don't get a dedicated camera shortcut key.
Even with all that connectivity, even with the excellent touchscreen and decent build-quality, with Windows Mobile 6.5 alone the HD2 wouldn't succeed. What makes the key difference is HTC's work on augmenting, tweaking and – in various places – completely replacing Microsoft's native UI with their own. On the HD2 it's called HTC Sense, and it borrows much of the UI work that the company did to such good effect on the HTC Hero Android smartphone. Sense, HTC have previously explained to us, is the culmination of three or more years' work fettling mobile interfaces, and it's what differentiates the company as probably the key Windows Mobile licensee right now.
The Hero's menu structure hasn't been wholly dragged over to the HD2. Instead, much of what's familiar from various iterations of TouchFLO 3D is still in place, only brought neatly up to date. The homescreen still consists of various tabs, navigated either by dragging the control bar along the bottom of the screen or, more simply, swiping with a finger or thumb to the left or the right. This latest version has Home, People, Messages, Mail, Internet, Calendar, Stocks, Photos & Videos, Music, Weather, Footprints, Twitter and Settings panes, most of which have been modified in some way from their previous formats. With the exception of Home you can rearrange or hide any tab.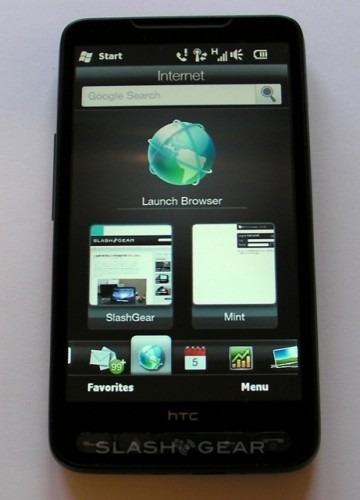 With all the extra screen real-estate to play with, we're glad to see HTC have reworked the panes to offer more information. The home tab gets the usual large clock with a small weather preview integrated, with a small calendar preview box for imminent events and the next scheduled alarm directly underneath. Finally, there's a row of three user-assignable shortcut buttons, and you can drag the screen up to reveal several more. These can be linked to apps, webpages or individuals for instant speed-dial. Tapping on the main clock takes you to the world clock, while tapping the calendar or alarm boxes takes you through to either the calendar tab or the alarm control respectively.
The People, Messages, Mail, Calendar, Stocks and Internet tabs have all gained more shortcuts or bigger previews, to suit the larger display, as has the Photos & Videos tab. The Weather tab shows a full five-day forecast – today's weather up-top, the next four days in a row underneath – and offers the same shortcut access to a weather site as previously. The Music pane is little changed but the controls are larger and more finger-friendly.
Footprints is HTC's geotagging app, and as we've seen on other devices it's a reasonably useful tool if you like to maintain a record of where you've been. It allows you to snap a photo – embedded with your GPS position – and then add voice notes, text and a star rating to remind you about that location at a later date. We still wish HTC would add some sort of comprehensive sharing feature, which would allow you to swap points-of-interest with other Footprints users, or even have them flagged up whenever the phone spots you're near a Footprint memory that someone else has "left behind".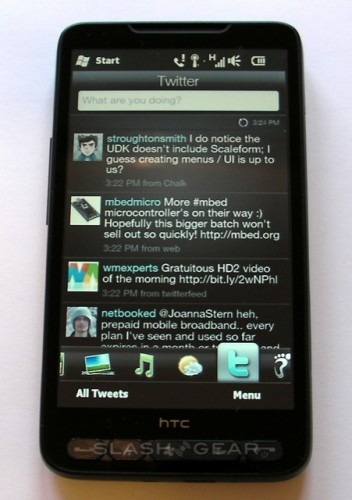 Twitter, meanwhile, is the same HTC Peep client from Android, and it works fairly well. As well as showing your Twitter stream in the homescreen pane, you can also tap into the app and then swipe across to see @ replies, direct messages and any starred tweets that you've marked as a favorite. It's possible to respond directly from Peep, as well as send direct messages or tweet your location, though you can only have one account logged in at any one time. You can also see other users' profiles, browse their recent messages and follow/unfollow them from the Peep UI. Updates can be set to manual or at regular intervals, though the most frequent is every five minutes, and you can choose between several settings for the number of tweets to download. Perhaps the most frustrating aspect of Peep is trying to navigate a long list of messages; the kinetic scrolling is relatively slow, and while other apps – such as SMS or email lists – have a handy little drag-tab that you can "pull out" from the right-hand side of the screen with a quick thumb-swipe, then speedily drag up or down, there's no such thing in Peep. If there's a way to double-tap to speed to the top of the list, we haven't found the right place to tap.
HTC have been steadily adding more options to the Settings tab, and on the HD2 it's now the central place to modify most of the phone's core functionality rather than merely a shortcut to Windows Mobile's own menu. The settings button in the regular WinMo Start honeycomb links to this tab too, and you can then go in and play with the wireless settings, change wallpapers and how the screen behaves, and make other tweaks. Like just about all the pop-up and contextual menus we could find, HTC have reskinned the settings pages with large, finger-friendly buttons and kinetic scrolling lists, and there are plenty of easily-controlled toggle switches rather than old-fashioned check-boxes.
There are a few unusual decisions – or, dare we say, remnants of Microsoft's handiwork – left over, however. For instance, while the Data section of settings allows you to choose how often ActiveSync updates during peak and off-peak times (from instantly, through to every four hours or manually), to actually change what are considered peak/off-peak times you have to go into ActiveSync itself, through the Start menu. Other times it's unclear where exactly a setting is lurking; the event – new SMS, email, etc – alert dialog has toggle switches for the various sounds, but unless you tap the text itself you might never find that this particular sub-menu leads to a sub-sub-menu where you can change the sound itself.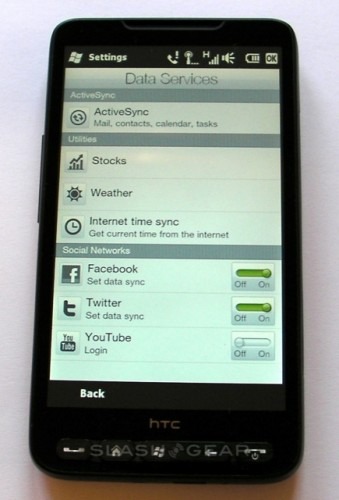 There's also none of the widgets we so enjoyed in HTC Sense on the Hero, since the homescreen concept is different between Android and Windows Mobile. While you can have numerous shortcuts to applications – such as the preloaded Facebook app – you can't add a new pane to the roster and see, say, friends' status updates direction from the homescreen.
That's a shame, because Facebook is the other social networking service with which HTC have done the most work to integrate. Like on the Hero, if you choose to log in to Facebook the HD2 will pull in contacts from there and intermingle them with your regular address book. Duplicates are merged (and you can manually connect any the system omits, usually only the case if people have used different names) and from each contact entry you can see their profile pictures and their recent status updates. One missing feature is Flickr integration: the Hero allows you to link a Flickr account with each contact entry, and see those galleries too, but that's not present on the HD2.
HTC HD2 first-boot:
[vms 3c9111e6526ea173a7c8]
It's slick, but even reskinned it's hard to escape the fact that Windows Mobile lags behind webOS and Android for natively integrating various social networks into the core system. Still, it's a very usable setup, and coupled with some of the contact linking systems HTC have already used on devices like the Touch Pro2 and Diamond2, which show you recent SMS, email and calls with each contact in different tabs, plus the ability to trigger new conversations by tapping on the contact's name wherever you see it, and it makes the HD2 far easier to navigate. There's none of that app-hopping feeling you used to get with Windows Phones.
While there's no hardware QWERTY keyboard on the HD2, the smartphone's vast touchscreen means that's all but negligible. HTC's reworked on-screen keyboard systems have been carried over from their recent Android devices, and the combination of (individually switchable) auto-correction and word prediction are fantastic. In portrait orientation the keys are ideally sized to hold the HD2 with one hand and peck with one or two fingers on the other; flip into landscape orientation – which is an almost instantaneous rotate – and it's the perfect layout for two-handed use. Gripping the HD2 with your fingers and reaching over with both thumbs, we've found typing on the HTC is quicker than using many hardware keyboards.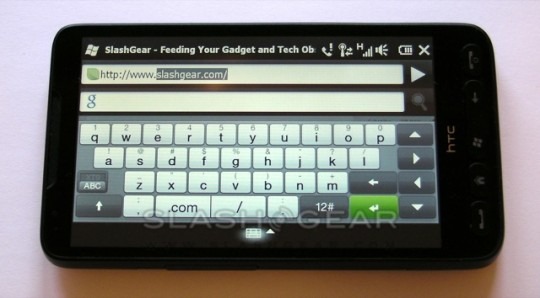 Unfortunately, the few issues we've had with software on the HD2 have also related to the keyboard. On a couple of occasions we've seen strange lag in keys recognising they've been pressed: either the tap is missed altogether, or there's a pause before the HD2 vibrates and the letter appears on-screen. Despite our testing, it's proved difficult to find replicable situations when this happens, but it mars an otherwise incredible text-entry system. There's also a bizarre omission of landscape keyboard support in HTC Peep, which undermines a little the HD2's Twitter-heavyweight status.
If Footprints is to remind you where you've been, then Google Maps is to tell you where to go. We wish HTC had access to Google's latest Maps Navigation beta, as debuted on the Android 2.0 Motorola DROID, but we doubt we'll see that app – which delivers turn-by-turn directions, voice-prompts, text-to-speech and other niceties – on Windows Mobile any time soon. Instead you're looking at the same Google Maps install that's familiar from previous Windows Phones, though don't underestimate how much easier it is to navigate when you're working with a 4.3-inch display. Given that some standalone PNDs have smaller panels, that's quite an advantage. We found the GPS itself to be reasonably accurate, while panning through the maps was only limited by the speed of our connection – the HD2 kept up with all the scrolling, pinch-zooming and screen-rotating we tried, with no delay at all.
Those gestures – and that decent lick of speed – is shared by the browser, aided by the fact that HTC have continued to shun Microsoft's own Internet Explorer Mobile (which we found struggled to render pages correctly) and instead make Opera Mobile the default. It's a capable browser on even compact smartphones, so give Opera 4.3-inches to play with and the HD2 web experience really shines. Zooming is impressive whether you double-tap to bring up a block of text or an image – the screen reflowing accordingly – or whether you pinch with multitouch, and pages are quick to load. We ran some comparison tests against the Nokia N900, another device with an excellent browser, and were blown away by the HD2's rendering speed. As you can see from the table below, with two exceptions the HD2 consistently outperformed the N900 on the same WiFi connection accessing a range of common sites.  It's worth noting that our timings ran from the moment we hit 'Go' to the moment the phone browser stopped loading; you could actually be reading through each page sooner than the total time taken (adverts, in particular, loaded slower than core site content).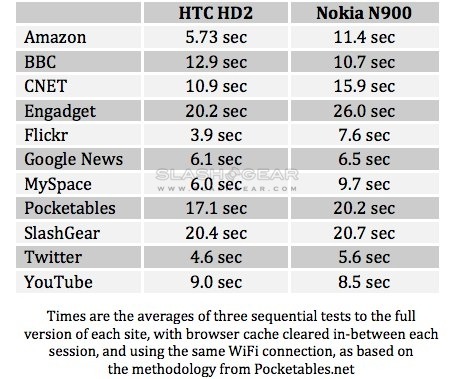 Media playback on Windows Phones still lacks the finesse that the iPhone offers, and while HTC Sense does improve the GUI of the HD2's PMP functionality, it's still not as intuitive as Apple's devices. Similarly, loading content either onto the HD2's internal storage or, more likely, a microSD card isn't as straightforward as iTunes makes it. This isn't unique to the HD2 – or even to Windows Mobile – but it's a frustration all the same. Thankfully once you've got your content on the handset, audio and video performance are both excellent. The HD2 manages to squeeze in a reasonable speaker, and the standard 3.5mm headphone jack outputs excellent, hiss-free audio. Video playback is as judder-free and crisp as you'd expect from the Snapdragon processor and 4.3-inch display, respectively.
Photos from the 5-megapixel camera unfortunately look better on the HD2's display than they do when you get them off-device. We've criticised recent handsets from the company for failing to live up to their megapixel count, and sadly the HD2 seems to be continuing the family tradition. Daylight shots show unusual coloring, while night shots suffer by virtue of the LED flash having a relatively narrow breadth of effectiveness. On the other hand, close-up pictures are surprisingly crisp and clear, and those hoping to use the HD2 to send text off to transcription apps such as Evernote and OneNote will be impressed with the results. Touch focus works well, and the camera is quicker to lock focus than any HTC we've used in recent memory. There are some sample shots – full-sized and unedited – in the gallery. As for video recording, maximum resolution is 640x 480 and the results are fair, if a little short on crisp focus. We'd still recommend a Flip camcorder or similar over the HD2, but for spontaneous uploads to YouTube the video function should suffice. On that note, such uploads are made very straightforward thanks to HTC Sense's YouTube integration.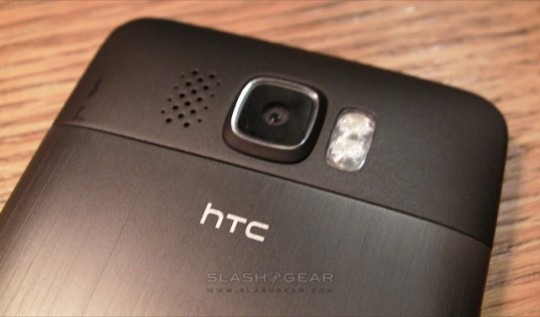 Recent HTC phones have been strong performers when it comes to basic phone tasks, and the HD2 is no different. While it lacks the excellent speakerphone system of the Pro2 – likely because they couldn't fit in the required microphone array and larger-than-average speaker – it's nonetheless loud and clear. The proximity sensor, which controls the display while you're on a call, is quick to act and very useful, and helps avoid those accidental-hang-ups when you inadvertently cut off a call while trying to flick the screen back on. HTC have also added in a few neat uses of the other sensors they have to play with; you can have the HD2 automatically increase ring volume if it thinks it's in a pocket or bag, and you can also set it to quieten the ring if you pick up the phone, for example while checking caller ID. If you then decide not to answer, flipping the HD2 screen-down onto the desk will silence it. None of it is rocket science, of course, but it adds up to a more intuitive way of interacting with the phone.
Another example of that is the HTC WiFi connection sharing app, which turns the HD2 into a sort of MiFi. While there have been other apps on Windows Mobile and other smartphones which do the same thing – allow you to tether a WiFi client to them, and share the handset's 3G connection – this new app is particularly more straightforward, automatically securing the connection and prompting you with a passcode. Our only reservation about it is its limit to one WiFi client connected at any time, unlike the Novatel MiFi which supports up to five simultaneously. Still, if you're short of a WiFi hotspot and have an unlimited data plan, it's a great way to get online in a pinch.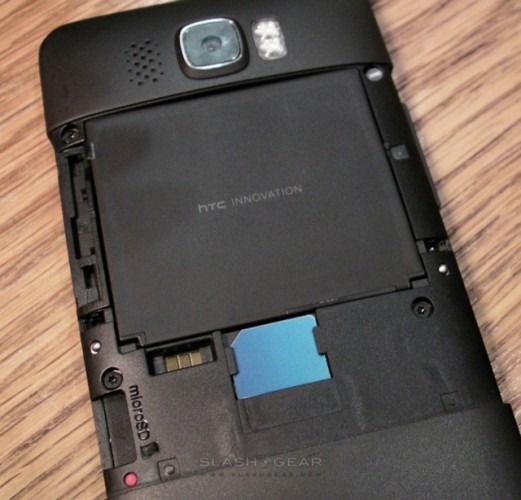 When we met with HTC at the HD2's launch, one of our key concerns was the handset's battery life. CEO Peter Chou assured us that they'd been working to ensure at least a full-day of use from a single charge, but with a relatively compact 1,230mAh battery we had our doubts. In practice, though, the HD2 has proved surprisingly capable, getting us through a day with Exchange push email turned on, frequent web browsing, some media playback, messaging and the occasional call. Nightly charges are par for the course in smartphones right now, and while we'd like a nightstand-friendly docking cradle like some rival handsets are offering, we can't fault the HD2 for its runtimes.
Speaking of cradles, HTC may not offer a desktop dock but they are planning an in-car holder. That will grip to the dashboard or windshield and, using a replacement battery cover with a special port, hold the HD2 in portrait or landscape orientation. It'll also trigger a special navigation-themed menu, which has proved otherwise inaccessible despite our exploration of the smartphone. The car cradle for the HD2 won't be available until December, we've heard.
Similarly unclear is the availability of the HD2 itself. HTC announced earlier this week that it was already shipping in Europe, would arrive in Asia come November, and on a "major carrier" in the US in early 2010. Nonetheless, it's still proving difficult to find, as is a price. Preorder prices in the UK are hovering around the £439 point ($730) SIM-free and unlocked, though obviously contract prices will be lower. In the US, we'd expect this to be at the top end for smartphones, which could be anything from $200 to $400 depending on carrier and wireless plan. HTC are promising more details closer to US launch.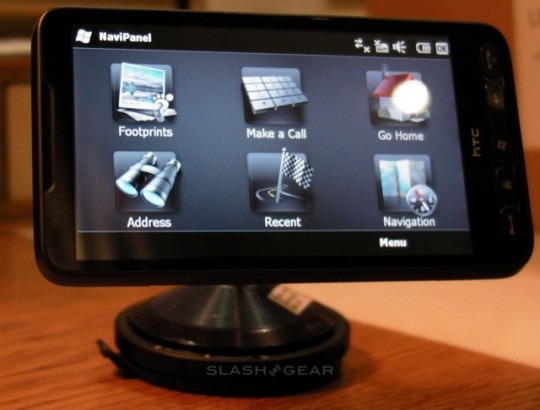 There's certainly a lot for the HTC HD2 to live up to. Not only does it have the legacy of the game-changing Touch HD hanging over it, it arguably represents the best chance of ongoing success for the Windows Mobile platform, at least among mainstream consumers. The good news is that it's a tremendously capable device, though the irony is that HTC have had to throw our or rework much of what Microsoft have done in order to get the HD2 to that stage. Windows Mobile 6.5 still lurks underneath, but HTC Sense all but smothers it in a UI that's intuitive and flexible.
It's not a perfect smartphone – the camera, for instance falls short of what we'd expect from a flagship handset – but its strengths certainly outweigh its failings. We'd have difficulty overstating how well internet access is handled, and the HD2 could legitimately be called a MID-smartphone crossover; the combination of speed and screen size comfortably place it ahead of phone rivals. Underscoring all that is decent phone performance and the sort of build quality you'd expect for what will be a premium price. Microsoft can breathe a huge sigh of relief, because HTC have just given them the handset that bridges the gap between now and Windows Mobile 7.
HTC HD2 highlights:
[vms 3bcea3b7513ccef5857a]