We have heard some grumblings in the past about the coming HTC Nexus smartphones that will launch this year. Word is that HTC will launch some new Nexus devices in October, specifically on the fourth of the month. With that rumor fresh, some new details on the Sailfish device have surfaced. These details include some specifications that have turned up in AnTuTu benchmarks.
The details include the Sailfish name, Android NMR1, Qualcomm 820 processor paired with an Adreno 530 GPU. The screen size isn't mentioned, but the resolution is called out as 1920 x 1080. The front camera is an 8MP unit with the rear camera packing 13MP resolution.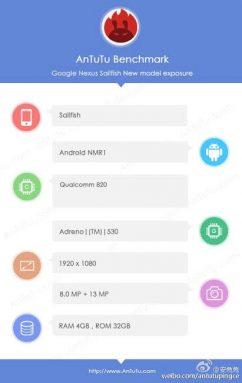 The smartphone has 4GB of RAM and 32GB of storage. That is all the new details that has surfaced about the smartphone so far. The older rumor called out a 5-inch 1080p display with 440 ppi. That Snapdragon processor was said to run at 2.0GHz. The older rumor also claims that power will come from a 2770 mAh internal battery. The smartphone is supposed to have a USB-C port and Bluetooth 4.2 as well.
A rear mounted fingerprint scanner is tipped along with a bottom-firing speaker and a headphone port. This older rumor also tipped another HTC Nexus device going by the "Marlin" name. This device packs a larger 5.5-inch screen with QHD resolution, Snapdragon processor, 4GB of RAM, 3450 mAh internal battery, up to 128GB of storage, 8MP front camera, and 12MP rear camera. It will also have a USB-C port, headphone jack, and bottom firing speaker. We will have to wait a couple months to find out for sure if these rumors are true.
SOURCE: Weibo