HTC 7 Trophy Review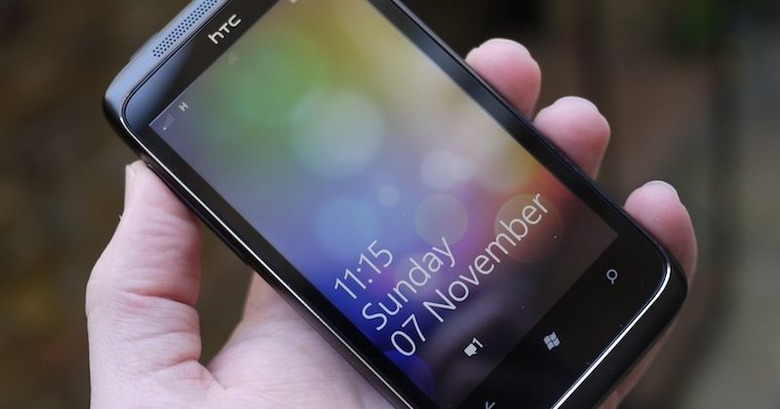 The HTC 7 Trophy has been positioned as the most affordable of HTC's line-up of Windows Phone 7 devices, despite slotting in-between the HTC 7 Mozart and HTC HD7 in terms of size. Microsoft's strict rules on minimum hardware specifications should mean you're not giving up much in the way of performance, too, so is this the budget Windows Phone 7 device to go for? Check out the full SlashGear review after the cut.
Hardware
While the HD7 has its huge, eye-catching display, the Surround has its slide-out speaker array and the Mozart its tactile metal chassis, the HTC Trophy falls somewhat short of any stand-out abilities. Fronted by a 3.8-inch WVGA touchscreen and the usual Windows Phone 7 buttons – touch-sensitive back, home and search keys under the display; lock/power on top, a volume rocker on the left and camera shortcut on the right – the Trophy has a microUSB charge/sync port, 3.5mm headphones socket and a 5-megapixel autofocus camera and an LED flash. The top edge of the handset is steeply angled, which leaves both the headphone jack unusually tilted; meanwhile the sleep/power button can be tricky to press, unless your finger is at just the right angle.
Inside there's the standard 1GHz Snapdragon QSD8250 processor paired with 576MB of RAM, a 512MB ROM and 8GB of non-expandable storage. Wireless options include GSM/UMTS/WCDMA, WiFi b/g/n and Bluetooth 2.1+EDR, along with GPS and an FM radio. HTC's somewhat arbitrary positioning suggests the Trophy is the WP7 smartphone for gamers, though there's nothing really in the specs or software to distinguish it from its range counterparts.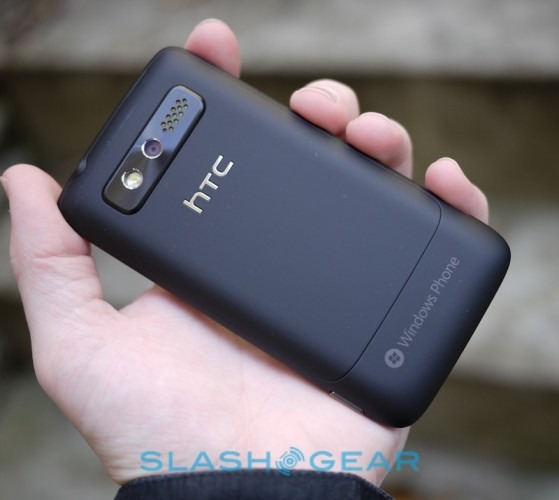 Build quality is fair, though we missed the sturdy metal of the Mozart. The back cover is finished in soft-touch plastic, but pulling it off – which requires jamming a fingernail into a cut-out on the top edge – reveals it to be on the thin side. Again, metal would've been preferable, and there's no HD7-style kick stand either. Underneath, HTC has borrowed their sometime-scheme of using a distinctive color finish that you'll seldom see, with the whole rear panel finished in a custardy-yellow. The only design flourishes on the outside, however, are a little chrome in the screen surround. As for the display itself, viewing angles are better than on the HD7, but still nowhere near the best we've seen on a Windows Phone 7 device; still, viewed straight-on it's crisp and bright.
Software
We've covered Windows Phone 7 comprehensively in our Technical Preview, together with our Samsung Focus, HTC 7 Mozart and HTC Surround reviews, and we'd recommend reading those to gain a better understanding of what Microsoft's new platform brings to the table.
In short, though, the combination of well-tuned software and speedy hardware makes for an enjoyably swift device. The homescreen, with its distinctive tiles, can be as straightforward or as flexible as you want it to be, and the animations – the tiles tilting slightly as you tap them, lists and menus bunching up as you reach their limits, different screens pivoting into place as you move between them – never feel as though they're holding up the core functionality in the name of visual gloss. Although we like HTC's Sense enhancements on Android, WP7 feels more consistent with the suite of customizations corralled neatly into the HTC Hub.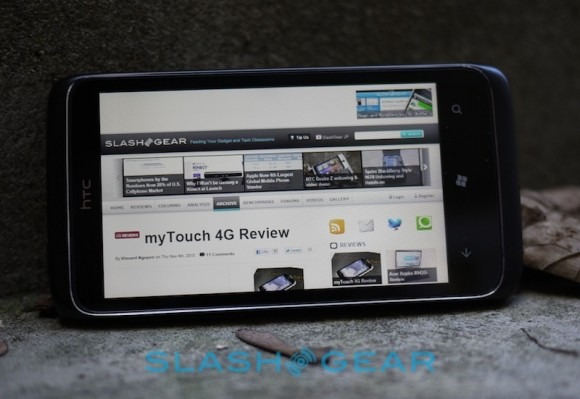 The Hub consists of a suite of mini-apps that more closely resemble the company's Sense experience on Android devices. Loaded via a dedicated tile on the homescreen, it's packed with HTC's favorite weather animations and a selection of mini-apps including a flashlight, basic photo editor, stocks app, notes app (in which the notes visibly age the older they are), a sound equalizer and a converter app. HTC has also said it will be releasing further apps for the Hub for users of its devices. While they all work, the overall theme sits uncomfortably with the regular Windows Phone 7 UI, and Microsoft's decision to prevent OEM modification of the core visuals of the OS means it's easy to forget HTC's extras.
The following two videos give a broad overview of the various applications and features preloaded and available through the Windows Phone Marketplace. While they show the Samsung Focus, the core phone experience is basically identical. In them, you can see the Seesmic Twitter app, browsing on the IE7/IE8 based WebKit browser, the calendar (which supports day, month and agenda views, but no week view) and more.
Windows Phone 7 walkthrough one:
[vms 50b25b4114e93a98f1eb]
Windows Phone 7 walkthough two:
[vms 8b187f7182f1b9ce7a6a]
Camera
The Trophy's camera is capable of 5-megapixel stills or 720p HD video, though like other Windows Phone 7 devices the latter bizarrely defaults to a lower resolution and must be changed every time you flip over to video recording. It's a frustration, and easily forgotten when you suddenly spot something worth filming.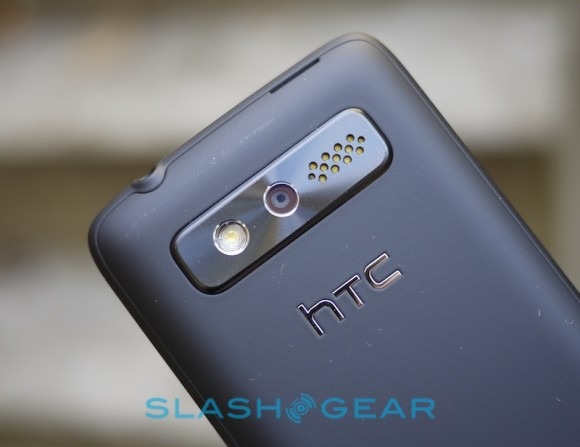 The two-stage camera shortcut button on the side allows you to lock focus with a half-press, and happily the Trophy doesn't spend too much time hunting. The key itself is also more reassuringly solid than that of the HD7, which makes for less wobbly shots. With no Xenon flash, unlike the Mozart, you're left with a single LED and, unsurprisingly, mediocre low-light performance. Outdoor images are clear but lack detail and can show unpleasant amounts of digital noise when enlarged, though colors are generally well balanced if lacking some of the more natural saturation from the Mozart's shots. Indoors, or at night, and the LED flash underwhelms, with images tending to the murky.
Video, meanwhile, is solid if not stand-out, and pretty much matches what we've seen from other recent 720p-capable smartphones. Again, low-lighting leaves things murky, blocky and uninspiring, but given ample daylight to play with, the clips are reasonable jag-free. Windows Phone 7 lacks any sort of video upload abilities (you can email photos, but they're automatically resized) so the only way to offload them is via the PC or Mac sync apps.
HTC 7 Trophy 720p HD video sample:
Phone & Battery
In-call audio is good, as long as you're using the earpiece rather than the speakerphone. Calls were clear and reasonably crisp, but the positioning of the Trophy's loudspeaker on the raised camera bump means it's wasting most of its energy talking to the table. Happily HTC offer an optional "Attentive Phone" app for download, which automatically turns on the loudspeaker if you flip the Trophy face-down. That done, audio is far clearer; HTC should probably have installed this out of the box as part of the Sense suite.
HTC opted for a 1,300 mAh battery in the Trophy, as with the Mozart and a little larger than what you'd find in the HD7. Official figures are up to 330 minutes of 3G talktime (405 minutes GSM) or up to 435 hours 3G standby (360 hours GSM). In reality, we managed a full day with push-email turned on and typical use (including some browsing, photography, media playback and apps), though taking advantage of the slightly-larger display for video did see the battery gauge drop a little faster than we'd have liked.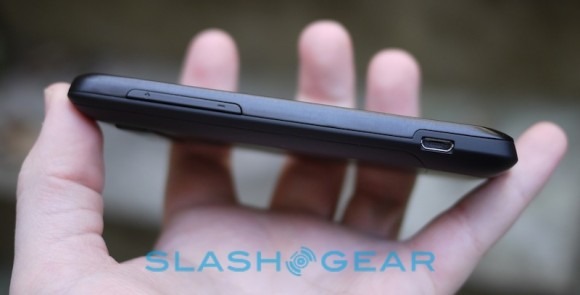 Wrap-Up
There's a sense that HTC has had trouble positioning its Windows Phone 7 range, as evidenced by the awkward – and unearned – "gaming" tag the Trophy has somehow acquired. With near carbon-copy specs, the Trophy instead falls back on its competitive pricing to differentiate itself; it's a tricky strategy, as it leaves the smartphone at the mercy of carrier deals rather than relying on some stand-out feature of its own.
Unfortunately, the Trophy's screen isn't big enough to oust the HD7, high-quality enough to rival the Samsung Focus, and its camera skills fall short of the Mozart. Yes, you can have it from free on a £25 or higher contract on Vodafone in the UK, but there's no shortage of Windows Phone 7 competition and we can't help but think that, over the two-years of an average carrier agreement, we'd rather spend a little more and get better build quality or stronger functionality. The HTC 7 Trophy isn't a bad handset, but it struggles to lift itself out from Microsoft's WP7 launch line-up. If you like the OS – and we really do – there are better models out there running it.