HP Z600 Workstation Review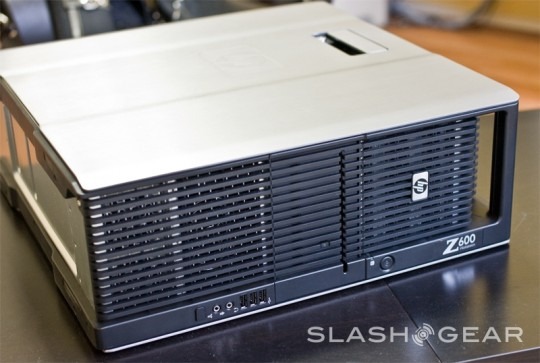 It's been a few months since HP launched their Z400, Z600 and Z800 workstations, and we've finally got the company's mid-range Z600 on the SlashGear test bench. A dual-processor monster that HP envisage being used in midrange CAD, financial modelling and even high-end DCC, the Z600 would also make for a storming video editing workstation; HP also claim it's environmentally friendly. That's the theory, anyway: can the Z600 really deliver performance in a home or small-office friendly way?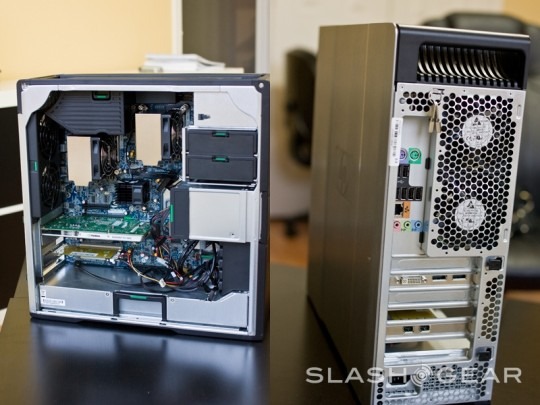 The specifications of our test machine certainly make for impressive reading. Packing dual Intel Xeon X5570 processors (each running at 2.93GHz with 8MB cache and 1333MHz FSB), there's also 6GB of DDR3-1333 RAM, two 160GB 10,000rpm SATA hard-drives, an NVIDIA Quadro FX1800 video card with 768MB of memory, slot-loading 8x DVD burner and Windows Vista Business 64-bit.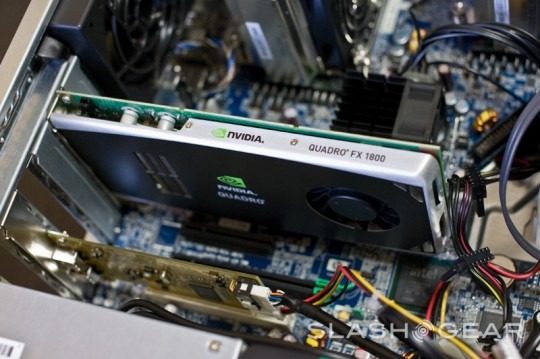 HP squeeze all of that into one of their latest Z-series workstation cases, complete with tool-free access and construction, along with a FireWire card for media-friendly connectivity. There are two PCIe Gen2 x16 card slots, one Gen2 x8, one Gen1 x8 and two PCI slots, along with four eSATA ports. To put the same system on or under your desk would cost $7,501; for $450 more you can double the RAM to a whopping 12GB, though the maximum on offer is 24GB.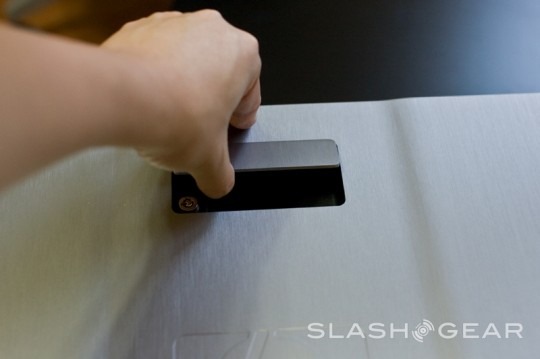 Build quality is excellent, and the tower case is slimmer than you might expect: just 6.5-inches across. A hinged panel at the front hides the 5.25-inch bays, one of which is taken up by the DVD drive, plus there are a few USB 2.0 ports on the front-right bezel. All in all HP offer six external USB 2.0 connections (and a further three inside), two of which will be used up immediately since they bundle a USB keyboard and mouse in with the workstation. The side-panel – which has a key lock for casual security – opens smoothly and reveals well laid-out drive bays and some clever fan positioning. Both CPU fans are upright and pull air from front to back, rather than pushing it parallel to the motherboard; there's also a large fan duct with its own fan which covers the memory.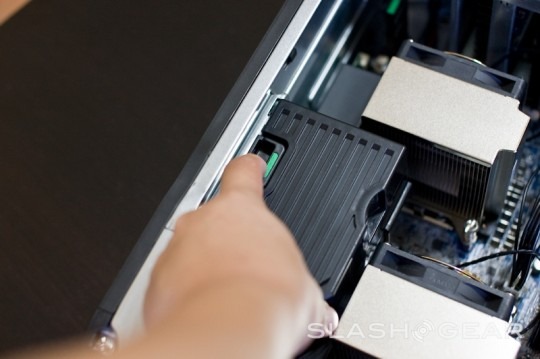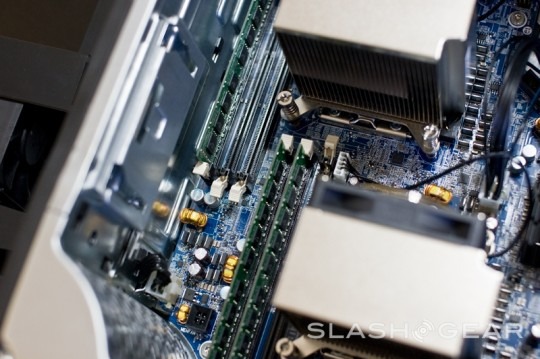 Various green tabs indicate sections of the case which pull out, such as the tool-free drive bays which slide out from the side and into which the hard-drives snap. The power supply is a non-standard size and shape, and runs across the entire base of the Z600 with a single pull-handle for removal; the benefit is fewer cables criss-crossing the case space, as they all connect at the back and are routed behind the motherboard. Finally, there's also an integrated grab-handle at the top, front and back, making transport straightforward.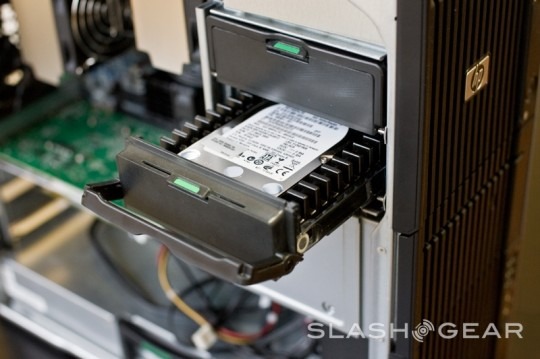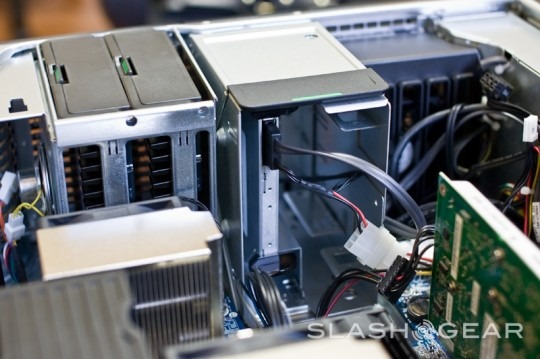 The benefit to this non-standard internal layout and thoughtful ducting is that the Z600 is surprisingly quiet. You'd expect a dual-CPU workstation with six fans to sound like a minor tornado, but in fact it's incredibly quiet. We've tested basic notebooks with more noticeable fan noise than the Z600 puts out, and according to HP their 80PLUS Bronze compliant PSU is 85-percent efficient and means the workstation is ENERGY STAR v5 qualified. In standby, the Z600 uses under 1W too, meaning you won't be paying over the odds for the benefit of quick start-up times.
Of course, frugality and quietness are no use whatsoever if your workstation lacks grunt, but thankfully the Z600 isn't short in that department either. Needless to say, standard day-to-day productivity tasks make little to no difference in the Z600's stride, with several browser windows, Outlook, HD media playback and other concurrent routine apps having a negligible impact on the system.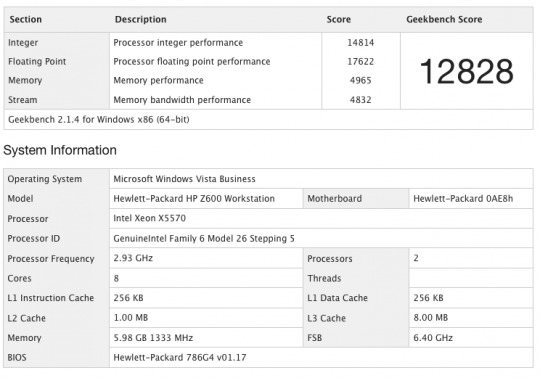 We then loaded up Geekbench, which measures processor and memory performance, to get an idea of exactly how potent the Z600 is. Total score was 12,828, with the Z600 scoring 14,814 and 17,622 in processor integer and floating point performance respectively, while memory and memory bandwidth performance came in at 4,965 and 4,832 respectively. By way of comparison, the HP Z400 Workstation we reviewed four months ago – which has a single Xeon 2.93GHz processor and 6GB of RAM – managed 7,613 in Geekbench.
Finally, we ran PCMark and compared the Z600 with a Dell Precision T5500 workstation. The T5500 has dual quad-core Intel Xeon X5570 2.93GHz processors, 6GB of third-party DDR3 1333GHz memory, NVIDIA Quadro FX1800 graphics and a 300GB Western Digital VelociRaptor hard-drive; the final build price was around $7,700, two hundred dollars more than the HP. As the graphs show, performance of the two systems was, unsurprisingly, on a par, with the Z600 edging slightly ahead in its overall PCMark score (8396 versus the Dell's 8355) while both machines comprehensively bested the HP Z400.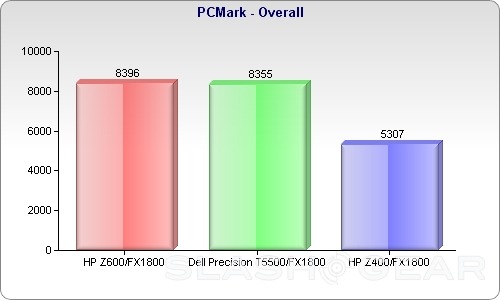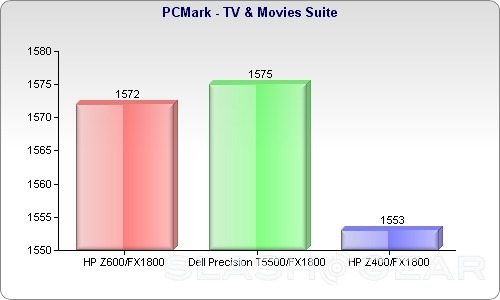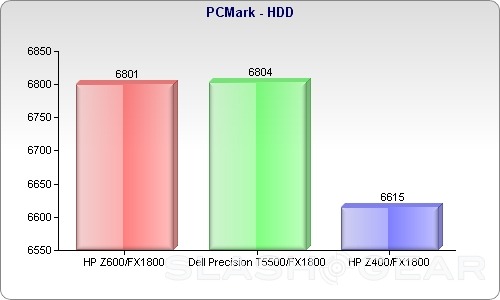 The Z600 range starts from $1,800, though it's worth repeating that for the dual-processor machine we've been testing you're looking at just over $7,500. That's a whole lot of money, but then again you get a whole lot of performance for it, and in a form-factor and package that, before now, would have far more demands to accommodate its space, power and noise. It's overkill for anybody but the most extreme of video editors, but if you're living and breathing CAD and high-end design, or running plenty of real-time modelling, then the HP Z600 Workstation should be high up on your shortlist.